This newsletter was sent to everyone on Jim's email list (2,845) on Friday, February 24, 2023.
Attempts to silence writers are as eternal, and as futile, as attempts to ban books themselves. In a couple of recent high-profile instances, we have seen author Salman Rushdie physically attacked and Harry Potter creator J. K. Rowling become the target of online and physical threats. The families of both authors have not been immune to these threats either.
Fortunately, for us all, no matter what we think of the authors themselves, Rushdie and Rowling have continued to speak, and to write. So have many other lesser known writers who have been subjected to the same threats. They have not held back on expressing ideas that may be offensive or controversial.
Those who make these threats—and sometimes carry them out physically—fail to understand that ideas do not succumb to threats. Ideas do not die even when they are "banned." Ideas do not go away. They must be confronted and dealt with.
Sometimes that takes courage. It is a courage the people who want to ban books and people who make threats against authors do not possess.
Meanwhile, have a great and literate weekend, and a very Happy New Year.
________
Under the newsletter's hood: Last week's newsletter was sent to 2,887 subscribers and had a 38.2 percent open rate; 11 persons unsubscribed.
Important: Remember to open the images or click on one of the links so that my email service will record your engagement, and you will stay active on the list. Thanks.
_________
Graham Greene, true spy
I have recently run across an excellent podcast for the espionage fans among us (including me). It's called True Spies, and it presents some fascinating stories, often using the words and voices (if they are available) of the spies themselves.
A recent episode on "celebrity spies" featured a great deal of information on author Graham Greene and his time in Vietnam. To the world, he went to Vietnam in the mid-1950s to write a series of magazine articles. In truth, he was there as an agent of MI-6, the espionage agency of the British government. Greene had worked for MI-6 during World War II and had become great friends with turncoat Kim Philby.
By the 1950s, he had left that service and was writing full time. But had he really left? What interest did the British government have in Vietnam during what turned out to be the last days of French occupation of that land? The podcast attempts to answer those and other questions. It's a great listen.
Meanwhile, here is what was posted in this newsletter about Graham Greene in 2020.
+++
In Graham Greene's 1951 novel The End Of The Affair, one of the three main characters, the narrator, is a novelist who lives in the Clapham section of London (as Greene did). The novel is told non-sequentially and takes place both before and after World War II.
Greene's novelist has had an affair with the wife of a neighbor, a man who is a civil servant and seemingly unaware of what is going on around him. Greene, too, had many affairs throughout his life.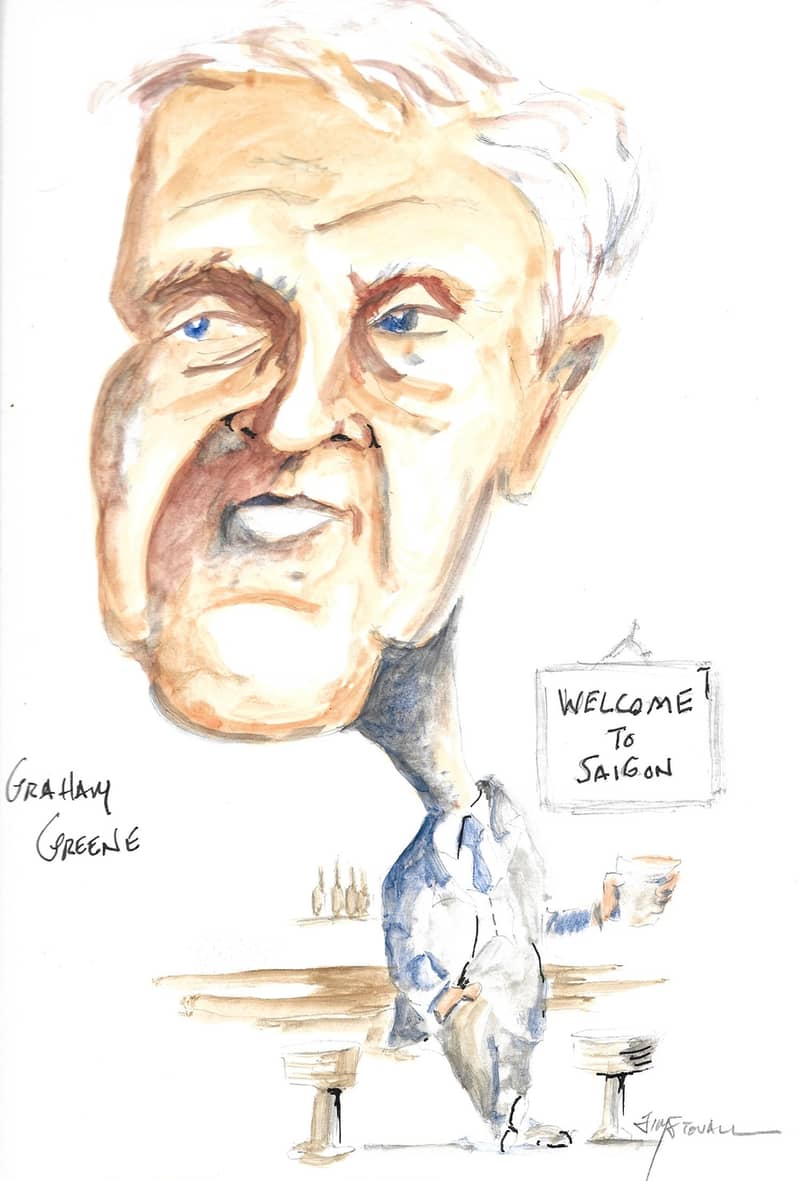 The novelist, like Greene, has been a success in that many people have read his books, and some of those books have been made into movies.
The novelist talks about his writing habits. He writes 500 words a day, and thus it takes him about a year to write a novel. Greene had the same writing habit.
The novelist in the book is also profoundly unhappy. The woman with whom he has had an affair has broken it off suddenly and without explanation. A year-and-a-half after that occurred, the novelist is still obsessed with trying to understand why the affair ended.
This is not an autobiographical novel, but clearly Greene puts himself, undisguised, in it as a character. In doing so, he invites the reader to explore his own psyche.
Greene was born in 1901 in Berkhamsted into an affluent and influential family. His childhood was less than happy, mainly because of the public school to which he was sent. He went to Oxford and began his adult life as a private tutor. He later switched to journalism, eventually doing editing work for The Times of London.
A major event in his life was his conversion to Catholicism in 1926. He did so after meeting Vivien Dayrell-Browning, who was a Catholic, and they later married. Greene never gave up his religion, but he often referred to himself as a "Catholic agnostic" in subsequent years. He and his wife remained married for the rest of their lives even though he had numerous affairs.
His first publishing success came with the novel The Man Within in 1929. That success enabled him to quit his job and devote himself full time to writing.
For the rest of the century, Greene dazzled readers with his storytelling ability. He traveled to Southeast Asia, Latin America, and Africa in search of exotic locations in which to set his novels. He also ranged into statecraft and espionage for his subject matter. Greene's life sometimes mirrored the adventures that he chronicled in his novels.
Many of Greene's novels were adapted for the cinema, some of them more than once. In fact, Greene was often cited as a writer who used cinematic techniques in his prose. Having his books made into films, of course, enhanced his reputation and fame.
As his reputation grew, his real-life roles expanded and occasionally reached mythic proportions. His Catholicism was a consistent element of his plots, so much so that he became known as a "Catholic novelist." He objected to that moniker, saying he would rather be known as a novelist who was Catholic.
Greene won many awards for his writing, and in 1966 and 1967 he was shortlisted for the Nobel Prize.
The Nation magazine, in assessing his career nearly two decades after his death in 1991 described him this way:
A stranger with no shortage of calling cards: devout Catholic, lifelong adulterer, pulpy hack, canonical novelist; self-destructive, meticulously disciplined, deliriously romantic, bitterly cynical; moral relativist, strict theologian, salon communist, closet monarchist; civilized to a stuffy fault and louche to drugged-out distraction, anti-imperialist crusader and postcolonial parasite, self-excoriating and self-aggrandizing, to name just a few.
A recently published biography emphasizes a story that Greene occasionally played Russian Roulette with real bullets (a story that is disputed by others). Blake Morrison writing for The Guardian reviews the biography, Russian Roulette: The Life and Times of Graham Greene (by Richard Greene) and writes:
But Richard Greene (no relation) takes it as the central premise of his biography: the novelist as risk-taker and adventurer, with a history of self-harm and an addiction to danger. An early trip to Liberia, to investigate modern slavery, set the tone. Greene knew there were risks – being shot at by soldiers, bitten by snakes or infected by lassa or yellow fever – but they only spurred him on. He was accompanied by his cousin Dorothy, who found him frightening: "If you are in a sticky place he will be so interested in noting your reactions that he will probably forget to rescue you." Source: Russian Roulette: The Life and Times of Graham Greene review – addicted to danger | Graham Greene | The Guardian
Get up and move—just a little
Sitting. It's one of the most common—and least researched—of all human activities. One thing that we're pretty sure of is that sitting too much is not good for you.
Yet, that's what many of us do. We sit at our jobs, and when we come home, we sit to conduct whatever helps us relax, such as television-watching or book-reading or whatever. The sensible antidote to the harm this activity may be causing is to get up and move. Yet health researchers have only begun to explore what good things might occur if we actually did that.
One small study at Columbia University found this:
According to their (the researchers') findings, a five-minute light walk every half-hour was the only strategy that significantly reduced blood sugar levels, reducing the blood sugar spike after eating by almost 60 percent compared to sitting down.
If you are interested in more information about this study, you can read about it here on the Positive.News website.
__________
The Prolific Reader. Kill the Quarterback is listed there along with some other great mysteries. https://theprolificreader.com/mystery"
___________
Prince Harry's Spare: record-setting sales for someone not really interested in books
When Prince Harry's ghost-written autobiography Spare was released in January, it set sales records of 3.2 million copies sold in the first week.
Pretty good for a guy who isn't all that interested in books and who isn't sure about who William Faulkner is. Most of the credit for the book's overall readability is given to the ghost-writer J.R. Moehringer, who has the reputation for being about the best in the business.
The book, with due credit to Moehringer, was generally panned as being silly and self-indulgent.
One of the few voices of dissent in this critical chorus came from Laura Miller writing for Slate.
Her review's headline called the book "just good literature," and she says:
By his own admission, Harry is "not really big on books," and while he was blown away by the Faulkner quote he uses as Spare's epigraph—"The past is never dead. It's not even past"—his first thought upon encountering the lines on BrainyQuote.com was "Who the fook is Faulkner?" The Harry of Spare is a blokey bloke, a man more of action than of thought or words. He prefers outdoor adventure, video games, drinking with his mates. He loved being in the army, the physical challenges of basic training, flying Apache helicopters, and his two operational tours of duty in Afghanistan. He joined expeditions to both the South and North Poles, confessing in the book (to the unending delight of journalists, whatever their pretensions to the contrary) that during the latter he contracted a case of frostnip in his "todger."
Maybe the book deserves another look.
From the archives: Walter Mosley on the ability to speak freely
Sometime in the middle of 2019, Walter Mosley joined the Writers' Room of the third season of Star Trek: Discovery.
It was quite a coup for the producers of the show. Mosley is a well-known, much-published author who has won numerous awards, particularly in the mystery genre. He is a giant among mystery writers and certainly one of the genre's best known African-American authors.
One day, Mosley was telling a colleague a story and used the word "nigger."
Soon afterwards, he received a call from the human relations department saying that someone had complained that he had said that particular word out loud. Normally, the person explained, he would be fired immediately, but in this case he was getting off with a warning.
There I was being chastised for criticizing the word that oppressed me and mine for centuries. As far as I know, the word is in the dictionary. As far as I know, the Constitution and the Declaration of Independence assure me of both the freedom of speech and the pursuit of happiness.
How can I exercise these freedoms when my place of employment tells me that my job is on the line if I say a word that makes somebody, an unknown person, uncomfortable?
There's all kinds of language that makes me uncomfortable. Half the utterances of my president, for instance. Some people's sexual habits and desires. But I have no right whatsoever to tell anyone what they should and should not cherish or express. Source: Opinion | Why I Quit the Writers' Room – The New York Times
Mosley was so offended that anyone should attempt to stifle his speech that he quit later that day. Then he wrote an op-ed piece about the incident for the New York Times.
I'm a fortunate guy. Not everyone can quit their job. But beyond that, we cannot be expected to thrive in a culture where our every word is monitored.
Mosley has published more than 40 books since he began writing at the age of 34. He has created three detective/mystery series: Easy Rawlins, Fearless Jones, and Leonid McGill. His work runs in the same channels as Raymond Chandler and Dashiell Hammett. His novel Down the River Unto the Sea was nominated as a best novel for 2019 by the Mystery Writers of America.
Since achieving success as an author, Mosley has been a supporter of young writers, particularly those of color.
+++
Group giveaways for February
Kill the Quarterback and Murder Most Criminous are part of several group giveaways during the month of February:
February Thriller and Suspense Giveaway
Heart for Crime – February Giveaway (begins Feb. 13)
Crime Thriller Giveaway (Feb. 12 – March 12)
Each of these giveaways includes more than 20 books of various sub-genres. You can download any or all of them in exchange for your email address. The email address will be shared among all authors participating in the giveaway. The purpose of these giveaways is to get books into the hands of readers and to increase email lists for the authors.
Reactions
Check out last week's newsletter
Finally . . .
This week's watercolor: Mountain laurel
Best quote of the week:
When you turn the corner / And you run into yourself / Then you know that you have turned / All the corners that are left. Langston Hughes, poet and novelist (1902-1967)
Pray-as-you-go podcast
If you are looking for a quiet, meditative, non-theological but scriptural podcast to start or close your day, try pray-as-you-go.org. The podcasts are 10-12 minutes long, and they feature beautiful music, a scripture reading, and a very short devotional. It's a great respite from an otherwise all-too-noisy world.
BibleProject.com
If you are interested in reading scripture, either the Old Testament, the New Testament, or both, you might be interested in the videos, commentary, and podcast of the BibleProject.com. The people who work on this site have done some deep and thoughtful reading of the Bible, and the videos they have produced (generally shorter than 10 minutes) are both entertaining and enlightening. They view the Bible as a single entity with a single purpose, and their approach is both delightful and refreshing.
Fires in California, freezing weather in Texas, hurricanes on the Atlantic Coast, tornados in Tennessee, and now coronavirus — disasters occur everywhere. They have spread untold misery and disruption. The people affected by them need our help.
It's not complicated. Things happen to people, and we should be ready to do all the good we can in all of the ways we can. (Some will recognize that I am paraphrasing John Wesley here).
When is the last time you gave to your favorite charity? The United Methodist Committee on Relief (UMCOR.org) is my favorite charity. Please make a contribution to this one or to yours.
Keep reading, keep writing (especially to me), and have a great weekend.
Jim
Jim Stovall
www.jprof.com
You can connect with Jim on Facebook, Twitter, Linkedin, and BookBub.
His Amazon author page is where you can find more information about his books.
Last week's newsletter: Bert Bacharach, a 14-year old assassin, Women With Words nearing completion: newsletter, February 17, 2023
✕
Get a FREE copy of Kill the Quarterback
Get a free digital copy of Jim Stovall's mystery novel, Kill the Quarterback. You will also get Jim's newsletter and advanced notice of publications, free downloads and a variety of information about what he is working on. Jim likes to stay in touch, so sign up today.