This newsletter was sent to everyone on Jim's email list (2,753) on Friday, January 27, 2023.
My tour of news sites that attempt to avoid the "bad news bias" continues with a site that is not exactly "good news" but is filled with good information—and probably the kind of information that you can apply directly to your life today. It's Brain & Life, and it is produced by the American Academy of Neurology, the world's largest association of neurologists and neuroscience professionals.
It may seem, at first glance, that this site is aimed at older readers, but people of all ages are likely to find articles of interest and that are helpful if your goals are to develop more understanding about yourself and to encourage healthy habits. For instance, the article "Six Ways to Stay Healthier into Old Age" is useful for people who are 25 years old as well as 65 or older. One of the ways: Keep moving. Check it out and bookmark it.
Do you have an anti-bad-news-bias site to recommend? If so, let me know.
Meanwhile, have a great and literate weekend, and a very Happy New Year.
________
Under the newsletter's hood: Last week's newsletter was sent to 2,845 subscribers and had a 38.0 percent open rate; 12 persons unsubscribed.
Important: Remember to open the images or click on one of the links so that my email service will record your engagement, and you will stay active on the list. Thanks.
_________
John Stonehouse: He was a fraudster, but was he a spy?
If you have never heard of John Stonehouse, it is probably because of Lord Lucan. The British peer, Lucan, disappeared on November 7, 1974, after the murder of Sandra Rivett, his children's nanny, and the attempted murder of his wife, Veronica.
Lucan was never seen again by any officials, even after extensive international searches. Many have speculated on what happened to him, but nothing has ever been verified. He was finally declared dead in 1999, twenty-five years after his disappearance.
The Lucan disappearance, as you might imagine, consumed the British press for weeks.
Almost ignored by comparison was another disappearance, that of John Stonehouse, a member of parliament and a minister in Harold Wilson's Labor government. He disappeared two weeks after Lucan, on November 20, 1974.
Even though the Lucan disappearance included a murder, the disappearance of John Stonehouse, to my mind, is a more interesting story because we know how it ended.
Stonehouse, unlike Lucan with his peerage, was the product of a working class family. He was born in 1925 in Southampton, England, and he served in the Royal Air Force in the latter part of World War II. He graduated from the London School of Economics and tried unsuccessfully to gain a parliamentary seat in 1949. He finally won election to parliament in 1957.
Stonehouse made a name for himself by traveling to Rhodesia, and speaking to the Southern Rhodesia African National Congress, a speech in which he encouraged Blacks to stand up for their rights. He was promptly deported from Southern Rhodesia and banned from returning there.
He served as a junior minister of aviation when Labor came to power, and he was involved in the French collaboration of the development of the Concorde airplane. In 1968 he helped negotiate an agreement on technological cooperation between Britain and Czechoslovakia. He seemed destined at that point to rise to a position of leadership in the Labor party. In 1967 he became Postmaster General of Great Britain.
Behind the scenes of his life and career, however, there was another story developing. Early in the 1960s, a defector from the Czechoslovak Secret Service denounced him as a spy, but Stonehouse successfully defended himself. While the charge that he was a spy was never proven decisively, it has cast a shadow over his name ever since.
Stonehouse maintained the lifestyle of a normal member of parliament until November 1974 when he traveled to Miami Beach. There, he appeared to have gone swimming and drowned in the Atlantic Ocean. He had actually stolen the identity of two deceased men who had been members of his parliamentary constituency.
He used these identities to transfer large sums of money between banks and was living in Australia when a bank teller suspected something odd about his accounts. Because of the Lucan disappearance and investigation, police throughout the world were watchful for any British citizen whose identity might be in question. Australian police first believed they might have nabbed Lucan, but the man they arrested actually turned out to be Stonehouse.
Stonehouse was extradited to Great Britain in July 1975. He was charged with various illegal acts, but he was released on bail and actually continued to serve in parliament. In 1976 he went on trial for fraud, theft, forgery, conspiracy to defraud, and a couple of other charges. He dismissed his own lawyers and conducted his defense himself. He was convicted and sentenced to seven years in prison.
Three years later in 1979, Stonehouse was released from prison because of good behavior, and because of ill health. After his release, he wrote three novels and made various television and radio appearances.
Stonehouse died in March 1988.
His life has continued to generate discussion and controversy. His daughter Julia Stonehouse has vigorously defended her father from the charge that he was a spy for the Czech government. (See her book, John Stonehouse, My Father: The True Story of the Runaway MP). That charge has been made numerous times, including by his great nephew, Julian Hayes, who wrote a book titled Stonehouse: Cabinet Minister, Fraudster, Spy.
Stonehouse is back in the public consciousness now because of a recent three-part dramatization of his life. That program can be seen in America on the Britbox streaming service. You can read more about the program and about Stonehouse's life in this article in The Guardian.
First Amendment videos
About a decade ago, video cameras and video editing software were finally coming down close to my level of competence, and I began to try my hand at shooting and editing. One of my first projects was an interview with a good friend and faculty colleague at the University of Tennessee. He was Dwight Teeter (now, sadly, deceased), who was one of the leading First Amendment historians and scholars.
I am presenting several of these videos (all very short) to newsletter readers during the next few weeks. The first is "How did we get the First Amendment?"
The First Amendment remains one of the most important parts of the U.S. Constitution in that it describes and encases into the chief legal document of America many of the vital parts of American life. Journalism professor and legal scholar Dwight Teeter, in this first of a series of five videos, describes how the First Amendment came to be part of the Constitution. Teeter says the First Amendment was a "product of political expediency."
__________
The Prolific Reader. Kill the Quarterback is listed there along with some other great mysteries. https://theprolificreader.com/mystery"
___________
From the archives: Louis Braille and a new way of reading and writing
January should not escape us without noting that it is Braille Literacy Month. No name is more associated with reading and writing by the blind than that of Louis Braille.
Braille's method of writing so that the blind could read was not the first such system, however. Another system of writing and reading prevailed and was well-entrenched when Braille came along.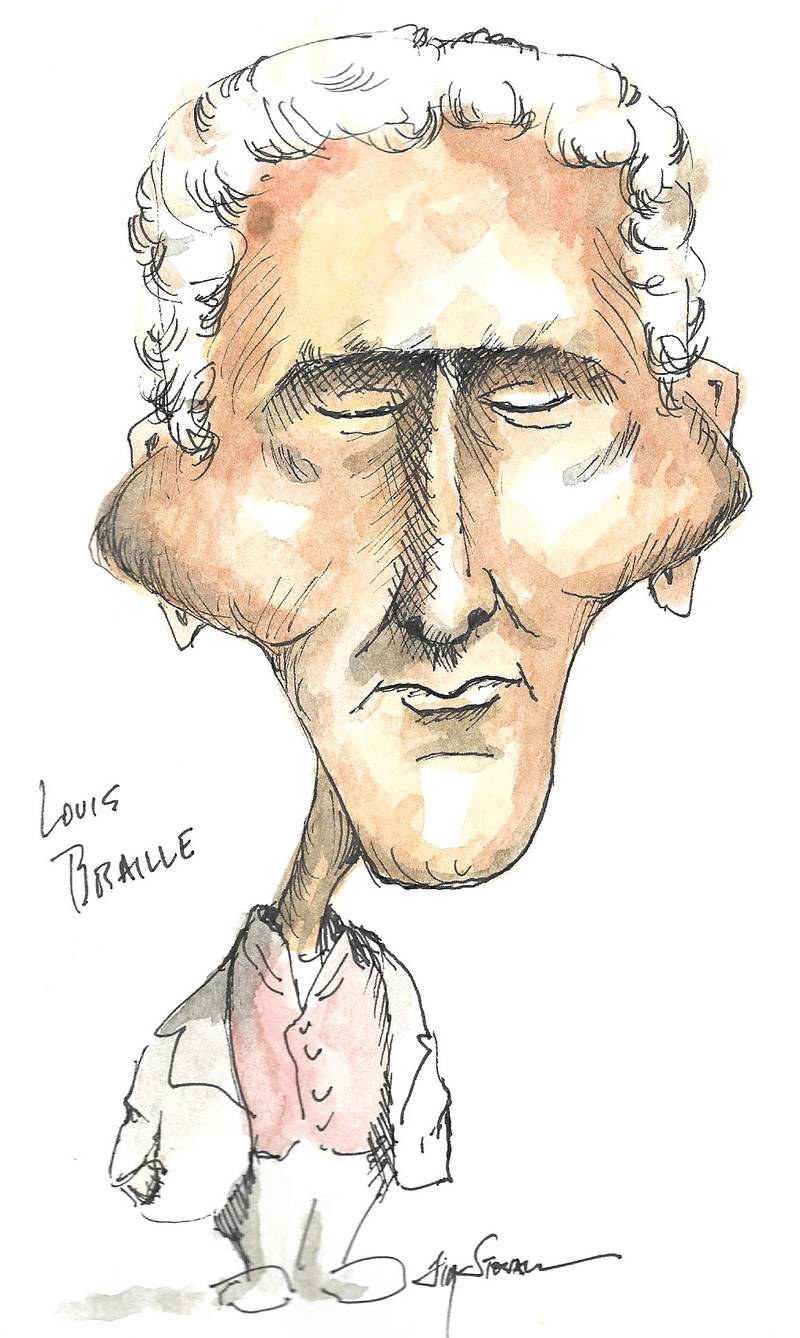 Braille was born on January 4, 1809, in a small town in France, and he was blinded when he was a very small child. He was sent to Paris by his family to be educated at the Royal Institute for Blind Youth in 1819. He was only 10 years old, but he proved to be a quick and curious student.
At the time, students were taught to read using a system developed by the institute's founder Valentin Haüy. Haüy​ was not blind, and his system involved embossing heavy paper with Latin letters, and students could read by moving their fingers across the letters. Haüy had produced a small number of books using this system, but these books were expensive and difficult to make. And, of course, blind people could not write without a lot of expensive equipment. Still, the system was a breakthrough in that it married reading to the sense of touch by the blind.
Two years after Braille came to Paris, the school was visited by Charles Barbier, a former soldier in the French army who had devised a system called "night writing." The system used a configuration of 12 dots punched into a piece of paper for each letter, and it allowed soldiers to exchange secret information at night. The system worked, Barbier said, but it was very difficult for the soldiers to learn. Almost immediately, Braille recognized that this was a system that could be adapted to allow blind people to read.
Even though he was only 12 years old, Braille believed that he could improve on this system, and he started to work on it. By the time he was 15, he had devised a system that used only six dots per letter. Braille then went to work on a book that explained his system and argued that it would enable blind students to write as well as read. The book was published in 1829. It was the first book published using what would eventually be a universally-accepted system.
By that time, Braille had become a teacher at the institute. Students loved Braille's new system of reading and writing, but the teachers at the institute were very conservative and far less enthusiastic about it. Installing a new system would mean that the teachers not only had to learn the system but also had to revise their teaching methods.
Nevertheless, Braille continued to revise and advocate for his system. In addition to his other skills, Braille was a noted mathematician and a musician, playing both the cello and the organ with great proficiency. Thus, he added numbers and musical notation to his system. Braille played the organ at churches throughout France, and he was the regular organist for two different churches in Paris.
Braille suffered from ill-health his entire life, and his condition—probably tuberculosis—worsened as he reached the age of 40. He finally had to give up his teaching position at the institute, and in 1852, at the age of 43, he died. Two years after his death, the institute began using his system of reading and writing. Within 30 years, that system had been accepted in all parts of the world except North America. It was only in the 20th century that Americans finally accepted the Braille system.
Keys to a successful college career
If someone in your family or circle of friends is a high school freshman, thinking seriously about attending college next year, a recent article in Psychology Today by Abdulrahman Bindamnan would be a valuable thing to share—and to discuss if the opportunity
presents itself.
Too much of formal schooling today is concerned with testing. In fact, it seems as though school is about finding out what the students know rather than giving them the opportunity to learn. Students, unfortunately, absorb this message. And they may think that demonstrating what they know, rather than learning what they don't know is the point of a college education.
It isn't.
The author of the article demonstrates this ably by identifying the feeling that "students feel pressured to have the right answer to each question." He advises that students should take on what he calls "the humility to learn."
There are other key points that he makes in the short article, 3 keys to college success.
My 40 years of teaching at the college level tells me that much of what Bindamin has written, if taken to heart, would be valuable for a potential college student to have in mind as he, or she sets out on one of the great adventures of life.
From the archives: Philip Yancey on reading and building a "fortress of habits"
Read. Think. Meditate/Pray. Listen.
Who among us does enough of these vital activities? Who has the time?
Who has the power to turn away from our Facebook feeds, tweets and texts, television ads, sidebars and come-ons—even our Distractor-in-Chief—to do the things we know would nourish us emotionally, intellectually, and spiritually?
Religious writer Philip Yancey (What's So Amazing About Grace and many other books) has an interesting and perceptive take on all of this in a recent article published by The Washington Post.
The death of reading is threatening the soul – The Washington Post
Yancey cites the many distractions of modern life, especially those brought on by our technology:
We're engaged in a war, and technology wields the heavy weapons.
Yancey quotes Warren Buffett on the need to build a "fortress of habits," writing:
Willpower alone is not enough, he (Buffett) says. We need to construct what he calls "a fortress of habits." I like that image. Recently I checked author Annie Dillard's website, in which she states, "I can no longer travel, can't meet with strangers, can't sign books but will sign labels with SASE, can't write by request, and can't answer letters. I've got to read and concentrate. Why? Beats me." Now that's a fortress.
People such as Bill Gates, Mark Zuckerberg, and Mark Cuban have such a fortress, and their fortresses are devoted to reading. Buffett says he reads 500 pages a day.
Technology is a problem, but it is not The Problem. We make the choices of how we spend our time. Technology often helps us make the wrong choice.
Hat-tip to Shane Parrish and his Farnam Street's Brain Food newsletter for pointing to this article.
+++
Group giveaways for January
Kill the Quarterback and Murder Most Criminous are part of five group giveaways during the month of January:
Murder and Mayhem Mailing List, January 2023
Things that Go Bump in the Night
Each of these giveaways includes more than 20 books of various sub-genres. You can download any or all of them in exchange for your email address. The email address will be shared among all authors participating in the giveaway. The purpose of these giveaways is to get books into the hands of readers and to increase email lists for the authors.
Reactions
Check out last week's newsletter
Vic C.: This issue is really terrific and I had to reread it to ensure I got everything. Thanks for the lead to "YES! magazine". I created a link on my browser so it'll be quickly accessible.
I was not familiar with Freeman Wills Crofts but have added his name to my list of authors to check out. His concept of disclosing the killer first in his mysteries immediately recalled the TV series, "Columbo". I think I watched every one of those shows because it was so fascinating.
Regarding Reid Forgrave's observations about football, I will take exception to his conclusion. I, for one, do not watch the game because of its violence. In fact, it is a distraction from what, to me, is the real entertainment: the skill of the players, in toto, executing their assigned tasks and the resultant success or failures. Moreover, watching the replays and the analyses is thoroughly enjoyable. Though I've watched the games in person, my real appreciation for the action was keyed by the commentary provided by the great Alex Karras on Monday Night Football. Aside from his humor, he described what was happening on the field with a level of detail that others ignored and encouraged me to pay closer attention to the individual efforts.
Thanks again for all your newsletters. As always, they are a source of both information and pleasure in the reading.
Bill G.: Another great collection of stories. I have a response about your football safety story.
Back in the mid-1990's, there was a freshman boy from another school in our area of Central Ohio who, in the first play of his first game of the football season, he was tackled and broke his neck. He ended up a quadriplegic and was in a wheelchair for the rest of his life. Back then, not all schools were handicapped accessible, but our school was campus style with everything on one level. So his parents enrolled him in our high school.
He was having adjustment issues, so they put him in my communication class so he could get to know new friends in a comfortable class. He was in a wheelchair with his hands strapped down on the arms of the chair. He had enough control of his right hand to push a toggle rod to move his wheelchair. We made some progress over several weeks, but he was challenged more than any young man should be—all because he was in one play of one game of football at age 14.
I appreciated your story because, whenever I see a player down in a college or pro game, I think of that young boy who, if he is still alive, is still tied to a chair.
Thank you for pointing out this continuing problem.
Finally . . .
This week's watercolor: Play ball
Best quote of the week:
People who demand neutrality in any situation are usually not neutral but in favor of the status quo. Max Eastman, journalist and poet (1883-1969)
Pray-as-you-go podcast
If you are looking for a quiet, meditative, non-theological but scriptural podcast to start or close your day, try pray-as-you-go.org. The podcasts are 10-12 minutes long, and they feature beautiful music, a scripture reading, and a very short devotional. It's a great respite from an otherwise all-too-noisy world.
BibleProject.com
If you are interested in reading scripture, either the Old Testament, the New Testament, or both, you might be interested in the videos, commentary, and podcast of the BibleProject.com. The people who work on this site have done some deep and thoughtful reading of the Bible, and the videos they have produced (generally shorter than 10 minutes) are both entertaining and enlightening. They view the Bible as a single entity with a single purpose, and their approach is both delightful and refreshing.
Fires in California, freezing weather in Texas, hurricanes on the Atlantic Coast, tornados in Tennessee, and now coronavirus — disasters occur everywhere. They have spread untold misery and disruption. The people affected by them need our help.
It's not complicated. Things happen to people, and we should be ready to do all the good we can in all of the ways we can. (Some will recognize that I am paraphrasing John Wesley here).
When is the last time you gave to your favorite charity? The United Methodist Committee on Relief (UMCOR.org) is my favorite charity. Please make a contribution to this one or to yours.
Keep reading, keep writing (especially to me), and have a great weekend.
Jim
Jim Stovall
www.jprof.com
You can connect with Jim on Facebook, Twitter, Linkedin, and BookBub.
His Amazon author page is where you can find more information about his books.
Last week's newsletter: Setting a standard for the police procedural, how we got the Smithsonian, and the love of American football: newsletter, January 20, 2023
✕
Get a FREE copy of Kill the Quarterback
Get a free digital copy of Jim Stovall's mystery novel, Kill the Quarterback. You will also get Jim's newsletter and advanced notice of publications, free downloads and a variety of information about what he is working on. Jim likes to stay in touch, so sign up today.