This newsletter was sent to everyone on Jim's email list (2,374) on Friday, April 16, 2021.
The six-hour Ken Burns-Lynn Novick documentary on Ernest Hemingway has sparked hundreds of articles (including one below) and tens of thousands of comments about the man, his writing, and his life. Hemingway died 60 years ago, but his work is still read and honored and his life is a source of endless stories and fascination.
The documentary leaves two simple impressions: Hemingway was the greatest writer of the 20th century. and Hemingway was an unremittingly awful person. On reflection, both impressions call for some mitigation, some opposing opinion. To conclude thinking about Hemingway with just those two impressions – easy as they are to form — is to stop short of a full understanding of this talented, flawed, and ultimately tragic human being.
Hemingway lived the life that few others could have lived. He wrote in a way that no one before him has written. His personal demons drove him to do great things and to do terrible things. His complexities are far greater than even a six-hour television documentary could encompass.
With those thoughts in mind, I also urge you to have a great weekend.
Under the newsletter's hood: Last week's newsletter was sent to 2,367 subscribers and had a 28.6 percent open rate; 3 people unsubscribed.
---
Important: Remember to open the images or click on one of the links so that my email service will record your engagement, and you will stay active on the list. Thanks.
---
Sherwood Anderson: Hemingway's mentor and object of his ridicule
Even if you are the most avid Ernest Hemingway fan on your city block or country road, chances are you have not read his novel The Torrents of Spring. The novel itself is probably not worth reading, but the story behind it is worth knowing because of what it tells us about Hemingway the human being.
And the story is not a particularly uplifting one.
We should first start, however, with Sherwood Anderson, one of the great American writers of the early 20th century. Anderson is mostly remembered for his book of short stories, Winesburg Ohio, in which he examines the isolation and loneliness found in American life during the first decade of the 1900s. The stories were most likely written in 1915 and 1916, and the book was published in 1919. It was one of the earliest works of what came to be known as the modernist movement in American literature
The book was well-received critically and established Anderson as one of the major authors of the Chicago Renaissance that included Theodore Dreiser, Edgar Lee Masters, and Carl Sandburg. The book was written in a style that de-emphasized plot and instead put its major reliance on the development of the characters within the story. The people and places in the story were realistically rendered. The book deliberately steps away from the romanticism that imbued many 19th-century novels.
As such, it was seen as something new and fresh, and Anderson was, in the eyes of many, a breakthrough author. Anderson wrote in a straightforward, simple manner with nouns and verbs and only minimal use of adjectives and adverbs.
Anderson was part of a cadre of writers and artists in and around Chicago that later became known as the Chicago Renaissance. It was into that milieu that a young Ernest Hemingway, fresh from his experiences in Italy during World War I, entered hoping to become a well-known writer. Anderson read what Hemingway had written and realized something of the potential of the young author. He advised Hemingway and his new wife, Hadley, to go to Paris, a place that Anderson knew well and where he had many artistic friends. Hemingway, he said, could live there cheaply and learn his craft. Anderson also armed Hemingway with letters of introduction to people such as Ezra Pound and Gertrude Stein.
Hemingway followed Anderson's advice and went to Paris. Anderson continued to champion Hemingway, and in 1925 when he was ready to find a publisher for a set of short stories, In Our Time, Anderson was more than happy to help. Anderson himself was looking for a new publisher for his latest novel, Dark Laughter. He landed a contract with Boni and Liveright, and he encouraged that publisher to take on Hemingway as well. When that happened, Hemingway gave Anderson full credit for "getting my stuff published."
Hemingway quickly grew disillusioned with the publishers and their anemic — at least in his mind – efforts to promote his book. He had been working on a novel based on his experiences during the war, and he and others who have read it considered it to be very good. He wanted to place it with a publisher that he felt would give it the attention that it deserved.
The problem was that in a standard author's contract such as the one he had signed with Boni and Liveright, there was a "right of first refusal" clause. That means that the publisher can publish the next work of the author if it chooses to do so. If the publisher chooses not to accept the work, the author is free to take the work to another publisher.
F. Scott Fitzgerald, whose publisher was Simon & Schuster and whose editor was the famous Max Perkins, told Hemingway but this should be the place for his next novel. But how to get out of Hemingway's contract?
Fitzgerald and Hemingway cooked up a scheme whereby Hemingway would write a short novel that savagely satirized Sherwood Anderson and his novel Dark Laughter. The publishers, they felt, would not be able to accept such a book. Hemingway followed through with the idea, and in ten days he wrote the 28,000-word novel, The Torrents of Spring. When he sent the manuscript off to Boni and Liveright, the publisher did as he expected and rejected it.
Hemingway was thus free to find a new publisher for this and subsequent books, and that publisher was Simon & Schuster, which proceeded to publish The Torrents of Spring but was really after Hemingway's first great novel, A Farewell to Arms.
Ironically, Dark Laughter became a best-seller, the only work of Sherwood Anderson to achieve the status.
Anderson continued to encourage young writers such as William Faulkner until his death in 1941. Today we remember him as much for that encouragement as for the works he himself produced.
Heads and Tales: Caricatures and Stories of the Famous, the Infamous, and the Just Plain Interesting
My latest literary and artistic efforts have come to fruition with the publication of a new book: Heads and Tales: Caricatures and Stories of the Famous, the Infamous, and the Just Plain Interesting. The book is now in paperback and ebook form, but also accompanied by something else: a podcast series.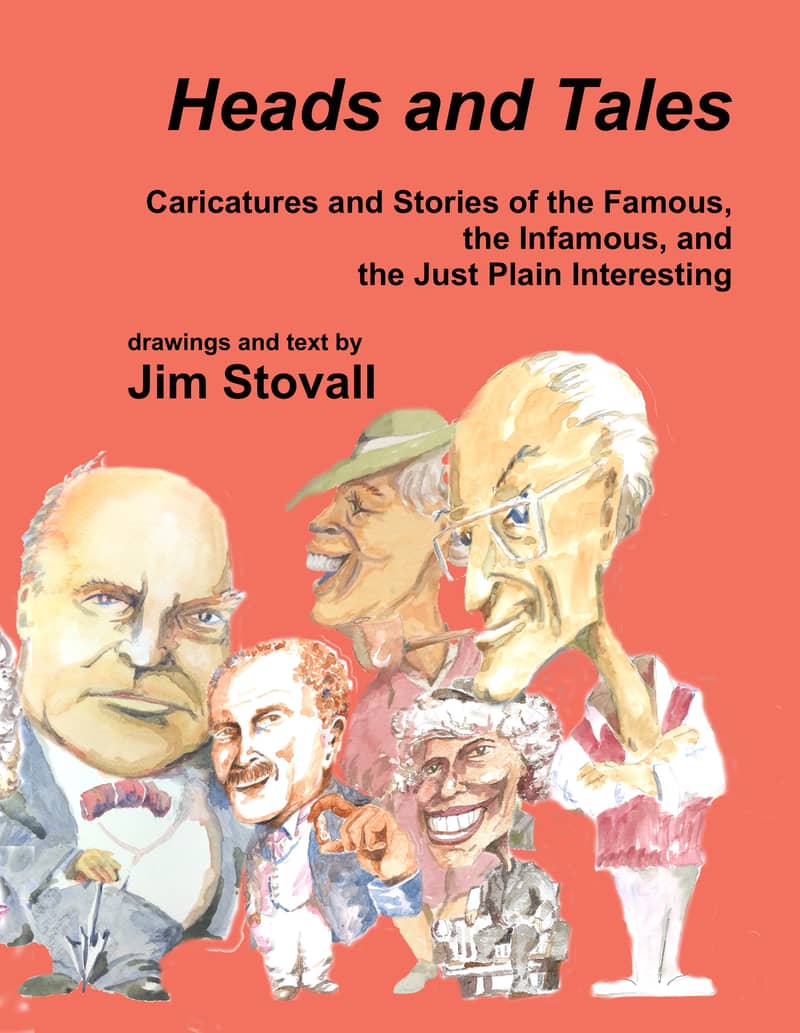 The book contains many caricatures and stories that you have seen and read in this newsletter, plus some that have not made it here yet.
The podcast is me talking about some of the people that I have written about and caricatures that I have drawn. The podcast can be heard almost anywhere that you can find podcasts (like here on Apple podcasts), and the podcast website is this: heads-and-tales.simplecast.com
This week's episode is about Churchill the writer – part 3.
The book is currently on Amazon and can be accessed with this link: http://bit.ly/headsandtales.
Deliberate practice: the road to getting better
Too often, when we are complimenting a work of artistry, we say the person who produced it has "talent." But such a comment — without our meaning it to be — is dismissive rather than complimentary.
What it dismisses is the amount of time and hard work that has gone into producing the artistry.
It discounts the "deliberate practice" that has gone into developing the talent that a person has. Shane Parrish in his FarnhamStreet.com blog delves deeply into the concept of deliberate practice in a long article about what it takes to "get better" at doing something.
Deliberate practice is what turns amateurs into professionals. Across every field, deliberate practice is what creates top performers and what they use to stay at the top of their game. It's absolutely essential for expert performance.

As a general concept, "practice" means preparing. It's the act of repeatedly performing certain activities with the intention of improving a specific associated skill. We rehearse what to do in low-pressure situations so we'll be better when we use a skill in situations where something is actually at stake, such as in a competition or in the workplace. Although this definition may seem obvious, it's crucial to distinguish between doing something and practicing it, because they're not always synonymous. Source: The Ultimate Deliberate Practice Guide: How to Be the Best
What Parrish is writing about is getting better at any activity — not just ones we consider "artistic."
If you want to get better at doing something, this article is definitely worth the time.
Rose Dugdale and the stolen Vermeer
Rose Dugdale's life, in the 1950s and 1960s, seemed to be on a straight path of privilege, success, and accomplishment.
Dugdale had been born in 1941 to an upper-class family in Great Britain. She spent her early years on vast ancestral estates and grew up to be a beautiful and pleasant young lady. When she was of the proper age, she was presented as a debutante to the Queen of England. Those who remember her from these early years describe her in glowing terms.
In 1959, she began her studies in politics, economics, and philosophy at St. Anne's College in Oxford. It was there that Dugdale began to realize how privileged her life had been and the best differences good life had offered to most other people. She also realized how differently women were treated in her emerging adult world.
Women, for instance, we're not able to participate in the famous Oxford Union debating society. She and another student crashed the union meeting to protest their exclusion. When she had finished at Oxford, she traveled to the United States to continue her studies. She completed her master's degree at Mount Holyoke College and then returned to London where she obtained a doctorate in economics.
Dugdale's radicalization continued through the 1960s as she observed student movements and various protests against established authority. She quit her job as an economics teacher, cashed out her inheritance, sold her house in Chelsea, and moved in with an ex-Army vet in north London. There, she distributed her money to poor people in the area.
With the beginning of The Troubles in Northern Ireland, she took an increasing interest in the civil rights demonstrations taking place, and she visited Northern Ireland several times. In 1973, she and her boyfriend, Walter Heaton, were arrested and charged with stealing more than 80,000 pounds worth of goods from her family's home. Both were convicted, and he was given a jail sentence while Dugdale received only a suspended sentence.
After the trial, Dugdale declared herself to be an active member of the Irish Republican Army. In January the next year, she and an IRA man stole a helicopter and attempted to drop homemade bombs in milk cans onto a Northern Ireland police station. A warrant was issued for her arrest, and she went underground. In April 1974, she and two IRA members forced their way into the Russborough House, a large estate in the Republic of Ireland, beat up the owners, and stole several million dollars worth of paintings. One of those paintings was a Vermeer: Lady Writing a Letter with her Maid,
The plan was to hold the paintings hostage and to demand money and the release of certain jailed IRA members. A nationwide search by the police ensued, and within about two weeks the paintings and their captors were found. Dugdale was charged with multiple crimes. She used the trial as a forum to declare her commitment to freeing Ireland completely from British rule. She was convicted and sentenced to nine years in prison.
All of her activities during these times made her a darling of the international press. She was the Debutante-turned-Radical, and there were countless accounts of her appearance and clothing. Outside of her political world, Dugdale made history in another realm. She was the first woman to mastermind an art theft.
That's the part of her story that interests author Anthony Amore, who has written a recently-published book, The True Story of Rose Dugdale, The Woman Who Stole Vermeer, claiming that she is responsible not only for the crime for which she was convicted but also for another major art theft:
The first Russborough House heist (as of 2020, there have now been, incredibly, four) established Rose Dugdale as the great outlier—history's first and only female mastermind and thief of high-value, highly recognizable masterpieces. It must be emphasized that she wasn't just a hired gun or a lookout—she was the force behind the planning and execution of the crime, the leader of, and key to, the whole sordid and fantastic affair. The men who accompanied her were merely muscle.

None of them had the knowledge of Russborough House's holdings to target it and wouldn't have known what to select from the walls even if they had. But Rose knew, and she chose very well. In fact, even if she had left behind the Vermeer during the Russborough House job (an oversight she would never have made), most of the other eighteen works would still qualify her take as among the greatest in art theft history. Yet more incredibly, this was likely not Dugdale's only foray into stealing masterpieces. Source: The True Story of Rose Dugdale, The Woman Who Stole Vermeer ‹ CrimeReads
Dugdale was released from prison after serving for more than five years. She now lives in Dublin, Ireland, and has never spoken or written extensively about her activities with the Irish Republican Army.
++++
The New York Review of Books has this review of Amore's book: A Vermeer for the IRA | by Ruth Bernard Yeazell | The New York Review of Books
Reactions
Eric S.: Many people insist you cannot separate the art from the artist. They suggest that when a big jerk like Hemingway writes a masterpiece like For Whom the Bell Tolls, it should be avoided rather than appreciated for what it is. I respect those who feel that way and feel lucky I don't. I finish every Hemingway book in awe that such a flawed human being wrote such magnificent stories with such humanity. Fact is, we all are profoundly flawed but only a chosen few have the discipline and talent to make great art.
Elizabeth F.: HEMINGWAY…just 2 parts in and finding a lot unforgettable and made more so by my experiences in Paris and following many Hemingway treks and haunts around the city, The James Joyce bio also provides a view as do so many other writers. I am charmed by the impact of Jeff Daniel's reading Hemingway. It works well and reminds again that reading my written words out loud makes me a better editor and writer. It also reminds me of my dad's reliance on his proofreaders who read aloud and corrected spelling, grammar, facts…all out loud. Thanks for this weekly fun. I look forward to it every time,
Kitty G.: My favorite from the '60s …. Martha and the Vandellas …. Dancing in the Streets!!
Best quote of the week:
If life's lessons could be reduced to single sentences, there would be no need for fiction. Scott Turow, author and lawyer (b. 1949)
Fires in California, freezing weather in Texas, hurricanes on the Atlantic Coast, tornados in Tennessee, and now coronavirus — disasters occur everywhere. They have spread untold misery and disruption. The people affected by them need our help.
It's not complicated. Things happen to people, and we should be ready to do all the good we can in all of the ways we can. (Some will recognize that I am paraphrasing John Wesley here).
When is the last time you gave to your favorite charity? The United Methodist Committee on Relief (UMCOR.org) is my favorite charity. Please make a contribution to this one or to yours.
Keep reading, keep writing (especially to me), and have a great weekend.
Jim
Jim Stovall
www.jprof.com
You can connect with Jim on Facebook, Twitter, Linkedin, and BookBub.
His Amazon author page is where you can find more information about his books.
Last week's newsletter: Hemingway's month, Rolling Stone's Motown list, and a podcast recommendation: newsletter, April 9, 2021
✕
Get a FREE copy of Kill the Quarterback
Get a free digital copy of Jim Stovall's mystery novel, Kill the Quarterback. You will also get Jim's newsletter and advanced notice of publications, free downloads and a variety of information about what he is working on. Jim likes to stay in touch, so sign up today.