This newsletter was sent to everyone on Jim's email list (2,369) on Friday, April 2, 2021.
The 2019 college admissions scandal that resulted in the indictments of more than 50 people — most of them the well-off and well-intentioned parents of college-aged children — was based on an idea that many people carry around in their heads: namely, you can get a "better education" if you attend a "better" college or university. That idea is blatantly and, in this sad case, criminally false. Where you or your child attends college makes absolutely no difference in the kind of education the student receives.
But, let's put it more positively: you or your child can get a good education anywhere. I say this unequivocally with the confidence of more than 40 years of experience in higher education. The quality of an education at a post-secondary institution is not dependent on the location of the college, the number of volumes in its library, the productive scholarship of its faculty, or the winning percentage of its football team. It depends almost entirely on one thing – the desire of the student to get a good education.
As you might imagine, I have very strong feelings about this topic. Many of those feelings came crashing into my head recently as I watched a Netflix documentary on the 2019 scandal and as I considered the profound tragedy it was for all those involved in it. The documentary is one that I would recommend your watching if you have the inclination and the opportunity.
Whatever you are watching or reading these days, I urge you to have a great weekend doing it.
Under the newsletter's hood: Last week's newsletter was sent to 2,374 subscribers and had a 26.6 percent open rate; 1 person unsubscribed.
---
Important: Remember to open the images or click on one of the links so that my email service will record your engagement, and you will stay active on the list. Thanks.
---
Wanda Gág and her Millions of Cats
Illustrator-genius Wanda Gág (pronunciation: rhymes with "bog") must have liked cats. Her most famous book was Millions of Cats, published in 1928 and for many years as much a part of a child's literary shelf as Goodnight, Moon or Where the Wild Things Are are today.
Millions of Cats was not only a wildly popular book (which still sells well today), but it was also a breakthrough in the design of children's books.
Before it was published, the standard format of children's books was to have a page of text facing a page of illustration. In Millions of Cats, Gág placed the large, hand-written text on the same page with the illustration. A child just learning to read did not have to switch back and forth from page to page to try to connect the text with the pictures. Gág also considered the double-page spread a single unit, and her illustrations often stretched across these two pages.
These were simple changes and ones that we take for granted today, but their impact on children's books was profound.
Gág was born in 1893 into a close-knit community of German speakers in New Ulm, Minnesota. Her father was a photographer who died of tuberculosis when she was 15. Despite her family's poverty, she continued her education, and when she graduated from high school, she became a teacher. That lasted for only about a year because Gág was much more interested in art than teaching.
She attended art school in Minneapolis and won a scholarship to the Art Student League of New York in 1917. By 1919 she was living in New York and working as a commercial artist. She had a particular interest in working with children's books. She also developed a series of illustrated crossword puzzles for children that was syndicated in several newspapers. In addition, she successfully exhibited her own artwork in several solo shows.
Gág became part of the leftist-feminist community in New York, and she wrote magazine articles as well as illustrating them. She followed up the publication of Millions of Cats with other successful children's books, including Gone Is Gone; or The Story of a Man Who Wanted to Do Housework, published in 1935.
She made enough money to buy a farm in New Jersey, where she spent a good deal of time, and she supported her younger siblings by giving them work and encouraging their ambitions. After numerous affairs, she married her long-time business manager Earle Humphreys in 1943, but she died of lung cancer in 1946. She was only 53 years old.
Passing notes: Marianne Carus, Beverly Cleary, Larry McMurtry
Three of our great writers/editors have died recently, leaving big gaps in the American literary community:
Marianne Carus, the co-founder with her husband, of Cricket, the "New Yorker magazine for children," died in early March at her home in Illinois. She was born in Germany in 1928, married an American, Blouke Carus, in 1951, and eventually immigrated to the U.S. There she found that the magazines directed at children were insubstantial and condescending. She wanted something more and set about producing it. Her childhood experiences in Germany during the war had been searing ones, and she understood innately the need for children to shield themselves by building their own world. Cricket, she was determined, would help them do just that. Cricket was never very profitable, but it had a large and loyal following.
Beverly Cleary wrote for children and about children with real problems, and she never really sounded like an adult. Her characters were funny, but she never made fun of them. She laughed along with her readers. All of that made her one of the best-selling children's authors — and one of the most beloved — of all time. She probably had as many as 85 million books in print. Cleary said she wrote books that as a child she would have wanted to read. Cleary died in California on March 25. She was 104 years old.
Larry McMurtry had a Pulitzer Prize for fiction (Lonesome Dove) and an Oscar for screenwriting (Brokeback Mountain) tucked into a large volume of work and a six-building bookstore that he owned in his native Texas. He liked the role of literary outsider, although his place as a literary insider was never really in question either. McMurtry challenged the myths of the old West with his cowboys preferring pickup trucks to horses and poolhalls to campfires. Through it all, he never took himself too seriously. McMurtry died at the age of 84 on March 25.
Heads and Tales: Caricatures and Stories of the Famous, the Infamous, and the Just Plain Interesting
My latest literary and artistic efforts have come to fruition with the publication of a new book: Heads and Tales: Caricatures and Stories of the Famous, the Infamous, and the Just Plain Interesting. The book is now in paperback and ebook form, but also accompanied by something else: a podcast series.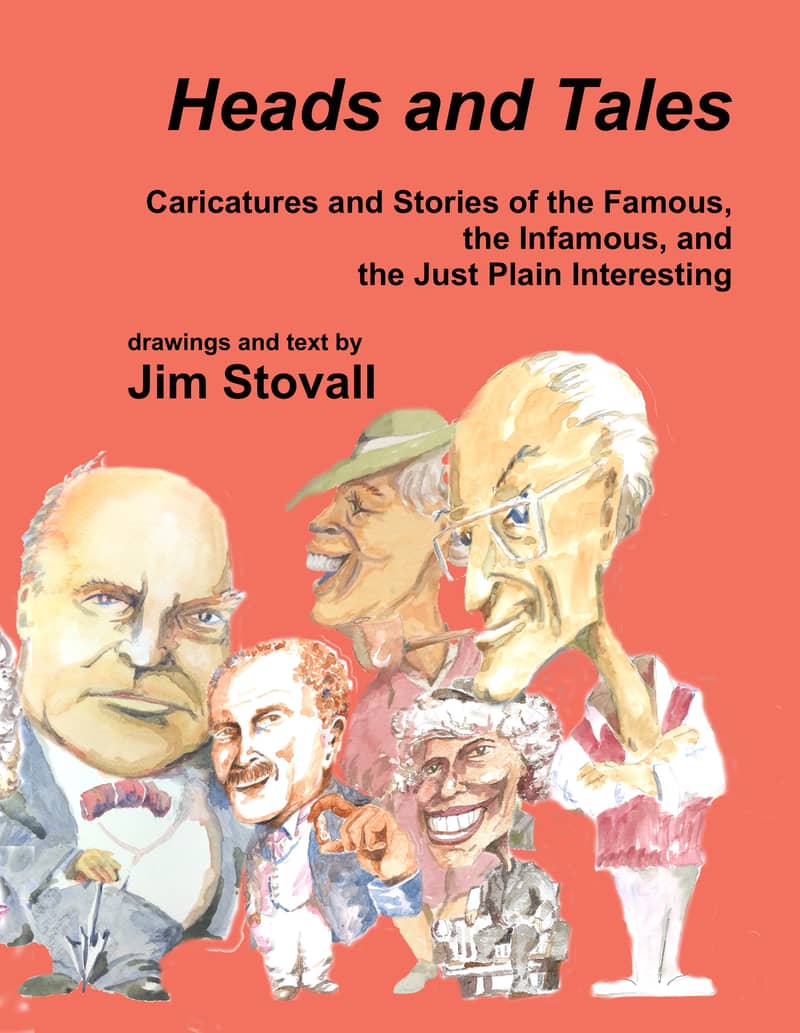 The book contains many caricatures and stories that you have seen and read in this newsletter, plus some that have not made it here yet.
The podcast is me talking about some of the people that I have written about and caricatures that I have drawn. The podcast can be heard almost anywhere that you can find podcasts (like here on Apple podcasts), and the podcast website is this: heads-and-tales.simplecast.com
This week's episode is about Winston Churchill: the writer (part 1).
The book is currently on Amazon and can be accessed with this link: http://bit.ly/headsandtales.
From the archives: The Triangle Shirtwaist Factory Fire
See this video slideshow: Triangle Shirtwaist Factory Fire from Jim Stovall on Vimeo.
These photos are from the Library of Congress collection and show some of the scenes associated with the Triangle Shirtwaist Factory Fire, which occurred on March 25, 1911. The first killed 146 people, mostly young women. It is one of the events that spurred the suffrage movement of that decade.
***
Few stories in the history of American labor or suffrage are more poignant or more tragic than the fire that killed 146 workers, mostly young women, at the Triangle Shirtwaist Factory in Manhattan's garment district on March 25, 1911.
No one today, of course, would have any recollection of any event surrounding it.
But when it happened, thousands of people could tell personal stories.
The Triangle Shirtwaist Factory was located near Washington Square and had gained notoriety for the way its workers had led the general garment workers strike of 1909. That strike resulted in much-needed concessions for many of the workers of that time, even though they were merely women. That was the attitude that much of America and most of organized labor had toward these workers, many of whom were immigrants.
The workers were not merely women, of course. They were human beings, trying to support themselves and their families with difficult, tedious, and mind-numbing work for long hours and in bad conditions.
The main goal of the 1909 general strike was to try to get factory owners to recognize unions for these women as collective bargaining agents. That happened in some places, but it didn't happen at Triangle. Eventually, the workers went back to work with some improvement in conditions.
One thing that didn't improve at Triangle was the suspicion on the part of the owners that some of the Triangle workers might be stealing. The possessions of the workers were thoroughly searched every night before they left, and to ensure the integrity of the search, most of the exits were locked. When a fire broke out just before closing on a Saturday afternoon in March, many of the workers had no way of escaping.
Triangle was located within sight of Washington Square, and the streets on that Saturday were filled with people. Many of those on the outside saw smoke or fire before some on the inside did. And things got worse. As the flames came out of the window and screams began to be heard, many thousands crowded around, waiting for the horse-drawn firetrucks to arrive. When they did, their ladders could not reach the ninth floor where most of those who were trapped waited desperately.
The scenes of horror worsened as some women jumped out the windows, hoping the nets the firemen held would catch them and break their fall. They didn't.
By the time the fire was brought under control, 145 people had died. One additional person died in a hospital a few days later.
The Triangle Shirtwaist Factory fire is connected with the women's suffrage movement in two ways. The first is that during the 1909 strike, suffragists stood with the factory workers on the picket lines and gave them their support. Many of these workers, in turn, joined the suffrage movement.
The second connection is that the fire put a match to the myth that men were the natural protectors of women — an argument that was made by those who did not think that voting was necessary or desirable for women.
"Where were the men who should have been protecting those girls?" the suffragists could now ask.
They were locking the doors.
**********
Reactions
Dwight E.: I just finished reading your newsletter article about opening day. It made me want to share memories from years ago. I used to work as a vendor selling ice cream and eventually beer in the aisles of Cinergy Field in Cincinnati. That was home of the Reds and Bengals.
I absolutely loved that job, at least in the beginning. I was a stay-at-home dad and working at the stadium was like Dad's night out. I loved the camaraderie and competition among the vendors. If I had won the lottery I would have continued working at the stadium.
Opening Day in Cincinnati is almost a local holiday. There's a parade through town and many people take the day off work or school. One year stands out. I was anxious for the season to start. I felt like a kid waiting for Christmas. Finally, the day arrived chilly with a light dusting of snow on the ground. The sun came out and it became a beautiful day. All the vendors were happy to be back for opening day. I was in the blue seats (field level) selling frozen Snickers bars. Electricity was in the air.
Then the unimaginable happened. John McSherry, the home plate umpire, held up his hand to pause the game then collapsed behind home plate. A hush fell over the stadium. Team doctors rushed onto the field while everybody held their breath. CPR was performed to no avail. The game was never finished that day. I learned later that John McSherry was loved and respected by players, coaches, and fans alike. It was a dark opening day indeed.
Vic C.: Another observation/memory kindled by your mention of Handel: In 1980, I went on a business trip to Disneyworld (that was the first and last time something like that happened) and took my wife and 6-year old daughter along. I have two very strong recollections of that trip. The first was eating dinner with the rest of the business group in the paddlewheel Princess Lily restaurant. We were served miso soup with a cube of tofu in it and my boss asked me, "Why's that thing swimming in my soup?" I told him, very quietly, that if it didn't, it would drown.
More relevant to Handel was that, at night, there were lighted rafts on the lagoon (we were staying at the resort) and loudspeakers broadcast Handel's Water Music. It was thoroughly enjoyable, but I've always wondered how many people knew that that was what was playing. I say that because so many of the people we saw were listening to AC/DC, Van Halen, Frank Zappa, and the like; none of that was to our liking and was made all the more distasteful because of the volume level. Even today, we hear people driving by our house with the bass so loud that it literally rattles our windows. Ya know, it's funny that you never hear The Hallelujah Chorus blasting at 3 AM.
Frieda M.:I sure enjoyed this week's letter. Good news on the money for libraries.
I did not know the back story of Nellie Bly/Elizabeth Cochran, so thank you for the information on the 16-year-old reporter. Funny enough I have always associated Handel's Messiah with the Christmas season; now I know it was performed during the Resurrection season.
Thanks again for your great newsletter.
Donn K.: Love the piece about Nellie Bly! I have long admired her on many levels. I suppose in many ways she was an ancestor of the New Journalism. "Stunt journalism" certainly does it no justice.
I have a copy of "Ten Days in a Mad-House," and noted just now that it carries the promotional "soon to be a major motion picture." Sure enough, one came out in 2015, though I remember nothing about it. It's available for free viewing (apparently) on IMDB.com. (The biggest-name stars are Christopher Lambert and Kelly LeBrock, so I assume it wasn't big budget.)
Finally . . .
This week's watercolor: Opening Day 2021
Best quote of the week:
We can lick gravity, but sometimes the paperwork is overwhelming. Wernher von Braun, rocket scientist (1912-1977)
Fires in California, freezing weather in Texas, hurricanes on the Atlantic Coast, tornados in Alabama and Tennessee, and now coronavirus — disasters occur everywhere. They have spread untold misery and disruption. The people affected by them need our help.
It's not complicated. Things happen to people, and we should be ready to do all the good we can in all of the ways we can. (Some will recognize that I am paraphrasing John Wesley here).
When is the last time you gave to your favorite charity? The United Methodist Committee on Relief (UMCOR.org) is my favorite charity. Please make a contribution to this one or to yours.
Keep reading, keep writing (especially to me), and have a great weekend.
Jim
Jim Stovall
www.jprof.com
You can connect with Jim on Facebook, Twitter, Linkedin, and BookBub.
His Amazon author page is where you can find more information about his books.
Last week's newsletter: The first of the modern female reporters, Handel's revival, baseball's Opening Day: newsletter, March 26, 2021
✕
Get a FREE copy of Kill the Quarterback
Get a free digital copy of Jim Stovall's mystery novel, Kill the Quarterback. You will also get Jim's newsletter and advanced notice of publications, free downloads and a variety of information about what he is working on. Jim likes to stay in touch, so sign up today.