This newsletter was sent to everyone on Jim's email list (2,374) on Friday, March 26, 2021.
Some of the best news of the week concerns one of my favorites: libraries. The recent stimulus bill passed by Congress and signed by President Joseph Biden contains $200 million to aid public libraries. That amount sounds like a lot, but compared to the overall size of the stimulus, $1.9 trillion, it is a tiny amount. Still, it's a start on what our libraries desperately need: additional public support.
The money goes to something called the Institute of Museum and Library Services, the primary source of federal support for the nation's libraries and museums. "We advance, support, and empower America's museums, libraries, and related organizations through grantmaking, research, and policy development. Our vision is a nation where museums and libraries work together to transform the lives of individuals and communities," the institute says. You can find out more about this agency at http://www.imls.gov/.
As I said, it's a start, but it won't fix the deficiencies of your local library. Only your support and help will do that. If there is a Friends of the Library or other support group that you can join, I urge you to do so.
I also urge you to have a great weekend.
Under the newsletter's hood: Last week's newsletter was sent to 2,380 subscribers and had a 28.1 percent open rate; 3 people unsubscribed.
---
Important: Remember to open the images or click on one of the links so that my email service will record your engagement, and you will stay active on the list. Thanks.
---
Elizabeth Cochran Seaman – Nellie Bly: allowing the girls to dream
When Elizabeth Cochran was 16 years old, she lived with her family in Pittsburgh. The year was 1880, and Elizabeth was intelligent and precocious. The Pittsburgh Dispatch ran an article titled "What Girls are Good For," and the author concluded the girls were good for having babies and keeping house.
It was not an unpopular opinion at the time, but Elizabeth was offended. She wrote a response, which she signed as "Lonely Orphan Girl," and sent it to the paper. The editor, George Madden, was so impressed that he ran an advertisement asking the author of the article to identify herself.
Elizabeth did so, at Madden ask her to write another article. Elizabeth wrote about how divorce affected women at that time, and she argued for the reform of divorce laws. Because pseudonyms were more common than real bylines during that era, the editors of the Dispatch decided that Elizabeth needed a pen name. Cochran wanted it to be Nelly Bly, but the editor in charge misspelled it.
Thus, she became Nellie Bly, America's first great modern female news reporter.
It didn't take her long to show the readers of the Dispatch what kind of reporter she would be. One of her main subjects was the lives of working women, and she wrote an investigative series on women factory workers. The factory owners complained, and she was transferred from the news department to the women's pages to cover things like fashion, society, and gardening.
Such assignments were less than satisfying for this ambitious, driven young woman.
Cochran was always out to do things that had never been done before, and when she was 21, she persuaded her editors to send her to Mexico where she spent six months reporting on how Mexicans live their lives. In one of her reports, she protested the jailing of a fellow journalist who had criticized the Mexican government. When government officials found out what she had written, they threatened to arrest her, too. She quickly fled the country, and the articles she had written were gathered together in a book titled Six Months in Mexico.
Back in Pittsburgh, Cochran was exiled again to the women's pages and given many of her old assignments. She knew there was something better in the world of journalism for her, so she quit the paper. She then traveled to New York City, and after four months of surviving on nearly no money, she talked her way into Joseph Pulitzer's New York World newsroom. She convinced the editors that she could do the unusual assignments and produce the sensational stories that they were looking for.
The year was 1887, and many people were concerned about how the state was treating people who were mentally ill and who were residents of state institutions. Cochran got herself admitted as a patient to the Women's Lunatic Asylum on Blackwell's Island (now Roosevelt Island). It was no easy task to get in, and it was even more difficult to stay there. Cochran did both, and during her 10-day stay, she witnessed the appalling conditions that the patients had to endure.
Cochran's observations and conclusions were published in a two-part series in the New York World, and they were later expanded to a book titled Ten Days in a Madhouse. The lunatic asylum story made Cochran famous as Nellie Bly and launched an era of participatory journalism that came to be known as stunt journalism. That name, "stunt journalism," has never been satisfactory because it denigrates the courage and cleverness that women journalists, in particular, faced and doing it.
The name also dismisses the effects of some of this journalism. Not only did they increase circulation for the newspapers, but they also had lasting social consequences. Cochran's series on asylum conditions launched an investigation that resulted in reforms in the way the mentally ill were treated.
Cochran followed up her asylum expose two years later with a trip around the world in response to the title of Jules Verne's popular book Around the World in 80 Days, published in 1873. After she had set out on her journey, another female reporter for another New York newspaper did the same thing, but she went in the opposite direction. The newspapers made a contest out of their journeys to see who would arrive back in New York City in the shortest time.
Cochran did not know she was participating in a race and only heard about it when she reached Hong Kong. She dismissed the competition as inconsequential, but she made it back to New York first after traveling for 72 days. She wrote numerous stories during her journey about what she was seeing and the people that she met.
One of the significant elements of her journey was that she traveled alone for most of the time. In an age when it was thought that women should be accompanied, even if they were just walking down the street, this was a radical act.
In 1895, Cochran married Robert Seaman, an industrialist who was more than 40 years her senior. Seaman died in 1904, and Cochran took over his manufacturing business. During that time she became a certified inventor, registering a patent for a new type of stackable milk cans. She did not do well as a businesswoman, however, and the company went bankrupt.
After that, Cochran returned to reporting and traveled to Europe's Eastern Front during World War I. She was the first woman reporter to visit the war zone between Serbia and Austria and was actually arrested when she was mistaken for a British spy.
Back in the United States, she died in 1922 of pneumonia.
Cochran's life and story went far beyond to journalism that she produced. She gave girls by the thousands a chance to dream of doing something large and significant with their lives.
Baseball's Opening Day 2021: an opening day like no other
Part of the beauty of baseball's Opening Day (for the real baseball fan, "life begins on opening day") is not only that it is a new beginning, but it also calls us to something familiar, something that happens every year.
This year, 2021, is different — mainly because last year was so different. The baseball season occurred with no fans (or very few) in the stadiums. No blaring music, no cheers and groans, no threats to the life and limbs of the umpires.
So, the anticipation of Opening Day 2021 is not the anticipation of the familiar. It's the anticipation of uncertainty. What will baseball be like this year? When will the crowds and the collective noise and excitement return? Will we be able to smell the popcorn and hotdogs? These are basic elements of the game as much as the stolen base and the split-fingered fastball.
Opening Day this year, Thursday, April 1, 2021 — with all of its uncertainties — is almost upon us. No matter. It's still Opening Day.
Heads and Tales: Caricatures and Stories of the Famous, the Infamous, and the Just Plain Interesting
My latest literary and artistic efforts have come to fruition with the publication of a new book: Heads and Tales: Caricatures and Stories of the Famous, the Infamous, and the Just Plain Interesting. The book is now in paperback and ebook form, but also accompanied by something else: a podcast series.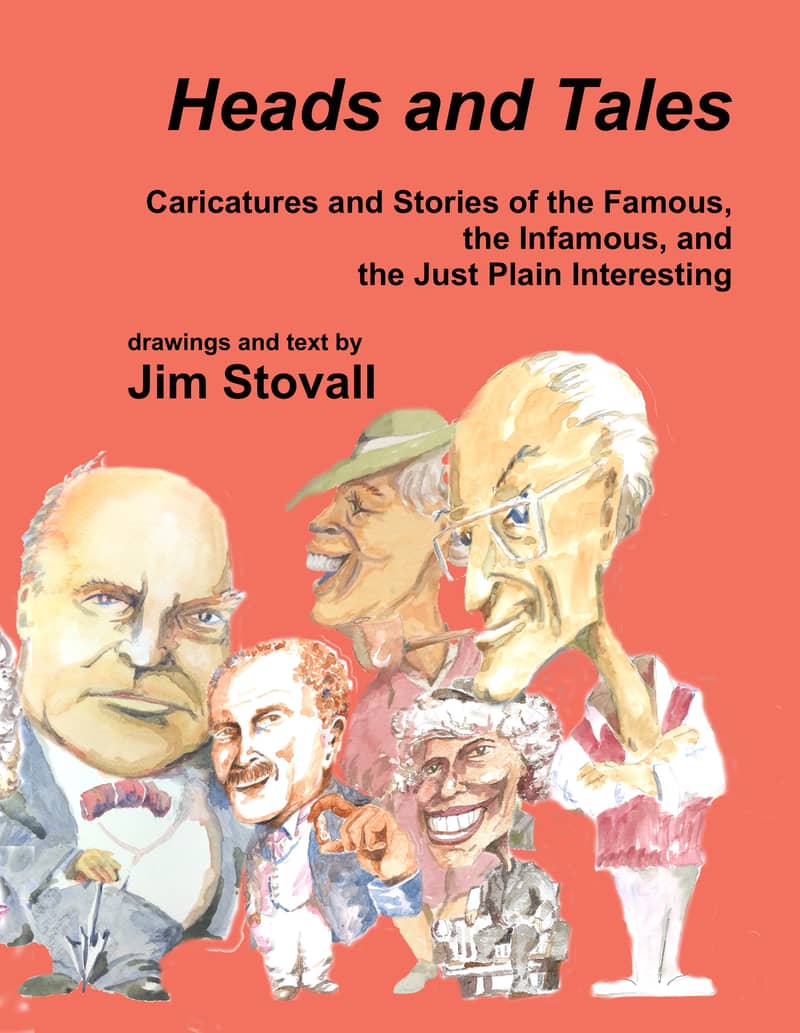 The book contains many caricatures and stories that you have seen and read in this newsletter, plus some that have not made it here yet.
The podcast is me talking about some of the people that I have written about and caricatures that I have drawn. The podcast can be heard almost anywhere that you can find podcasts (like here on Apple podcasts), and the podcast website is this: heads-and-tales.simplecast.com
This week's episode is about Agatha Christie and the death of her stars.
The book is currently on Amazon and can be accessed with this link: http://bit.ly/headsandtales.
From the archives: Handel was washed up; then came the Messiah
For the past couple of years, sometime during Lent, I have posted this article on George Frederick Handel. It's one of my favorites, and I continue with the tradition this year.
He was finished, they said. Washed up. He's had his day, and he's done.
The year was 1740, and the man they were talking about was George Frederick Handel.
Everybody in London knew who he was — and was was the operative word. Handel had once been the toast of the town, a composer without peer. His operas had thrilled and astonished audiences in a town that was tough to astonish.
Handel, who had lived in England for more than a quarter of a century, had never really ruled the operatic circles of London. It is too tough of a town for that. But the German-born musical genius had led his faction, and they loved him for it. By the mid-1730s, however, Handel had begun to lose his grip.
The public's appetite for Italian opera, Handel's specialty, was waning, and his last few productions had not gone well. Handel had made plenty of money during his career, but the operas were expensive to produce. Handel was facing bankruptcy.
There was also the issue of Handel's health. In 1737, at the age of 52, he suffered what was like a stroke and lost the use of his hands and arms for playing and conducting. His doctor predicted that his career was over. But Handel fought his way back from that and by 1740 was ready to compose again. By April 1741, Handel conducted what he — and just about everyone else — thought might be his last performance.
Four months later, Charles Jennens, a poet and former collaborator, handed Handel the libretto for an oratorio about the life of Christ. Handel had composed oratorios earlier in his career, and he realized they coming back into fashion,
Handel set to work on composing the music for the oratorio and kept at it night and day. He hardly ate, and he slept very little, if at all. Those who looked after him became concerned, even though he would often work in this furious, non-stop style.
Handel himself reported being overcome with emotion and joy at what he was creating.
Three weeks after he began, in September 1741, Messiah was a completed work. Handel premiered the work in Dublin the next April, and the audience response was enthusiastic. The Dublin Journal wrote:
Words are wanting to express the exquisite Delight it afforded to the admiring crouded Audience. The Sublime, the Grand, and the Tender, adapted to the most elevated, majestick and moving Words, conspired to transport and charm the ravished Heart and Ear.'
Hallelujah Chorus
;
The London audience was cooler to the work when it was played there, but eventually Messiah found adherents and was recognized as a great piece of music. Today Messiah, especially its Hallelujah chorus, is one of the most popular and recognizable works in the history of music.
Handel composed other oratorios that were brilliant and well-received. One was Solomon, produced in 1749, which contains a sinfonia, Arrival of the Queen of Sheba, at the beginning of the third act that is still a favorite today.
Arrival of the Queen of Sheba
By the mid-1750s, Handel had gone blind and was generally in ill health. He died in London in 1759.
His music, however, continues to live even 250 years after his death.
David Vickers The story behind the triumphant premiere of Handel's Messiah
The Glorious History of Handel's Messiah | Arts & Culture | Smithsonian
Reactions
Len E.: Just wanted to thank you for both the Coleridge and Hastings articles! Well done I thoroughly enjoyed both.
Vic. C: I have to tell you that, as soon as I saw Coleridge's name, the line that popped into my head was "he stoppeth one of three." It's absolutely amazing how, after 60+ years, that memory came so quickly to mind. It appears that at least one part of my brain is somewhat functional. An earlier memory than that is the name of the girl who recited "The Cremation of Sam McGee" from memory. I opted for "Oh Captain, My Captain" and had trouble enough with that.
Elizabeth F.: Thank you for giving your readers some insight into you.
I am currently working on two memoirs, each pivotal to decisions that changed my life and focus. It is easy to say no to something unfamiliar and also easy to say yes to something that seems innocuous and is life-changing. I appreciate your insights and personal stories.
Listening made The Ancient Mariner much more accessible…the art of reading aloud should not be discounted! PS. Your grandfather reminds me of mine…a resolute Methodist with kind eyes, a charitable heart, and a physicist with a natural bent for all things musical.
Finally . . .
This week's watercolor: A 1940s lady
Best quote of the week:
Anyone who wishes to become a good writer should endeavour, before he allows himself to be tempted by the more showy qualities, to be direct, simple, brief, vigorous, and lucid. H.W. Fowler, lexicographer (1858-1933)
Fires in California, freezing weather in Texas, hurricanes on the Atlantic Coast, tornados in Tennessee, and now coronavirus — disasters occur everywhere. They have spread untold misery and disruption. The people affected by them need our help.
It's not complicated. Things happen to people, and we should be ready to do all the good we can in all of the ways we can. (Some will recognize that I am paraphrasing John Wesley here).
When is the last time you gave to your favorite charity? The United Methodist Committee on Relief (UMCOR.org) is my favorite charity. Please make a contribution to this one or to yours.
Keep reading, keep writing (especially to me), and have a great weekend.
Jim
Jim Stovall
www.jprof.com
You can connect with Jim on Facebook, Twitter, Linkedin, and BookBub.
His Amazon author page is where you can find more information about his books.
Last week's newsletter: Coleridge and his Rime, Hastings and his impeachment, and the messy path toward the 20th amendment: newsletter, March 19, 2021
✕
Get a FREE copy of Kill the Quarterback
Get a free digital copy of Jim Stovall's mystery novel, Kill the Quarterback. You will also get Jim's newsletter and advanced notice of publications, free downloads and a variety of information about what he is working on. Jim likes to stay in touch, so sign up today.