This newsletter was sent to everyone on Jim's email list (2,392) on Friday, March 12, 2021.
One of the writing roles that I have never pictured myself fulfilling is that of a memoirist. Tell other people's stories, I would say to my journalism students, not your own. Your job is to write about other people, not yourself.
I have spent many years taking my own advice, or at least trying to. The journalist in me tells me that other people's stories are the important ones, and that's where I should concentrate my efforts. In addition, as I try to look at my life as objectively as possible, I do not believe I have much of a story to tell. I was raised by loving and encouraging parents with whom I had a good relationship. I never felt particularly deprived of anything that I really wanted. I never believed that life's obstacles for me were anything but ordinary.
My attitude about all of that has not changed, but it has shifted a bit. Maybe this is the result of the pandemic; maybe it's just age. Whatever the reason, I have been thinking about jotting down my memories of a few of the important moments in my life. There is a link below to one of those events, and I invite you, if you are interested (and I don't pretend that you are), to read it. Whatever is capturing your interest these days, I hope you have a great weekend.
Under the newsletter's hood: Last week's newsletter was sent to 2,386 subscribers and had a 28 percent open rate; 2 people unsubscribed.
---
Important: Remember to open the images or click on one of the links so that my email service will record your engagement, and you will stay active on the list. Thanks.
---
Robert Littell: the game of spying with a bit of irony and humor
Spy novelist Robert Littell has been called the American John le Carre, but there is a key difference that Sarah Weinman, in a recent review of his work for InsideHook, points out:
Where John Le Carre channeled barely suppressed rage into realist narratives steeped in bureaucracy, and Charles McCarry took the adage that "the average intelligence officer is a sort of latter-day Marcel Proust," Littell is more ironic and mordantly funny than his spy-writing peers, poking an eye at American patriotism while mercilessly skewering Soviet cynicism. Source: The Spy Novels of Robert Littell Are Literature's Greatest Account of the Cold War – InsideHook
Weinman says she read all 20 of Littell's spy novels last year in preparation for the presidential election, and some of the things that impressed her most about his writing were his consistent Jewishness, irony, and humor.
Littell has been reluctant​ over the years to reveal much about his life or his writing. He was born in Brooklyn New York in 1935 and was raised in a family that valued reading and good books. His formative years had the background of the beginnings of the Cold War, a time of tension between the East and the West that easily could have resulted in the annihilation of the world. In that post-World War II era, particularly for a Jewish kid, irony was one of the tools that you used to deal with the world.
Littell joined the Navy after college when he was 21 years old, and eventually he found himself as overnight watch officer aboard a destroyer in the Mediterranean. He was also the communications officer and, as such, was the one to decipher coded messages to the ship. These messages had to be deciphered immediately after they arrived.
One night when he was off duty, he was awakened at 3 a.m. and told that there was a message that had come to the captain of the ship that he needed to decipher. The message was from the admiral of the fleet, so it had to be important.
According to Littell, the admiral's message stated that some of the ships or maneuvering too closely to a yacht owned by actor Errol Flynn, who was on board at the time. Flynn was accompanied by a 16-year-old male companion. It seems that the Navy ships were churning up the waters around the yacht and were making both Flynn and his companion seasick. Flynn complained to the admiral of the fleet, who felt it necessary to pass that complaint on to the captains of the fleet's ships.
The point of the story? There is always humor to be found, particularly in a bureaucracy like the United States Navy, even when the world is on the brink.
Littell writes not about the Navy but about the Central Intelligence Agency and other bureaucracies charged with protecting the United States, and while the humor may not be as obvious in those organizations, it is very much present.
After four years in the Navy, Littell went to graduate school with the goal of becoming a teacher like his father. Toward the end of his program, he decided he wanted to be something else. So he quit and went to work for a small newspaper in New Jersey. He was hired by United Press International, a major news wire service of the time, and became a foreign correspondent for that agency. He spent his most productive journalistic years writing for Newsweek magazine covering the front lines of the Cold War in Eastern Europe.
By the early 1970s, Littell had decided to leave journalism and try his hand at writing novels. He remained in Europe with his wife and two children and was not far from bankruptcy when his first novel, The Defection of A.J. Lewinter, was published in 1973. That novel, which was rejected by several publishers, won the British Crime Writers' Association's Gold Dagger award, made the New York Times bestseller list, and put Littell's novel-writing career on a solid path that he is followed ever since.
His latest novel, Comrade Koba, was published in 2019. He is 86 years old, still living in Europe, and as far as we know (and hope) still writing.
+++
In 2006, Ali Karim conducted an extensive interview with Robert Littell that is the source for much of this post. That interview can be found here: http://januarymagazine.com/profiles/littell.html#t…
Dr Seuss and the inevitable result of withholding something from the public
It must be some law of nature that anytime there is an attempt to keep books from the reading public — even though the attempts spring from the best of motives — some of those readers will rebel. Case in point: the recent announcement by the foundation that controls the Dr Seuss books that it will no longer publish six of his titles.
Dr Seuss Enterprises, which oversees the late Theodor Seuss Geisel's books and legacy, has said that it has been working with a team of experts to examine the Dr Seuss books and to eliminate racist portrayals. That statement has drawn a great deal of praise and criticism.
Many readers, however, have reacted in a different way. The Guardian reports:
On Thursday morning, Amazon.com's bestseller chart was filled with Seuss titles. Nine of the Top 10 books were by the late writer, and 30 of the Top 50. Used copies of the six titles for which publication has now ceased – And to Think That I Saw It on Mulberry Street, If I Ran the Zoo, McElligot's Pool, On Beyond Zebra, Scrambled Eggs Super! and The Cat's Quizzer – were put on sale for hundreds of dollars, as sellers looked to profit from the decision.
"I can't tell you how angry I am that it will no longer be published!!" wrote one Amazon reviewer on the listing for Mulberry Street, while another ruled that there was "no racism here. Just overly PC people actively looking for something to be offended about." Source: Dr Seuss rockets up US charts after books pulled over racist portrayals | Dr Seuss | The Guardian
Telling readers that they cannot read something, for whatever reason, almost inevitably increases the demand for that very material.
Heads and Tales: Caricatures and Stories of the Famous, the Infamous, and the Just Plain Interesting
My latest literary and artistic efforts have come to fruition with the publication of a new book: Heads and Tales: Caricatures and Stories of the Famous, the Infamous, and the Just Plain Interesting. The book is now in paperback and ebook form, but also accompanied by something else: a podcast series.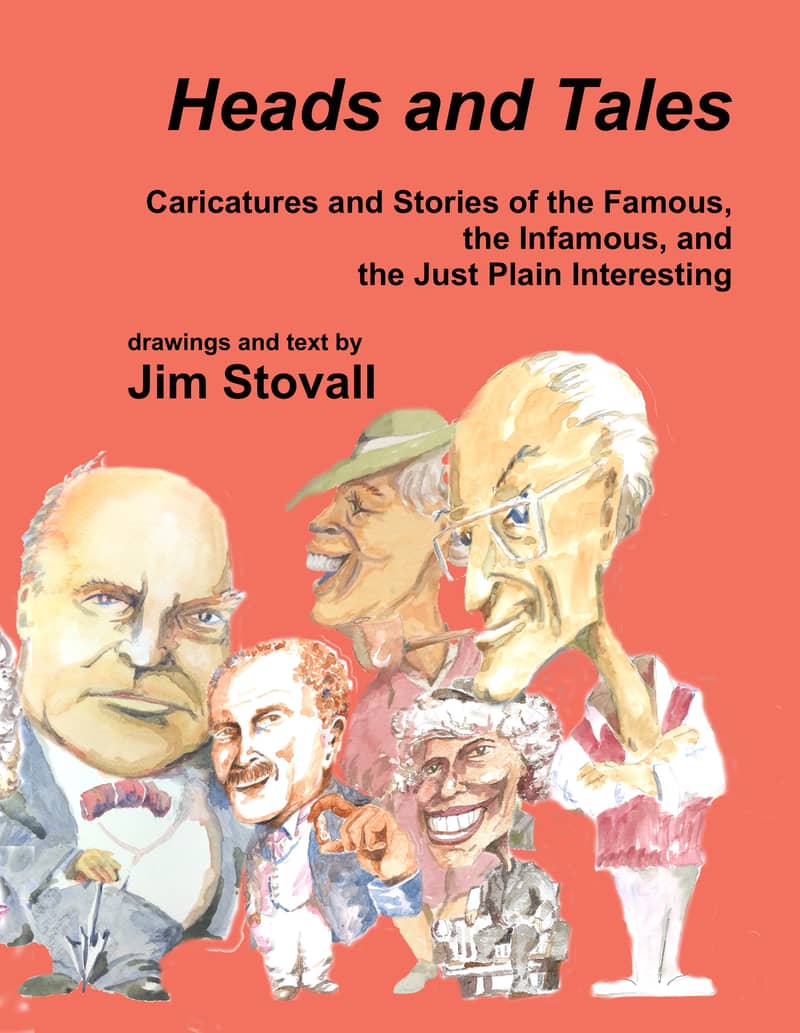 The book contains many caricatures and stories that you have seen and read in this newsletter, plus some that have not made it here yet.
The podcast is me talking about some of the people that I have written about and caricatures that I have drawn. The podcast can be heard almost anywhere that you can find podcasts (like here on Apple podcasts), and the podcast website is this: heads-and-tales.simplecast.com
This week's episode is about George Washington Carver's rules for living.
The book is currently on Amazon and can be accessed with this link: http://bit.ly/headsandtales.The book is on sale through February for $14.99, which is about 25 percent off of its intended price. The price will go up to $19.99 around the first of March. The ebook is $9.99.
Thaddeus Stevens, the unsung hero of racial equality
To look at Thaddeus Stevens' picture, you don't see a political hero. You see a rough face perched on an unusually large and protruding lower lip. He appears to have a permanent frown etched on his visage, like he hasn't enjoyed a joke since he was about six years old.
Stevens was played masterfully by Tommy Lee Jones in the award-winning movie Lincoln several years ago, but that characterization is put in its place by biographer Bruce Levine who
. . . dismisses the movie's story of Stevens and his mixed-race housekeeper Lydia Hamilton Smith as lovers by writing that "no firm evidence substantiates it". Similarly, Jones's line "Trust? Gentlemen, you seem to have forgotten that our chosen career is politics," falls into the category of "too good to check". Source: Thaddeus Stevens review: the Radical Republican America should remember | Books | The Guardian
Like his photograph, history has not been particularly kind to Stevens, who when he is mentioned at all is labeled as the leader in Congress of the "Radical Republicans" who sought a far more difficult Reconstruction to be visited on the rebellious South than the one imposed by President Andrew Johnson. Stevens and his colleagues passed laws that the president refused to enforce.
Johnson was an accidental president, a man who would never have achieved the presidency if Abraham Lincoln had not been assassinated. Although a Unionist to the core, he was a Tennessean, a resident of a state that had tried to secede. He was a Democrat. He drank too much. And his personal demons drove him to reject compromise and to pick unwinnable and unnecessary fights with those who might have been his allies.
Stevens, who led the impeachment efforts against Johnson, could be just as uncompromising about his own core beliefs: racial justice and equality. He had been a lawyer and small-time industrialist in Lancaster, Pennsylvania, and an ardent abolitionist before the Civil War. He has also been a participant in the Underground Railroad, helping slaves escape to freer lands in the North. Born in 1792, Stevens had seen much of American history play out with his own eyes.
His skill as a lawyer was legendary, and he was known for his wit and sarcasm. A judge once admonished him for showing contempt for the court. "Sir," he responded, "I'm doing my best to conceal it."
Stevens was an advocate of universal education and help Pennsylvania establish a system of free public education, the first outside of New England.
During and after the Civil War, he worked hard to enact the 14th amendment to the Constitution that would guarantee citizenship and equal treatment under the law for ex-slaves.
Stevens left many of his colleagues behind in proposing land reform that would grant freedmen property and cash that would enable them to achieve a more equal economic footing with whites. He also championed equal rights for Chinese immigrants who were flooding into California at the time — and being badly mistreated in the process.
When the impeachment of Johnson was presented to the Senate in 1868, Stevens was one of the House managers and fought tirelessly to have the president removed from office. That effort failed by one vote, and Stevens left Capitol Hill ill and embittered. He continued his efforts against Johnson, but his health declined rapidly. He died in August 1868 at the age of 76.
Stevens never married, but he was long rumored to have had a relationship with his mixed-race housekeeper and long-time friend, Lydia Hamilton Smith. Stevens always referred to her as "Mrs. Smith" and insisted that his family do the same. She often accompanied him to Washington and kept house for him there. Stevens never tried to refute the rumors about their relationship.
+++
The book referred to above is Thaddeus Stevens: Civil War Revolutionary, Fighter for Racial Justice by Bruce Levine and is published by Simon & Schuster
A personal remembrance: A decision that changed everything
Early in my academic career, I made a decision that seemed fairly minor and local at the time, but it turned out to be enormous and to change the entire trajectory of my 38 years teaching at the college level.
I had come to the University of Alabama's Department of Journalism in 1978 and had liked the people and the campus . . .
A personal remembrance: A decision that changed everything
Reactions
Carolyn C.: Nice issue! I like the bios of the women journalists. Don't forget Elizabeth Corchran, aka Nellie Bly.
Finally . . .
This week's watercolor: Grist mill
Best quote of the week:
A word is not a crystal, transparent and unchanging; it is the skin of living thought and changes from day to day as does the air around us. Oliver Wendell Holmes, Jr., U.S. Supreme Court Justice (1841-1935)
Fires in California, freezing weather in Texas, hurricanes on the Atlantic Coast, tornados in Tennessee, and now coronavirus — disasters occur everywhere. They have spread untold misery and disruption. The people affected by them need our help.
It's not complicated. Things happen to people, and we should be ready to do all the good we can in all of the ways we can. (Some will recognize that I am paraphrasing John Wesley here).
When is the last time you gave to your favorite charity? The United Methodist Committee on Relief (UMCOR.org) is my favorite charity. Please make a contribution to this one or to yours.
Keep reading, keep writing (especially to me), and have a great weekend.
Jim
Jim Stovall
www.jprof.com
You can connect with Jim on Facebook, Twitter, Linkedin, and BookBub.
His Amazon author page is where you can find more information about his books.
Last week's newsletter: Maxine Cheshire, Martha Gellhorn, and the poet who died too soon: newsletter, March 5, 2021
✕
Get a FREE copy of Kill the Quarterback
Get a free digital copy of Jim Stovall's mystery novel, Kill the Quarterback. You will also get Jim's newsletter and advanced notice of publications, free downloads and a variety of information about what he is working on. Jim likes to stay in touch, so sign up today.