This newsletter was sent to everyone on Jim's email list (2,386) on Friday, March 5, 2021.
When I got into the rhythm of writing this newsletter several years ago, one of the things that I knew early on was that I wanted to learn more about – and write about — women who had been writers and journalists. Women have always been present in literature and journalism, but their roles and accomplishments have often been obscured by their more famous male colleagues. I wanted to know more about who some of these women were, and one of the ways I have for doing that is to write about them myself.
This week's newsletter features two remarkable female journalists: Maxine Cheshire and Martha Gellhorn. Both of them showed astonishing amounts of tenacity, resourcefulness, and independence. What I have written about them here should be considered only introductory material to their wide-ranging accomplishments and lives. Both of them wrote plenty of articles and books that are still available and that deserve to be read.
Whatever you are reading this weekend, I hope that it serves you well and that it looks toward (for those of us in the northern hemisphere) a fine and productive spring.
Under the newsletter's hood: Last week's newsletter was sent to 2,389 subscribers and had a 28.8 percent open rate; 4 people unsubscribed.
---
Important: Remember to open the images or click on one of the links so that my email service will record your engagement, and you will stay active on the list. Thanks.
---
Maxine Cheshire: a reporter's instinct and a little luck
Maxine Cheshire was a reporter who knew how to get under people's skin.
She irritated Frank Sinatra into a drunken, expletive-ridden rant that was witnessed by dozens of people. She made Jacqueline Kennedy cry and provoked a presidential call to her publisher. She exposed the Nixon family's greed in keeping gifts from foreign leaders.
More than once Henry Kissinger was on the phone to editors of the Washington Post complaining about her.
Even Aristotle Onasis with all of his wealth and influence couldn't keep her from writing a detailed account of his wedding to Jacqueline Kennedy — even though she had been barred from the island where it happened.
When Maxine Cheshire wanted to find out something — especially if it was scandalous and was about someone high and mighty — there wasn't much of a way to stop her.
The Kennedy-Onassis wedding was a case in point. The Washington Post sent Cheshire to Greece in 1968 when the world heard that the widowed first lady was to marry a Greek shipping magnate. But reporters had been barred from the island where the wedding was to take place. Cheshire jumped onto a whaler hoping that it would get her onto the island, but all she got for her efforts was a broken foot.
In addition to tenacity, Cheshire had another essential quality for a good reporter – good luck. She went to a doctor in Athens to have her foot treated, and while there she spotted a desk in the doctor's office that was an antique, something at which she was an expert. She asked about the desk, and the doctor told her that he had acquired it from an antique dealer not far away.
When she visited the dealer's shop, she found that the owner was a close friend of Onassis, that he had attended the wedding, and that he would quite happily describe it in detail to her. Cheshire once again ended up getting the story that everyone else was after.
There are dozens of stories like that about Maxine Cheshire. She began life in 1930 in Harlan, Kentucky, a tough mining town where her father was a lawyer. She cut her reporter's teeth in Harlan and later in Knoxville, Tennessee, where she exhibited the same tenacity that would mark her nearly 30 years at the Washington Post. She ended up writing a nationally syndicated column about the people and the goings-on in the nation's capital. It was a must-read for anyone who wanted to stay in the know in the 1960s and 1970s.
Cheshire retired from the Post in 1982 have moved to Texas. She died on December 31, 2020, at the age of 90. She was once described as "a reporter with the guts of a cat burglar."
This bears repeating (from the archives): Martha Gellhorn, the first woman on Normandy beach, June 7, 1944
Martha Gellhorn had more than just her gender working against her when you wanted to cover the D-Day invasion for Collier's Weekly magazine in 1944. She had her husband, Ernest Hemingway.
Gellhorn and Hemingway had been together, off and on, since 1936 when they left America to cover the Spanish Civil War. Gelhorn was a dedicated journalist; Hemingway was, well, Hemingway. The two were married in 1940, but the events in Europe kept Gelhorn moving.
Gellhorn had witnessed the rise of Hitler in Germany, the Munich pact with Great Britain, and the fighting in Finland, Hong Kong, Singapore, and Germany.
When the time grew close for the D-Day invasion, Gellhorn tried to get accredited, but by then Hemingway had convinced the editors at Collier's to make him their correspondent.
It was a rotten act of betrayal — one of many that led to the breakup of their marriage in 1945.
But in the spring of 1944, the invasion was about to happen, and Gellhorn didn't have time for anger or revenge. She had a story to cover, and she had a passion to be an eye-witness to any story that she wrote.
Her mantra of "being there" is still written in stone for those who follow the path she did so much to clear. "The only way I can write with any authority with the hope of influencing even a very few people is to write from firsthand knowledge." Source: Yours, for Probably Always: Martha Gellhorn's Letters of Love and War 1930-1949 – review
Gellhorn found out about a hospital ship that was being fitted out for the invasion, and she boarded without permission and locked herself in the toilet, remaining there until the ship was sailing toward Normandy. She then volunteered to go ashore to be a stretcher-bearer, a difficult and dangerous task. But it got her on the beach, the only woman to be there on June 7, the day after the invasion had begun.
Here's an excerpt from the story she wrote for Collier's Weekly. She's on the beach waiting for the wounded to be brought in:
Then there was our favourite American conversation: "Where're you from?" An American always has time to look for someone who knows his home town. We talked about Pittsburgh and Rosemont, Pennsylvania, Chicago and Cheyenne, not saying much except that they were swell places and had this beach licked every way for Sunday. Then one of the soldiers remarked that they had a nice foxhole about 50 yards inland and we were very welcome there, when the air raid started, if we didn't mind eating sand.

My companion, one of the stretcher-bearers from the ship, thanked them for their kind invitation and said that, on the other hand, we had guests aboard the LCT and we would have to stay home this evening. I wish I had known his name, because I would like to write it down here. He was one of the best and jolliest boys I've met any place, any time. He joked, no matter what happened, and toward the end of that night, we really began to enjoy ourselves. There is a point where you feel yourself so small and helpless in such an enormous, insane nightmare of a world, that you cease to give a hoot about anything and you renounce care and start laughing. He was lovely company, that boy was, and he was brave and competent, and I wish I had known his name. Source: 'There is a point where you feel so small' | World news | The Guardian
Gellhorn continued reporting for 40 years after D-Day. She covered the war in Vietnam, the Arab-Israeli conflicts, and civil wars in Central America. She always resented being identified only as Ernest Hemingway's second wife. Her life was far more than that.
This article originally appeared in this newsletter in 2019.
Heads and Tales: Caricatures and Stories of the Famous, the Infamous, and the Just Plain Interesting
My latest literary and artistic efforts have come to fruition with the publication of a new book: Heads and Tales: Caricatures and Stories of the Famous, the Infamous, and the Just Plain Interesting. The book is now in paperback and ebook form, but also accompanied by something else: a podcast series.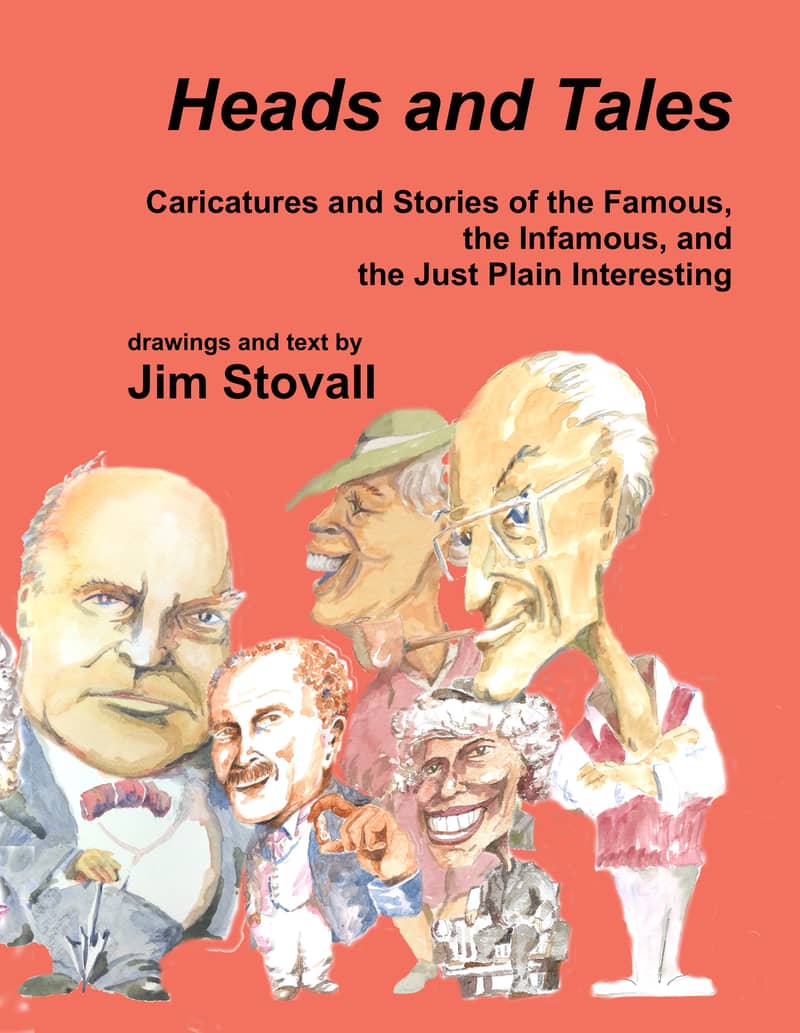 The book contains many caricatures and stories that you have seen and read in this newsletter, plus some that have not made it here yet.
The podcast is me talking about some of the people that I have written about and caricatures that I have drawn. The podcast can be heard almost anywhere that you can find podcasts (like here on Apple podcasts), and the podcast website is this: heads-and-tales.simplecast.com
This week's episode is about Andrew Carnegie and his libraries.
The book is currently on Amazon and can be accessed with this link: http://bit.ly/headsandtales. The book is still on sale for $14.99, which is about 25 percent off of its intended price. The price will go up to $19.99 sometime in March. The ebook is $9.99.
John Keats: a short life that was full of accomplishments
John Keats lived for only about a quarter of a century, but his effect on English literature is nothing less than astonishing.
Keats is currently being celebrated by the world of English letters because we have just passed the 200th anniversary of his death. This mini-revival of interest in Keats is a good one because his poetry is well worth paying attention to.
For instance, here is his poem "To Autumn," which he wrote sometime during 1819 and 1820.
Season of mists and mellow fruitfulness,
Close bosom-friend of the maturing sun;
Conspiring with him how to load and bless
With fruit the vines that round the thatch-eves run;
To bend with apples the moss'd cottage-trees,
And fill all fruit with ripeness to the core;
To swell the gourd, and plump the hazel shells
With a sweet kernel; to set budding more,
And still more, later flowers for the bees,
Until they think warm days will never cease,
For summer has o'er-brimm'd their clammy cells.
Who hath not seen thee oft amid thy store?
Sometimes whoever seeks abroad may find
Thee sitting careless on a granary floor,
Thy hair soft-lifted by the winnowing wind;
Or on a half-reap'd furrow sound asleep,
Drows'd with the fume of poppies, while thy hook
Spares the next swath and all its twined flowers:
And sometimes like a gleaner thou dost keep
Steady thy laden head across a brook;
Or by a cyder-press, with patient look,
Thou watchest the last oozings hours by hours.
Where are the songs of spring? Ay, Where are they?
Think not of them, thou hast thy music too,—
While barred clouds bloom the soft-dying day,
And touch the stubble-plains with rosy hue;
Then in a wailful choir the small gnats mourn
Among the river sallows, borne aloft
Or sinking as the light wind lives or dies;
And full-grown lambs loud bleat from hilly bourn;
Hedge-crickets sing; and now with treble soft
The red-breast whistles from a garden-croft;
And gathering swallows twitter in the skies.
Keats was born in London in 1795 to a family that was financially well-to-do. The death of his father at the age of 8 and his mother, who died of tuberculosis, six years later ultimately put some family members at odds with each other. Keats was unable to obtain the inheritance that was due to him for quite some time. He was apprenticed to a doctor, a friend of the family, and studied medicine with an eye toward practicing it as a profession.
But poetry intervened and became the love of his life.
Keats's first volume of poetry was published in 1817. He had become part of a circle of new poets who had not yet gained a wide audience or the favor of critics. This first volume was ignored or dismissed, but he kept on writing.
His next effort, Endymion (1818), was also dismissed by most critics, but a few people such as William Hazlitt and Benjamin Hayden put him on a level with Percy Bysshe Shelley as one of English literature's rising stars.
Keats found out in 1820 that, like his mother, he had tuberculosis. He went to Italy in hopes that the climate would give him some relief, but that hope did not materialize. He died in 1821 about three months after his 25th birthday.
His death at such a young age focused attention on the poetry that he had created in such a short time. He had finally gained the favor of critics, and he has been high on the list of poetry readers and poets themselves ever since.
Further information about the life of John Keats can be found via the Oxford Dictionary of National Biography.
And there is this from The Guardian:
The Keats-Shelley Memorial House in Rome, where Keats died, has launched an immersive video tour of the house, led by rock star and philanthropist Bob Geldof, to mark the anniversary. Geldof, who is the Keats-Shelley200 ambassador, is also narrating a video story for the museum, The Death of Keats, in which he will read from letters that tell the story of Keats's time in the house and his death. "Keats and the house in Rome mean a lot to me, and it was a pleasure to work on these projects for the bicentenary of his death," said Geldof. Geldof's tour can be watched with a VR headset or on a regular screen, while a panoramic tour of the house with a live guide will also be available on 23 February. Source: A joy forever: poetry world prepares to mark bicentenary of John Keats | John Keats | The Guardian
Reactions
Mike C.: I obviously cannot speak to the issue of your "confidence," seeing as I am in Florida and you are in Tennessee, and we have never met. But I sure can attest to your woodworking skill since I am the recipient of one of your beautiful wood pens! Which I proudly display for all who come to visit my humble abode. I also enjoy your writing, of course, which is how we "met" in the first place. I hope you will keep both up for many, many years to come.
Vic C.: For me, the greatest caricaturist was Albert Hirshfeld. One reason I always looked forward to visiting my aunt and uncle who subscribed to The New Yorker was being able to spot "Nina" in his drawings. The other contributor to the magazine that I admired was, of course, Charles Addams. I could always be counted on to be tucked away in the corner, scanning through the magazine. Today (squirming under the control of De Joy), the U.S. Post Office delivered the last two weeks of The New Yorker. This evening, I will go through it, looking at the cartoons first and then reading the articles. Some habits are not worth breaking, and I really do enjoy trying to come up with captions for the cartoons on the last page. Now, there's even a crossword puzzle for me to worry at.
Elizabeth F.: Good issue! Helen Gurley Brown paved the path to Carrie Bradshaw and Bridget Jones to name only a few. I think she probably influenced the woman who recommended see-through aprons and cooking spoons as door opener costumes…We are such a bunch of prudes and comics when it comes to literary sex!
Finally . . .
This week's watercolor: 1936 Rover
Best quote of the week:
What for centuries raised man above the beast is not the cudgel but the irresistible power of unarmed truth. Boris Pasternak, poet and novelist (1890-1960)
Fires in California, freezing weather in Texxas, hurricanes on the Atlantic Coast, tornados in Tennessee, and now coronavirus — disasters occur everywhere. They have spread untold misery and disruption. The people affected by them need our help.
It's not complicated. Things happen to people, and we should be ready to do all the good we can in all of the ways we can. (Some will recognize that I am paraphrasing John Wesley here).
When is the last time you gave to your favorite charity? The United Methodist Committee on Relief (UMCOR.org) is my favorite charity. Please make a contribution to this one or to yours.
Keep reading, keep writing (especially to me), and have a great weekend.
Jim
​
Jim Stovall
www.jprof.com
You can connect with Jim on Facebook, Twitter, Linkedin, and BookBub.
His Amazon author page is where you can find more information about his books.
Last week's newsletter: Sex and the sexual revolution, the beginnings of Gothic, and the Heads and Tales introductory price is expiring soon: newsletter, February 26, 2021
✕
Get a FREE copy of Kill the Quarterback
Get a free digital copy of Jim Stovall's mystery novel, Kill the Quarterback. You will also get Jim's newsletter and advanced notice of publications, free downloads and a variety of information about what he is working on. Jim likes to stay in touch, so sign up today.