This newsletter was sent to everyone on Jim's email list (2,392) on Friday, February 26, 2021.
One of the big milestones in learning any skill, I have found, is getting to the point where you have the confidence that you can do what you were trying to learn how to do. That was the case last year when I was intensely trying to learn how to do caricatures. At some point not too long ago, I realized that attempting to draw a caricature no longer frightened me.
Recently, I found that was also the case with some of my woodworking attempts. For several months, bad weather and other calls on my time had prevented me from spending much time in my woodworking shop. During the last few weeks, I have been able to return to the shop. What I discovered there, much to my surprise, was that in reminding myself about how to do certain things, I had gained a confidence about woodworking that I never had before.
I am still trying to work out some of these thoughts about skill and confidence. Whatever it is that you were trying to work out, I hope that you have a great weekend doing it.
Under the newsletter's hood: Last week's newsletter was sent to 2,396 subscribers and had a 25.8 percent open rate; 4 people unsubscribed.
---
Important: Remember to open the images or click on one of the links so that my email service will record your engagement, and you will stay active on the list. Thanks.
---
Helen Gurley Brown, sex, and the sexual revolution
The sexual revolution of the 1960s, according to feminist historians, was not about sex but rather about the traditional gender roles that had been foisted upon us by society. Sexual activity, they tell us, had really very little to do with it.
Not so for Helen Gurley Brown. The sexual revolution was indeed about sex and about how women could take advantage of it. And Brown never missed an opportunity to tell us about that.
Brown was born Helen Gurley in 1922 into a family of what she called "Arkansas hillbillies." Her father died when Helen was just a young girl, and when she was a teenager, her mother moved the family to Los Angeles. Helen spent the rest of her teen years in Southern California. She moved back East briefly to attend school, but eventually, she landed in Los Angeles again working for an advertising agency.
She turned out to be one of the best advertising copywriters the agency at ever hired. She was also one of the highest-paid copywriters in the business.
In 1959 she married David Brown, a well-known film producer. During the 1950s in Los Angeles, Helen Gurley Brown developed some out-of-the-box ideas about sex and sexual practices and what they should mean for the modern woman. Her thinking about that topic perfectly anticipated the "sexual revolution" of the 1960s.
During the same year that she married Brown, and with his great encouragement, she wrote and published the book that would make her famous, Sex and the Single Girl. The book talked frankly about how, when, and why females should ramp up their sexual practices before they get married. Having affairs, according to Brown, was not a sin but a strategy, and Brown's book gave the girls a lot of advice on tactics.
Brown and her publisher plotted to get the book banned in certain areas, a plan that never came off. It didn't need to. The book shot to the top of every bestseller list and stayed there for months.
In 1964, the book was made into a movie starring Natalie Wood. That same year Brown took over Cosmopolitan magazine, and she turned that staid literary journal into a monthly manual of advice for women on how to look good, feel good, and get the most out of the man they were with. The covers of the magazine inevitably featured gorgeous models and actresses dressed in frocks with plunging necklines. The ideal female that the magazine was attempting to achieve became known as the Cosmo Girl, a sexually liberated woman who could make her own way in the world.
Feminists did not particularly like Brown or her magazine, complaining that her emphasis on sex and little else did nothing to advance the role of women in society. Nor did the magazine say much about motherhood and the role of children in a woman's life.
Brown was breezily undeterred by these criticisms. She occasionally opened up the columns of the magazine to feminists with a broader point of view, and she even allowed an occasional article that mentioned children. But Brown kept her eye, and the eye of the magazine, squarely focused on what she saw is her original goal: helping women increase their sex appeal and enjoy sexual relationships.
Brown remained at the head of the magazine for the next three decades but was finally ousted by its board in 1997. She remained with the parent company, the Hearst Corporation, for several years after that. Her marriage to David Brown lasted until her death in 2012 at the age of 90. The couple had no children.
Brown once said, "Good girls go to heaven, bad girls go everywhere." That's the way she lived her life.
Spelling English compounds
English is an ever-confusing language even to those of us who are native speakers and writers. One of the most common stumblingblocks is the word (or word) that is made of two nouns, or the compound noun.
Do you write it as one word or two?
Sometimes dictionaries or stylebooks help, but often they don't. Sometimes they don't because the word is still in flux. That is, it can be used both ways.
So, what do you do?
You go to a website that will tell you what the most common usage is. That website has been put together by Christina Sanchez-Stockhammer, author of a book about compound nouns.
This is a pretty nifty site, so you might want to bookmark it. How to spell English compounds – based on linguistic research
Illustration: This is what it looks like when you have a compound word you want to research.
Heads and Tales: Caricatures and Stories of the Famous, the Infamous, and the Just Plain Interesting
My latest literary and artistic efforts have come to fruition with the publication of a new book: Heads and Tales: Caricatures and Stories of the Famous, the Infamous, and the Just Plain Interesting. The book is now in paperback and ebook form, but also accompanied by something else: a podcast series.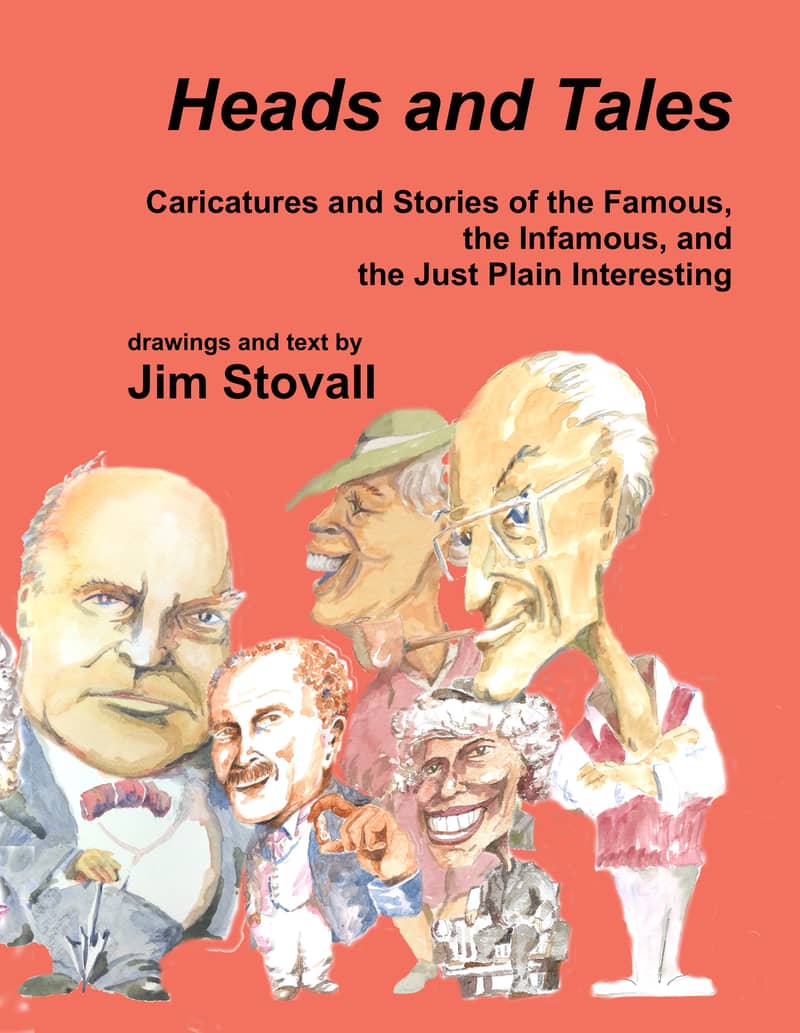 The book contains many caricatures and stories that you have seen and read in this newsletter, plus some that have not made it here yet.
The podcast is me talking about some of the people that I have written about and caricatures that I have drawn. The podcast can be heard almost anywhere that you can find podcasts (like here on Apple podcasts), and the podcast website is this: heads-and-tales.simplecast.com
This week's episode is about James Cain, his novella Double Indemnity, and the movie directed by Billy Wilder.
The book is currently on Amazon and can be accessed with this link: http://bit.ly/headsandtales.The book is on sale through February for $14.99, which is about 25 percent off of its intended price. The price will go up to $19.99 around the first of March. The ebook is $9.99.
Ann Radcliffe: a founder of Gothic
Gothic romance has never been a favorite of literary critics of any age, and that was especially true in the late 18th century.
And yet, even then, they loved the work of Ann Radcliffe, one of the genré founders and chief perpetrators.
As Dale Townshend has written in an article for the British Library website:
Even as critics and reviewers in the 1790s castigated Gothic fiction as the 'trash of the circulating libraries' – that is, as a cheap and tawdry form of popular entertainment that, in its formulaic and highly repetitive nature, fell foul of the emphasis that emergent Romantic aesthetics placed upon the category of 'original genius' – (Ann) Radcliffe was consistently singled out an exception, as the one writer who was deservedly exempt from the general condemnation of Gothic writing in Romantic-period culture. Source: An introduction to Ann Radcliffe – The British Library
Ann Radcliffe should be better known than she is today, although there has been a revival of interest in her among 21st-century scholars. One of the problems with Radcliffe is that we really don't know much about her.
Radcliffe was born (nee Ann Ward) in 1764, coincidentally the same year that Horace Walpole published The Castle of Otranto, which is considered to be the first Gothic novel. In 1787 she married William Radcliffe, an Oxford graduate and part-owner of the journal the English Chronicle.
It is said that her husband often worked late into the night, and to relieve her loneliness and boredom, Radcliff began writing novels. She would read what she had written to him, and apparently he liked what he heard and encouraged her in her writing.
She rarely appeared in public and had no significant friendships outside of her marriage. Beyond that, we know little about her personal life.
She published five novels during her lifetime. The first, The Castles of Athlin and Dubayne, was published anonymously in 1789. Her second novel The Romance of the Forest, published in 1791, was her first success.
A measure of that success was the advances she received from her publishers for her subsequent novels. Normally, during that time, novelists got about 10 pounds for their novels. In 1794 her London publishers bought the copyright for The Mysteries of Udolpho for 500 pounds. Three years later she was paid 800 pounds by a different set of publishers for her novel The Italian.
That kind of money made her the highest-paid writer of her day.
Not only was Radcliffe highly paid, but she was also highly influential on a subsequent generation of authors. Sir Walter Scott praised her work ("She led the way in a peculiar style of composition, affecting powerfully the mind of the reader, which has since been attempted by many, but in which no one has attained or approached the excellencies of the original inventor. . . "), as did Edgar Allan Poe, Victor Hugo, and Alexandre Dumas.
Jane Austen paid so much attention to her that she wrote a parody of Radcliffe's novel The Mysteries of Udolpho and Northanger Abbey in 1817.
The money Radcliffe made from her writing allowed her and her husband to travel extensively. In addition to her novels, she wrote poetry and travel articles for contemporary journals. In her later years, she retired completely from society and was rarely seen. She died in 1823.
Podcast recommendation: Power: The Story of Robert Maxwell
The name Ghislaine Maxwell is a familiar one to those who have followed the news over the last couple of years. She was a cohort to the infamous Jeffrey Epstein, who was accused of sexual trafficking and misconduct and who died in prison in 2019. Ghislaine stayed on the run for a while as state and federal officials sought her, but she was eventually found and arrested and is currently awaiting trial on charges related to her relationship with Epstein.
As interesting as some of the facts surrounding this woman are, they do not hold a candle to the facts and legends surrounding her father, Robert Maxwell. At the time of his death in 1991, Maxwell was on his way to being a major media mogul in the United States. His goal was to be something bigger than Rupert Murdoch. In pursuing that goal in Great Britain, he had always fallen short.
His death aboard his giant yacht when it was anchored off the Canary Islands cut that pursuit short.
Now there is a new podcast series that examines the life, the strange death, and the stories and rumors that have surrounded the name of Robert Maxwell during the last three decades. That podcast is titled Power: The Maxwells. It is hosted by investigative journalist Tara Palmeri, and it provides fascinating listening for those who tune in.
Here's the way they introduce the podcast:
Everyone's heard of Ghislaine Maxwell (Jeffrey Epstein's alleged partner in crime). But there's a shadowy figure who hangs above her who you likely don't know: her father, media tycoon Robert Maxwell. His rise from nothing to fall… from the deck of his super yacht under mysterious circumstances is straight out of a crime novel. His favorite daughter Ghislaine's theory: her father was murdered.
Was Robert Maxwell murdered? Did he commit suicide? Is there another explanation for his death? These and many other questions are examined by this well-done podcast. Here's where you can hear it on Apple Podcasts.
Note: I have my own story about Robert Maxwell that I will try to set down coherently before too long.
Reactions
Vince V.: Are you aware the body frame of the Morgan 8 is made of English ash? The Morgan actually comes with a warranty against wood pests such as termites and borers.
Steve W.
: I visited the Morgan plant in the U.K. Very interesting and primitive compared to U.S. mass production.
Eric S.: The Big Apple allows you to dream big, no matter what star you want to reach. But against overwhelming odds, reality kicks in for most, like me years ago, and they move away from New York. It's sort of like being discharged from the army. You're harder in the soft places and softer in the hard places.
Dan C.: I don't think I have said, "Thank you for your service." That was something we didn't hear when we were in.
In late September/early October 47 years ago, I received a forwarded mail from my house. It was from Selective Service saying I was in trouble for not sighing up for the draft when I turned 18. It was the first year of the All-Volunteer Army after the draft ended. I was at Fort Ord, California, in US Army Basic Combat Training. I had gone to the Army Induction Center in Los Angeles on my 18th Birthday and was sworn in that afternoon and bussed to Fort Ord by midnight. I had spent the night before in a dive hotel in Downtown LA paid for by my recruiter. I had actually tried to enlist at 17 but to be a Military Policeman, you had to be 18 when you joined, so I was on Delayed Entry Status for three months.
And thanks to you, Dan, for your service.
Finally . . .
This week's watercolor: Triumph 3A
Best quote of the week:
The theory of democratic government is not that the will of the people is always right, but rather that normal human beings of average intelligence will, if given a chance, learn the right and best course by bitter experience. W.E.B. Du Bois, educator, civil rights activist, and writer (1868-1963)
Fires in California, freezing weather in Texxas, hurricanes on the Atlantic Coast, tornados in Tennessee, and now coronavirus — disasters occur everywhere. They have spread untold misery and disruption. The people affected by them need our help.
It's not complicated. Things happen to people, and we should be ready to do all the good we can in all of the ways we can. (Some will recognize that I am paraphrasing John Wesley here).
When is the last time you gave to your favorite charity? The United Methodist Committee on Relief (UMCOR.org) is my favorite charity. Please make a contribution to this one or to yours.
Keep reading, keep writing (especially to me), and have a great weekend.
Jim
​
Jim Stovall
www.jprof.com
You can connect with Jim on Facebook, Twitter, Linkedin, and BookBub.
His Amazon author page is where you can find more information about his books.
Last week's newsletter: America's first female presidential candidate, the passing of musical legends, and another Heads and Tales podcast: newsletter, February 19, 2021
✕
Get a FREE copy of Kill the Quarterback
Get a free digital copy of Jim Stovall's mystery novel, Kill the Quarterback. You will also get Jim's newsletter and advanced notice of publications, free downloads and a variety of information about what he is working on. Jim likes to stay in touch, so sign up today.