Those of us who have accumulated lots of birthdays have the privilege of looking back across the years with a certain level of bemusement and objectivity. The half-century point is always a good marker, and for the past few weeks, I have been thinking about my life a half-century ago. It was a significant time in my life.
Fifty years ago last October, I received a draft notice ordering me to report for military service. In November I enlisted in the U.S. Navy and left for boot camp late that month. By mid-February, I had "graduated" from boot camp and was going for two weeks of leave before reporting to my first duty station in Washington, D.C. My reporting date was Monday, March 1.
My bemusement arises from remembering how young and stupid I was there — even though I thought of myself as the most intelligent guy in the room. That's what 50 years does for you, I suppose. Whatever you are remembering this weekend, I trust that you, too, are bemused — as well as happy and content.
Under the newsletter's hood: Last week's newsletter was sent to 2,398 subscribers and had a 25.6 percent open rate; 2 people unsubscribed.
---
Important: Remember to open the images or click on one of the links so that my email service will record your engagement, and you will stay active on the list. Thanks.
---
Our first female presidential candidate spent election night in jail
Victoria Woodhull, on the night of November 5, 1872, should have been at home with her husband and family or possibly somewhere with friends and companions. It was the evening of the presidential election of 1872, and Woodhull had a special interest in its outcome. During that campaign, Woodhull had been the first female presidential candidate in the history of the United States.
She was that, even though women would not obtain universal suffrage in this country for almost another 50 years.
Impossibilities, such as being elected president when she couldn't even vote, never seem to deter Woodhull from doing – or at least attempting — whatever she set her mind to doing. She had, after all, done the following:
— divorced her husband to whom she was married when she was 15 years old;
— made her own way in the world, including making a living for herself;
— established, with her sister Tennessee Claflin, the first female-owned stock brokerage company on Wall Street and in the process made a ton of money;
— testified before the House Judiciary Committee in 1871 and thus became the first woman ever to address United States Congress officially;
— owned and operated a newspaper, Woodhull & Claflin's Weekly, begun in 1870, the circulation of which reached 20,000 subscribers;
— become one of the nation's most well-known and sought-after mediums (people who could communicate with the dead) and healers;
— spoken to large and paying crowds on subjects such as sexual freedom, Spiritualism, and women's suffrage.
After all of that, forming a political party and mounting a campaign for the presidency did not occur to Woodhull as something that she should not do.
But on that presidential election day evening in 1872, she found herself experiencing another unique event in her life. She was spending the night in the Ludlow Street jail in New York City.
Woodhull was born Victoria Claflin in 1838 in Ohio, the seventh of 11 children. Her father was a trickster and con man, and the family had to move frequently to avoid creditors and others whom he had swindled. In 1853 she was married to a local doctor, Canning Woodhull, who turned out to be a womanizer and alcoholic. Victoria developed her skills as a medium and earned enough money to keep her family, which included two children, together. But before too long, she had had enough of her husband, and she divorced him, keeping only his last name.
The experience of her first marriage turned Woodhull into a passionate advocate for social and legal rights for women. She moved to New York City where, with her favorite sister Tennessee (Tennie), she established her base of operations. She believed that all sexual activity should be the choice of the woman and should not be an obligation of marriage. She also called for the legalization of prostitution.
As a spiritualist, Woodhull attracted many clients both rich and poor. One of the rich ones was railroad magnate Cornelius Vanderbilt, who became romantically involved with her sister. Woodhull understood the workings of the stock market, and in 1868 when Vanderbilt offered her and her sister financial backing to set up a brokerage firm, they accepted.
By this time Woodhall had acquired a new husband, James Blood, a Missourian and Civil War veteran who willingly supported many of the causes that Woodhull had espoused.
In 1870, as part of her planning to run for president in the next election, Woodhull and her sister began the publication of a newspaper, Woodhull & Claflin's Weekly, and it gave a national voice to Woodhull's views on controversial topics such as feminism, vegetarianism, sex education, and licensed prostitution. James Blood was one of the paper's chief contributors.
Woodhull and her cadre of followers had many critics, of course, one of them being Henry Ward Beecher. As the pastor of Brooklyn Plymouth Church, Beecher had become one of the most famous men in America, and his criticisms of Woodhull stung. Woodhull decided to sting back when, in early November 1872, she published an account of an affair that Beecher had with a church member.
Beecher had powerful friends, however, and on the night of November 3, 1872, marshals showed up at Woodhull's door and arrested her, her sister, and her husband on charges of printing obscene material. Woodhull was still there on election night and remained there for more than a month. Eventually, all three were cleared of the charges.
Woodhull and Blood were divorced in 1876. Cornelius Vanderbilt died in 1877, and the Vanderbilt family feared that Woodhull's sister would make some claim on his estate. The family offered $1,000 to Victoria and Tennie if they would leave the country. They accepted that offer and sailed for Great Britain.
Woodhull wasted no time in making herself known in her new country. She gave a lecture at St. James Hall in December of that year, the first of a series of lectures. In the crowd of one of those lectures was a banker named James B. Martin. He was smitten with Woodhull's presentation and with Woodhull herself. They were married in 1883.
During the 1890s Woodhull published a magazine titled The Humanitarian. When her husband died in 1901, she moved to a country village where she established a local school and became a champion for educational reform in Great Britain. She lived until 1927 and died at the age of 88.
Heads and Tales: Caricatures and Stories of the Famous, the Infamous, and the Just Plain Interesting
My latest literary and artistic efforts are coming to fruition in the next couple of weeks with the publication of a new book: Heads and Tales: Caricatures and Stories of the Famous, the Infamous, and the Just Plain Interesting. The book will be in paperback and ebook form, but it will be accompanied by something else: a podcast series.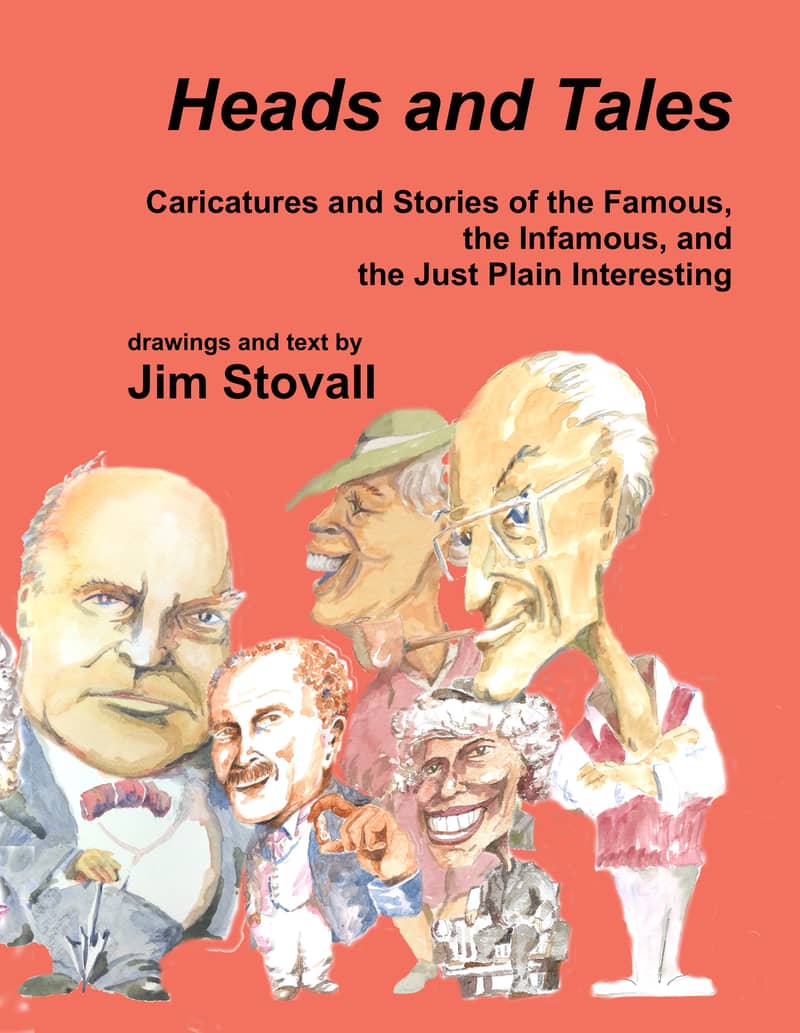 The book contains many caricatures and stories that you have seen and read in this newsletter, plus some that have not made it here yet.
The podcast, which will feature new episodes weekly, will be me talking about some of the people that I have written about and caricatures that I have drawn. The podcast can be heard almost anywhere that you can find podcasts (like here on Apple podcasts), and the podcast website is this: heads-and-tales.simplecast.com
This week's episode: Edward Bulwar-Lytton
The book is currently on Amazon and can be accessed with this link: http://bit.ly/headsandtales.The book is on sale through February for $14.99, which is about 25 percent off of its intended price. The price will go up to $19.99 around the first of March. The ebook is $9.99.
Another aspect of this unprovoked blitz on the public psyche is that I am making prints of many of these caricatures available through FineArtAmerica, and you can take a look at some of them now. I'm still in the process of loading many of them.
That's all I'll say about it now, but you will hear more in the coming weeks.
Fergus Hume's mediocre but inspiring mystery novel
Caroline Crampton, writer, producer, and narrator of the Shedunnit podcast, which is a must-hear for mystery and detective fiction fans, has produced an interesting new episode that raises the always intriguing question, "What was the first mystery/detective story?"
You may think you know the answer – mine was Edgar Allan Poe's The Murders in the Rue Morgue – and your answer, like mine, is certainly a possibility, but there are many other possibilities that she delves into.
One of the authors whom she mentions is Fergus Hume, who was born in England in 1859 but in the late 1880s found himself in Melbourne, Australia, as a member of the bar. Hume did not particularly want to be a lawyer. He wanted to be a writer. Hume wanted to write something that a lot of people would read, but he didn't know exactly what that was.
He consulted with a bookseller and was told that the novels of Émile Gaboriau, which were mystery and detective stories, were flying off the shelves. Hume decided he could write something like that himself, and he produced a novel titled The Mystery of the Hansom Cab. His problem then was that no publisher was interested. So, he did but many authors before and since have done: he published it himself. This was in 1886.
The novel turned out to be wildly popular, and before too long it was estimated that just about every reading adult in Melbourne had read it. It was also popular in America and Great Britain, but Hume had made the mistake of selling the British and American rights to the book for only about 50 pounds. Although Hume was highly prolific during the rest of his writing life – he wrote five plays and about 130 novels — The Mystery of the Hansom Cab was by far his most popular book.
Not only did the book not make him money, but it was also not very good. One of the people in Great Britain who read the book was that young medical student named Arthur Conan Doyle, who believed that he could write something much better. In 1887, a year after Hume's book appeared, the first installments of A Study in Scarlet were published, and Sherlock Holmes was introduced to the literary world.
Noted in passing: Mary Wilson and Chick Corea
The world of music lost two great ones last week: Mary Wilson and Chick Corea.
Mary Wilson was a member of Motown's Supremes and served as the psychological anchor for the group, dealing with Diana Ross' volatility and Flo Ballard's instability. After the group broke up, she had some success as a soloist, and she kept singing for the rest of her life. Below is a post about the Supremes that appeared last summer.
+++
In the field of jazz music, it's hard to stand out as innovative because that's what jazz is – innovative. You have to be influential, too.
His light-fingered acoustic piano produced a sound and a feeling that no one could match, and yet it blended constantly with other performers and types of music for a mellow, pleasing, and more than occasionally exciting sound. As his obituary in the New York Times states:
"But throughout his career he never abandoned his first love, the acoustic piano, on which his punctilious touch and crisp sense of harmony made his playing immediately distinctive."
Corea died in Tampa, Florida, on February 11 at the age of 79.
+++
They were the best girl group ever, and they've got the numbers to prove it: 12 top-ranked pop hits, Grammy nominations, membership in the Rock and Roll Hall of Fame, packed concert halls, numerous television appearances, and always and everywhere the stars of the show. The numbers and the facts don't lie. The Supremes in the mid-1960s were at the top of the popular music mountain, the only group to give The Beatles a run for their money.
But within the Motown musical milieu, there has always been doubt — and more than a little grousing.
The Supremes, and especially Diana Ross, were always Berry Gordy's pet. Gordy was Motown's founder and final word on every aspect of the operation, and The Supremes received his special attention and more than their share of breaks and promotions. Partly, this was because Gordy had fallen head-over-heals in love with Ross, and they eventually had an affair.
But the group was also good — good musically and good commercially. They had an appearance and a sound that made you forget about race and gender, which was especially important in the 1960s, and concentrate on the moves and the music. They could get your hands clapping and your feet stomping and your voice singing if you were so inclined.
And they sold records. Their list of million-sellers is almost without precedent.
Like other Motown groups, the girls — originally Florence Ballard, Mary Wilson, Diane (later Diana) Ross, and Betty McGlown — grew up near the Brewster-Douglass housing project in Detroit and started singing as teenagers. In the late 1950s, they formed first as the Primettes, a sister group to the Primes whose members went on to form the core of The Temptations. They had made some records in those early years, but they were having no success. They signed with Motown in 1961, and by that time, McGlown had dropped out, and they had a new name, The Supremes.
Even with Motown in the first two years, they never had a record break into the top 20 on the pop charts. In the spring of 1964, they were told to record a song titled "Where Did Our Love Go," a song that had been written for the Marvelettes. That group had rejected the song, and The Supremes didn't like it much either. Still, they made the record, Motown released it, and it rocketed to the top of the charts while the group was touring with the Dick Clark Caravan of Stars.
That song was followed by four consecutive U.S. number-one hits: "Baby Love" (which was also a number-one hit in the UK), "Come See About Me", "Stop! In the Name of Love" and "Back in My Arms Again." During the next two years, those hits were followed by more, such as "I Hear a Symphony", "You Can't Hurry Love" and "You Keep Me Hangin' On."
The Supremes' album The Supremes A' Go-Go, released in October 1966, became the first album by an all-girl group to reach the top of the charts, and it knocked The Beatles Revolver out of first place. More importantly, the group had finally achieved one of Berry Gordy's main aims: crossover appeal. The Supremes were as popular with white audiences as they were with black fans.
But, as usual, all was not well within the group or within the Motown confines. In 1967 Gordy changed the name of the group to Diana Ross and the Supremes, further exacerbating the relationships among Ross, Wilson, and Ballard. Ballard particularly believed that she was being cut out, and she began drinking and gaining weight so that her appearance no longer lined up with the image that Berry Gordy was trying to market. There were also persistent rumors that Diana Ross would leave the group and strike out on her own.
Ballard left the group in 1967, but that did not solve the personnel problems. The situation deteriorated to the point that in 1968, the women would not record together, and they came in at separate times to lay down their tracks. The final number one record for the group, "Someday, We'll Be Together," was a Diana Ross solo, originally meant to help launch her solo career in 1970. At the last minute, Gordy changed his mind and marketed the record as Diana Ross and the Supremes.
After Ross' departure, the group continued for several years, but it never recaptured its old magic. The Supremes finally disbanded in 1977 with a final concert in London's Drury Lane Theater.
Vietnam Voices: the podcast this week
Here are the Vietnam Voices episodes that were posted this week:
Pete Wyatt was a sergeant in the Air Force and stationed in Japan. He volunteered for temporary duty in Vietnam several times, once helping with Operation Homecoming, which was the repatriation of American POWs at the end of the war.
Reactions
Bill G.: Your paperback book (Heads and Tales) arrived today and I love it! It is great to see the pictures in full color. If I had ordered the Kindle version, they would have been all in black and white.
The first one I read was Isaac Asimov. I have always been amazed at the volume of his writing. We had two of his largest books in our school library. One was THE ANOTATED SHAKESPEARE. He took all of Shakespeare's plays and explained all of the mythological references and historical background for each of the history plays. It was as big as an old fashioned Bible. I often referred to it when I was teaching a new play I hadn't done before.
Then he did the same thing with the Bible, explaining all the geographical places and all the imagery in it. It was bigger than the Shakespeare book.
I also know he wrote a whole series of books on astronomy for children. My son had several of them growing up. He ended up now teaching A.P. Physics in Newark, Ohio.
So I felt a strong connection to Asimov, even besides I, ROBOT and his other science fiction works.
Finally . . .
This week's watercolor: The Morgan 8
Best quote of the week:
The sun, with all those planets revolving around it and dependent upon it, can still ripen a bunch of grapes as if it had nothing else in the universe to do. Galileo Galilei, physicist and astronomer (1564-1642)
Fires in California, hurricanes on the Atlantic Coast, tornados in Tennessee, and now coronavirus — disasters occur everywhere. They have spread untold misery and disruption. The people affected by them need our help.
It's not complicated. Things happen to people, and we should be ready to do all the good we can in all of the ways we can. (Some will recognize that I am paraphrasing John Wesley here).
When is the last time you gave to your favorite charity? The United Methodist Committee on Relief (UMCOR.org) is my favorite charity. Please make a contribution to this one or to yours.
Keep reading, keep writing (especially to me), and have a great weekend.
Jim
Jim Stovall
www.jprof.com
You can connect with Jim on Facebook, Twitter, Linkedin, and BookBub.
His Amazon author page is where you can find more information about his books.
Last week's newsletter: The Benjamin Franklin Effect, Cornell Woolrich, another Heads and Tales podcast, and more: newsletter, February 12, 2021
✕
Get a FREE copy of Kill the Quarterback
Get a free digital copy of Jim Stovall's mystery novel, Kill the Quarterback. You will also get Jim's newsletter and advanced notice of publications, free downloads and a variety of information about what he is working on. Jim likes to stay in touch, so sign up today.