This newsletter was sent to everyone on Jim's email list (2,480) on Friday, February 12, 2021.
"Keep your mind focused" is undoubtedly a phrase you have often heard. Sometimes it comes in the form of a baseball metaphor: "Keep your eye on the ball." It means, very simply, don't let your mind wander.
Sometimes, however, letting our minds wander is exactly what we should do, and many psychologists tell us we should do that on a regular basis – like, every day. George Shultz, who died at the age of 100 just a few days ago, believed in setting aside some time every day to allow his mind to wander. He reserved an hour in his schedule every day when he was Secretary of State under Ronald Reagan and told his secretary that he was not to be interrupted save for two people: his wife and the President.
During that time Schultz would let his thoughts go in any direction, and he would take notes about what he was thinking. He said that time was valuable to him because it allowed him to think creatively and to begin forming solutions to problems both large and small. (You can read more about Schultz in this habit here in the New York Times.)
I am a big believer in setting aside time to allow my mind to wander. I do this every day, and, like Schultz, I think that it has helped me in figuring things out. So, this weekend, set aside a few minutes when you can have no distractions, and let your mind wander just to see where it takes you. Have a great weekend.
Under the newsletter's hood: Last week's newsletter was sent to 2,401 subscribers and had a 28.7 percent open rate; 3 people unsubscribed.
---
Important: Remember to open the images or click on one of the links so that my email service will record your engagement, and you will stay active on the list. Thanks.
---
Cornell Woolrich, the forgotten master of noir
Dashiell Hammett and Raymond Chandler are the two most prominent images in the pantheon 20th-century American detective and crime fiction. Earle Stanley Gardner is also a consensus pick to be among the greats.
But who comes after these writers? James Cain, Ross MacDonald, and John McDonald certainly have their fans who could argue articulately for their inclusion.
One name that is rarely included in any of these arguments is that of Cornell Woolrich. And when you look at his record – what he wrote and published and what Hollywood did with it – the case for Wooldridge being listed among the greats is certainly a strong one.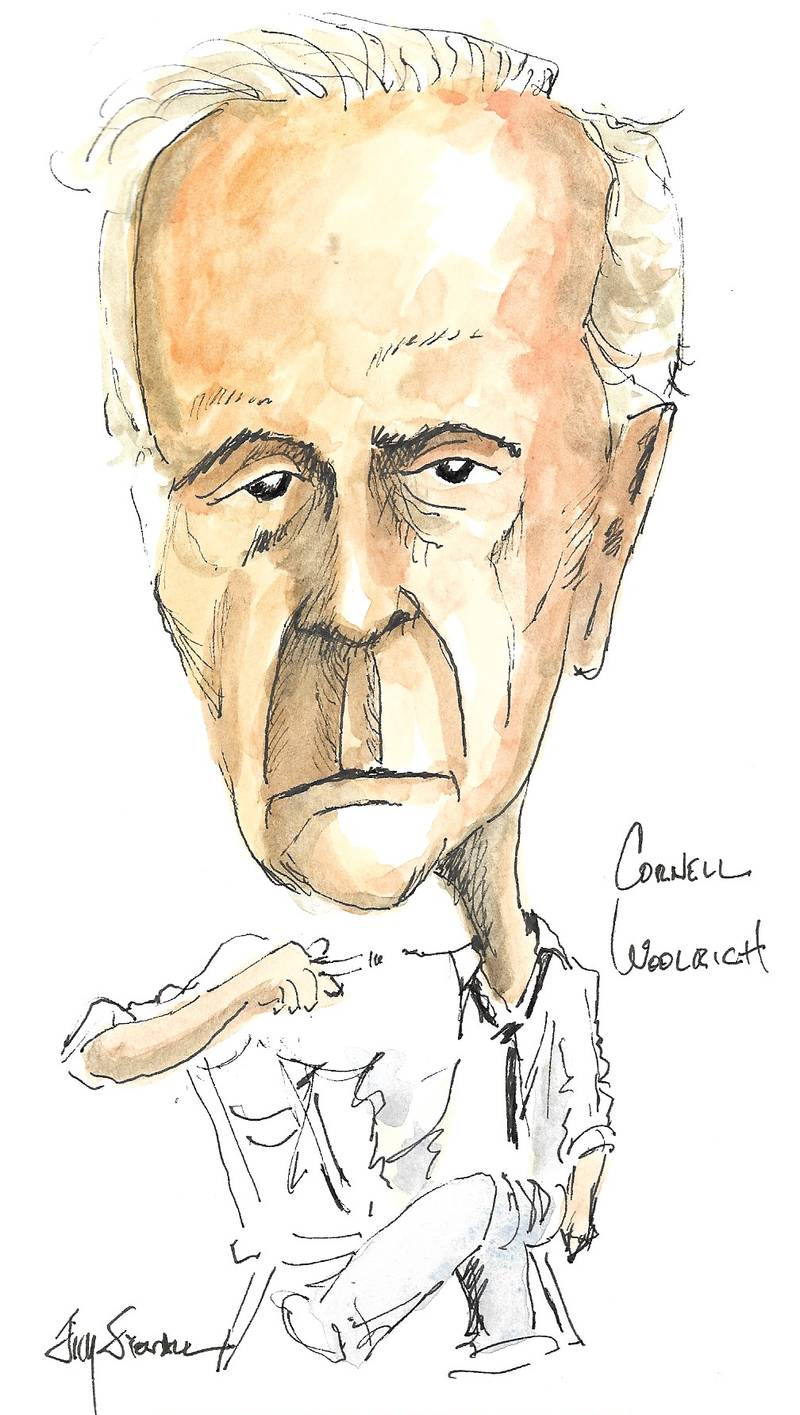 In fact, it could be said that no writer in history has commanded more love from Hollywood than Cornell Woolrich.
Woolrich was born in New York City in 1903, and he lived a difficult and ultimately sad life. But he could write, and write he did. Woolrich enrolled in Columbia University in 1921, but after about a year he had to drop out because of illness, and he was bedridden for a number of weeks. It was then that he started writing. Woolrich had read the work of F. Scott Fitzgerald, and that inspired him to produce his first novel, Cover Charge, which was published in 1926.
A short story of his, Children of the Ritz, won him a $10,000 prize and a chance it being a screenwriter. While in Hollywood, Woolrich engaged in numerous homosexual affairs, and he also got married. But neither his screenwriting career nor his marriage was successful.
He published six novels between 1926 and 1932, but increasingly the novels he wrote, which featured Jazz Age characters, waned in interest from both the public and from publishers.
It was at that point that he started writing short stories for pulp fiction magazines.
During the next 30 years, Woolrich wrote more than 20 novels and dozens of short stories. He was so prolific in his writing for magazines that he had to use numerous nom de plumes, such as William Irish and George Hopley. his short story in 1942 titled "It Had to be Murder" was picked up by director Alfred Hitchcock handmade into the famous movie Rear Window.
Wallace Stroby writing about Woolrich's novel Waltz into Darkness in a recent article in CrimeReads.com says:
His sturdy suspense-filled plots and visual writing made his work a natural for adaptation to radio, film, and eventually TV. From 1940 to 1954 alone, there were eighteen films based on Woolrich properties. These included high-profile Hollywood fare such as Alfred Hitchcock's 1954 Rear Window (based on Woolrich's 1942 novelette "It Had to Be Murder") and B-movie sleepers such as 1949's The Window (from the short story "The Boy Cried Murder") and Val Lewton's The Leopard Man (based on the novel Black Alibi). To date, more than a hundred films and TV shows have been made from his work in a half-dozen languages. Source: The Noir Poetry and Doomed Romanticism of Cornell Woolrich ‹ CrimeReads
François Truffaut was another Hollywood director who loved Woolrich's work. He produced two movies, The Bride Wore Black and Mississippi Mermaid, that were based on Woolrich stories.
Woolrich did much of his writing from New York City where he lived in seedy hotels with his mother until her death in 1957. Plagued by illness, depression, and alcoholism, Woolrich lived the rest of his life mostly alone with so few friends that he rarely put a dedication in any of his books. The one time he did, he dedicated the book to his Remington portable typewriter. He died in 1968, leaving a partially written novel that was later finished by mystery writer Lawrence Block.
His legacy lives, however, through several biographies, numerous fans, film adaptations, and mostly his large body of novels and short stories. Many believe him to be one of the founding fathers of the noir genré.
Heads and Tales: Caricatures and Stories of the Famous, the Infamous, and the Just Plain Interesting
My latest literary and artistic efforts are coming to fruition in the next couple of weeks with the publication of a new book: Heads and Tales: Caricatures and Stories of the Famous, the Infamous, and the Just Plain Interesting. The book will be in paperback and ebook form, but it will be accompanied by something else: a podcast series.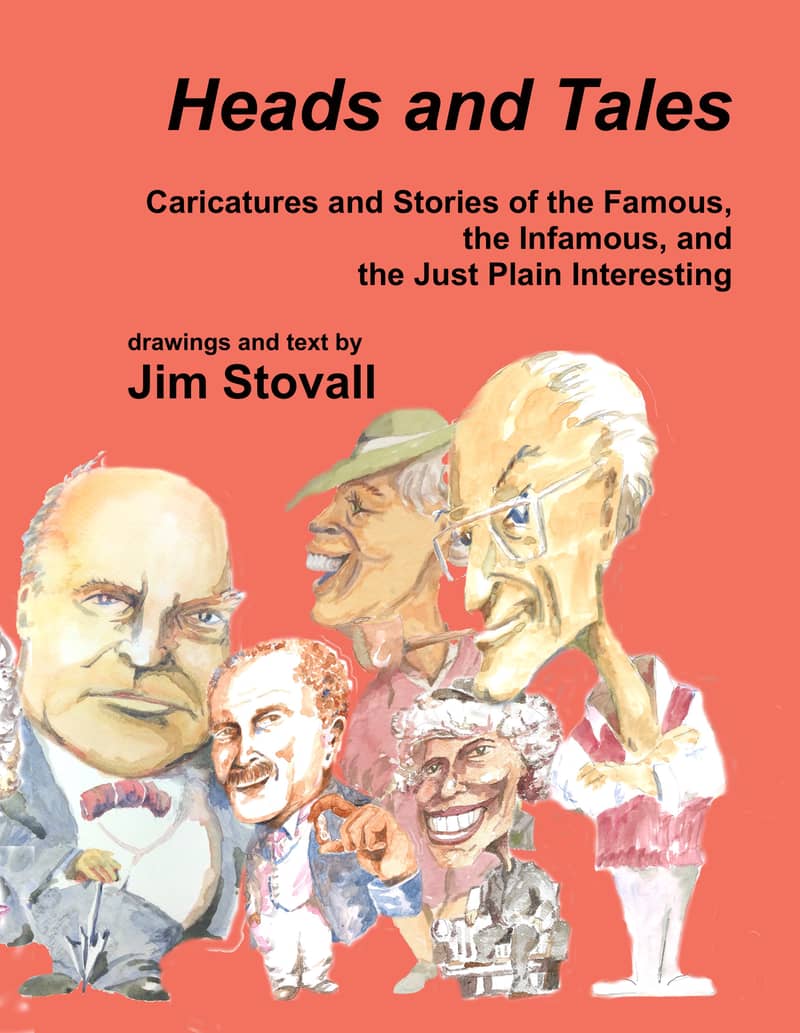 The book contains many caricatures and stories that you have seen and read in this newsletter, plus some that have not made it here yet.
The podcast, which will feature new episodes weekly, will be me talking about some of the people that I have written about and caricatures that I have drawn. The podcast can be heard almost anywhere that you can find podcasts (like here on Apple podcasts), and the podcast website is this: heads-and-tales.simplecast.com
This week's episode is about Isaac Asimov, a writer of extraordinary breadth.
The book is currently on Amazon and can be accessed with this link: http://bit.ly/headsandtales.The book is on sale through February for $14.99, which is about 25 percent off of its intended price. The price will go up to $19.99 around the first of March. The ebook is $9.99.
Another aspect of this unprovoked blitz on the public psyche is that I am making prints of many of these caricatures available through FineArtAmerica, and you can take a look at some of them now. I'm still in the process of loading many of them.
That's all I'll say about it now, but you will hear more in the coming weeks.
Benjamin Franklin's method of making friends of his enemies
The highest compliment that you can give someone is not to make a public knowledge of their appearance or of their talents and accomplishments. Even when sincerely given, words of this nature are shallow, cheaply rendered, and temporary. They may also be disputed.
No, the highest compliment comes with words such as, "I need your help," or "Can you do me a favor?"
What you are saying to that person with these words are any or all of the following:
— You are my friend.
— I have confidence in you.
— I am putting myself in your hands.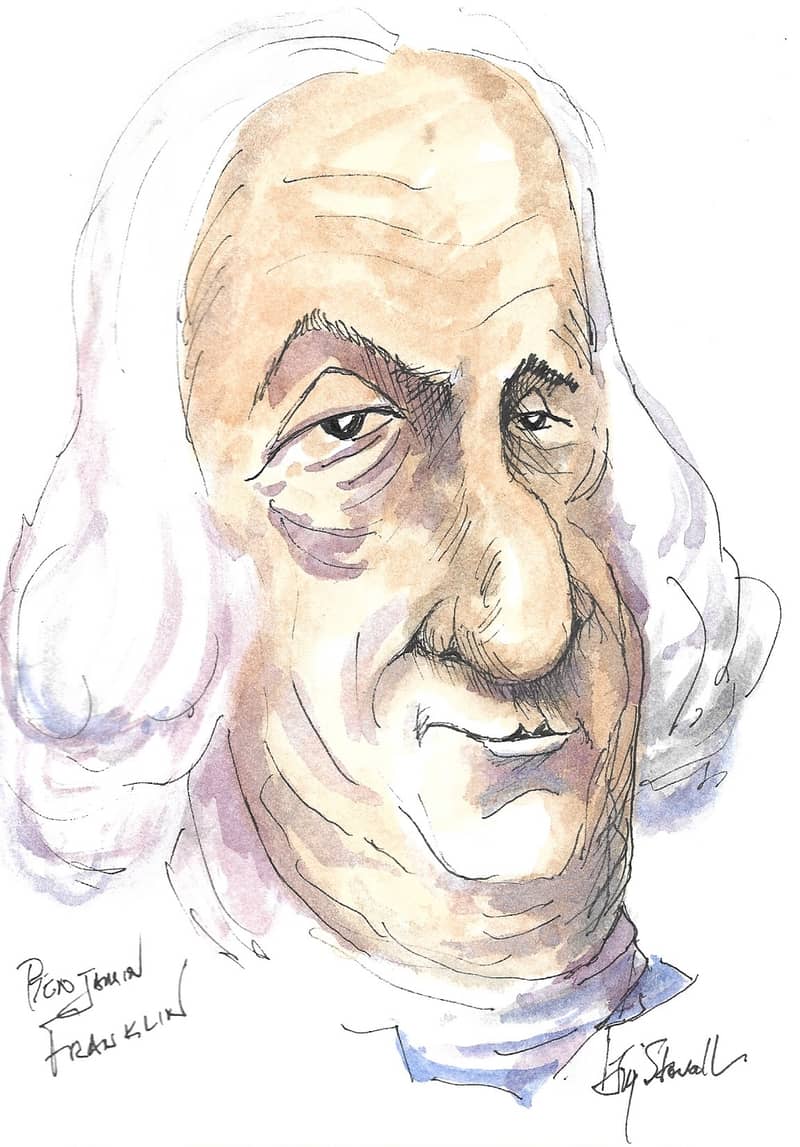 — I am incurring a debt to you that one day I hope to repay.
— We have a relationship that will last beyond this conversation.
Benjamin Franklin, one of America's great founders, philosopher, inventor, and writer, understood this concept innately, and he used it to defeat an enemy – not by conquering that person — but by turning that person into a friend. This process has a name, and it's called the Benjamin Franklin Effect.
Maria Popov writes about this in a recent post on her BrainPickings.com website as she was describing the David McRaney book You Are Now Less Dumb: How to Conquer Mob Mentality, How to Buy Happiness, and All the Other Ways to Outsmart Yourself (public library) — a "book about self-delusion, but also a celebration of it," a fascinating and pleasantly uncomfortable-making look at why "self-delusion is as much a part of the human condition as fingers and toes,"
And one of the most remarkable of manifestations of this is the Benjamin Franklin Effect, which McRaney examines in the third chapter. The self-delusion in question is that we do nice things to people we like and bad things to those we dislike. But what the psychology behind the effect reveals is quite the opposite, a reverse-engineering of attitudes that takes place as we grow to like people for whom we do nice things and dislike those to whom we are unkind. Source: The Benjamin Franklin Effect: The Surprising Psychology of How to Handle Haters – Brain Pickings
So how did Benjamin Franklin get involved? It happened this way:
As a young man in Pennsylvania, Franklin ran for a seat in the colony legislature. During the election campaign, someone made a speech against him that was virulent and damaging to his reputation. Franklin won the election but was furious about the speech. He was wise enough, however, to recognize that if he was to have a continued public career, the person who made the speech would always be opposed to him unless he did something about it.
What he did was to write to that person and tell him that as a book lover, Franklin wanted to borrow one of the volumes in the man's library. The note Franklin wrote was not obsequious, but it had a complimentary tone about the collection of books the man had gathered. The man sent the book to Franklin almost immediately. After a week, Franklin returned the book with another complimentary note.
The next time the legislature met, the man approached Franklin and spoke very kindly to him. Franklin never named the man but wrote later in his autobiography that he "ever after manifested a readiness to serve me on all occasions, so that we became great friends, and our friendship continued to his death."
An enemy conquered, a friend made.
The everlasting lure of the Big Apple
Author Stacie Murphy, who grew up in Nashville and currently lives in Virginia, can't get New York off her mind.
She wouldn't want to live there — too big, crowded, and overwhelming, she says — but still, she finds the place irresistible. As she writes in a recent CrimeReads.com article:
And so from the moment I began working on my debut novel, A Deadly Fortune, there was never any question about where I would set it. New York City—specifically the late-19th century New York of Caroline Astor and Paul Kelly, of 5th Avenue and Five Points—wasthe only place for the story of Amelia Matthew, a young psychic who finds herself trapped in an insane asylum after a head injury dramatically enhances her gift. Source: Ten Historical Crime Novels That Trace the History of New York City ‹ CrimeReads
Murphy continues on in her article to lose some of her favorite crime novels that are set in New York City. They all conjure up part of the history of that magical municipality, the first on her list set in the early 18th century. The list is an interesting and enlightening one, and anyone who has felt the luster of New York City will want to take a look at this article.​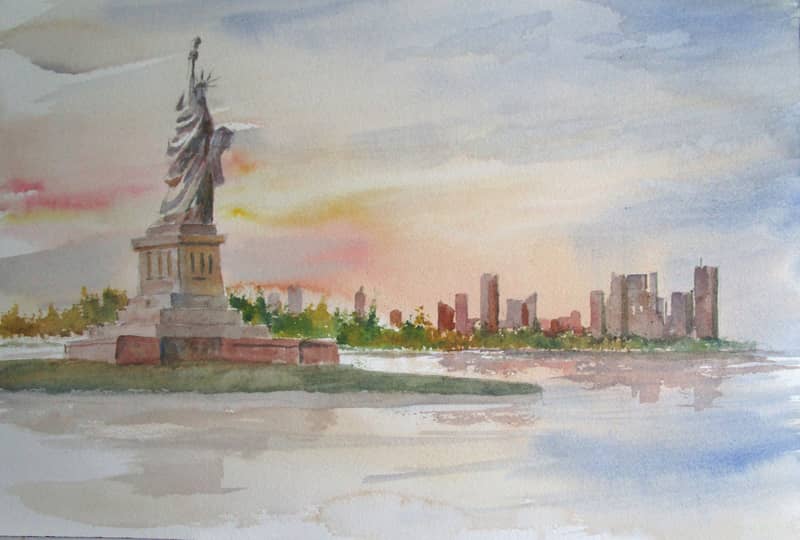 I know what she means about the magic of New York. Many years ago when I was serving in the United States Navy and stationed in Washington D.C, I would make regular trips to New York City on the Metroliner, Amtrack's hourly service between those two places. Back then, the Soldiers & Sailors Home was located on Lexington Avenue, and an active duty serviceman could stay there for about $3 a night.
That was coupled with the fact that you could get half-priced tickets to many of the Broadway shows on the day of the performance for the small price of standing in line for a few minutes. During the day, I would visit an art museum or some other location that I had heard or read about. I even once took the Staten Island Ferry. It cost me a dime.
During those visits and on many occasions when I have visited there since then, I simply soaked in the city.
One of the things that a fiction writer is supposed to pay great attention to is that a place. New York City is a ready-made place. For me, it was like no other place on earth, and I know about the magic that Murphy feels.
Vietnam Voices: the podcast this week
Here are the Vietnam Voices episodes that were posted this week:
Making life better for civilians
Jim Loftis was a lieutenant in the Army Corps of Engineers and served in Vietnam in 1969 and 1970. He tells about some of the projects that his company did to help make life better for the civilians in the Mekong Delta.
Carl Bennett was a U.S. Army infantryman who spent most of his time in Vietnam on patrol in the jungle. He describes what it was like to be taken to a landing area on a Huey helicopter.
Reactions
Finally . . .
This week's watercolor: Figure studies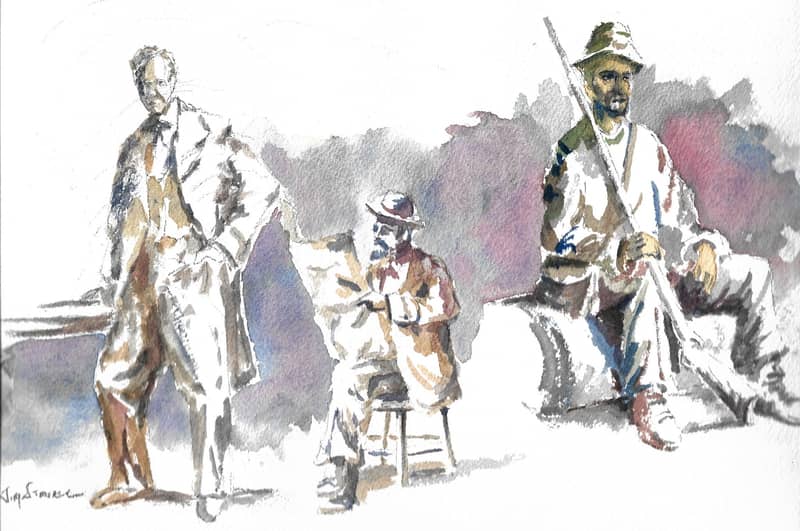 These figures are taken from a book of pen and ink drawings of late 19th and early 20th century illustrators. I decided to copy them as best I could and make them into watercolors.
Best quote of the week:
When a man is wrapped up in himself he makes a pretty small package. John Ruskin, author, art critic, and social reformer (1819-1900)
Fires in California, hurricanes on the Atlantic Coast, tornados in Tennessee, and now coronavirus — disasters occur everywhere. They have spread untold misery and disruption. The people affected by them need our help.
It's not complicated. Things happen to people, and we should be ready to do all the good we can in all of the ways we can. (Some will recognize that I am paraphrasing John Wesley here).
When is the last time you gave to your favorite charity? The United Methodist Committee on Relief (UMCOR.org) is my favorite charity. Please make a contribution to this one or to yours.
Keep reading, keep writing (especially to me), and have a great weekend.
Jim
Jim Stovall
www.jprof.com
You can connect with Jim on Facebook, Twitter, Linkedin, and BookBub.
His Amazon author page is where you can find more information about his books.
Last week's newsletter: The Sherlock Holmes look, Elizabeth I's mediocrity, Heads and Tales, and Highsmith at 100: newsletter, February 5, 2021
✕
Get a FREE copy of Kill the Quarterback
Get a free digital copy of Jim Stovall's mystery novel, Kill the Quarterback. You will also get Jim's newsletter and advanced notice of publications, free downloads and a variety of information about what he is working on. Jim likes to stay in touch, so sign up today.