This newsletter was sent to everyone on Jim's email list (2,401) on Friday, February 5, 2021.
The ability to learn is one of our highest values. Gathering facts and information and marrying them to our previous knowledge and experience is the essence of what it means to be human. But what about our ability to "unlearn"?
That's the question Adam Grant poses in his book Think Again: The Power of Knowing What You Don't Know. He says: "Intelligence is usually seen as the ability to think and learn, but in a rapidly changing world, there's another set of cognitive skills that might matter more: the ability to rethink and unlearn."
Our pandemic experience is approaching a year now. What is it that a year ago we knew and since then have had to unlearn? What is it about which we have had to rethink and change our point of view? That is something we can ponder together as we enjoy this first weekend of February. Spring training is not far away.
Under the newsletter's hood: Last week's newsletter was sent to 2,415 subscribers and had a 27.7 percent open rate; 5 people unsubscribed.
---
Important: Remember to open the images or click on one of the links so that my email service will record your engagement, and you will stay active on the list. Thanks.
---
What did Sherlock Holmes look like?
Sherlock Holmes is taller than average, a bit lanky, and thin. He has an angular face with a pointed nose and chin, and he has a receding hairline and very little facial hair. Possibly some sideburns.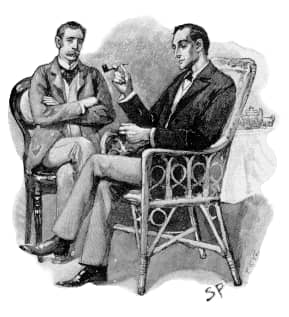 He wears a deerstalker hat and an Inverness cape. He pays relatively little attention to what he eats. Thus, his slenderness.
Very little of this description comes from the text of Arthur Conan Doyle's stories about the famous detective. Most of it comes from the many artists who have illustrated the Sherlock Holmes stories across the decades.
One of those artists stands out as clearly the most influential: Sidney Paget.
Paget was born in London in 1860, the son of a vestry clerk and a music teacher. He was the fifth of nine children, and early on he showed a passion for drawing and art. After he finished school, his drawings began to appear in many of the popular magazines of the day including the London Illustrated News, the Sphere, and the Graphic.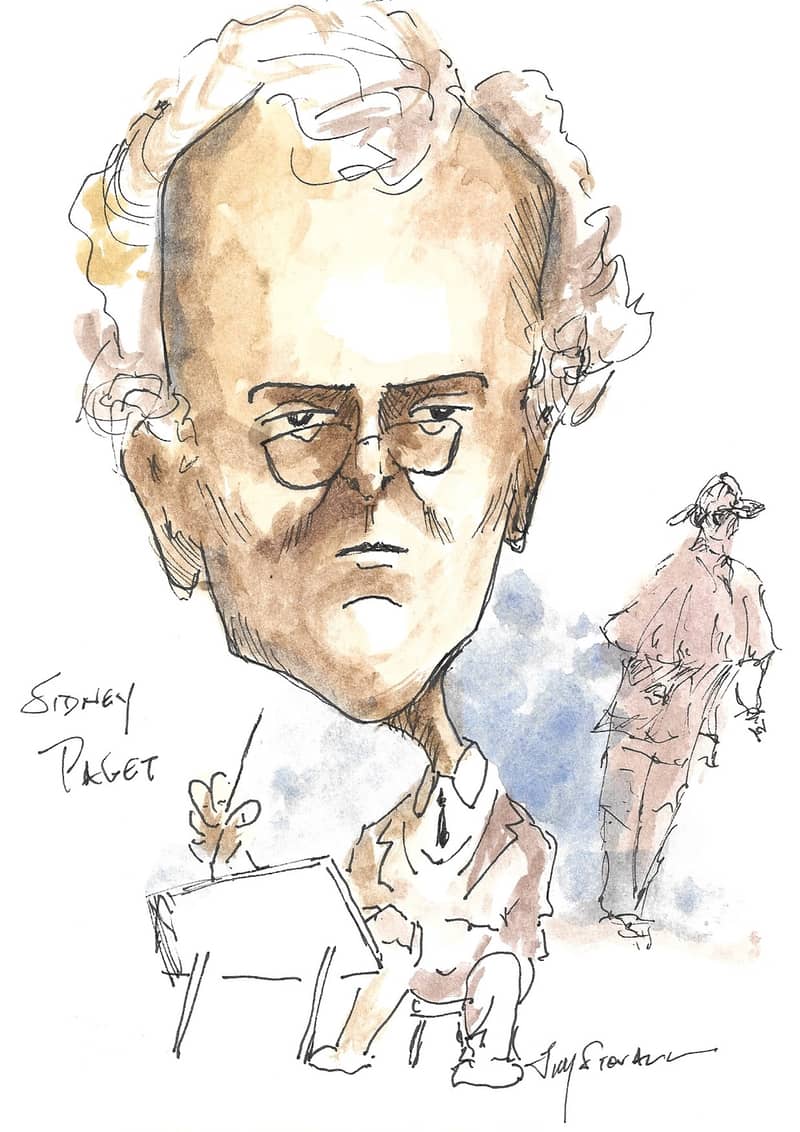 But his most famous drawings – the ones we remember him for – appeared in The Strand magazine as illustrations for the Sherlock Holmes stories. His first illustrations of Sherlock Holmes were published in 1893 for a series of 12 "adventures" that the magazine ran of the famous detective. Paget was not the first artist to give the world a picture of Sherlock Holmes, but his images are some of the most lifelike and enduring.
Those stories and the images that went along with them made The Strand one of the most popular magazines in Great Britain. At first, Paget created small cuts — images that could fit on less than a quarter of a page — but later his images grew to be larger and more elaborate. Some of them took up an entire page. In addition to drawing scenes from the stories, Paget began infusing the pictures with his own imagination. He gave Holmes his angular face and receding hairline. Most importantly, he draped Holmes with a deerstalker cap and an Inverness cape. These were accouterments that were never mentioned in any of the Holmes stories. They came from Paget, not Doyle.
In all, Paget drew more than 350 images for the Sherlock Holmes stories.
Paget had two brothers, Walter and Henry, who were also illustrators. One of the legends that surrounds the publication of the Sherlock Holmes stories is that the original commission for illustrating the stories was offered to Walter, but Sydney got the letter by mistake. Recent research, however, has led those who study this subject to doubt that the story is true.
Paget had many other commissions from a variety of other publications. His Sherlock Holmes illustrations had made him one of the most popular illustrators of his day. He worked hard to support himself, his wife, and his four daughters – apparently too hard. He died in 1908 at the age of 47 years old. One of the causes of death was listed as "exhaustion."
Heads and Tales: Caricatures and Stories of the Famous, the Infamous, and the Just Plain Interesting
My latest literary and artistic efforts have come to fruition, as announced last week, with the publication of a new book: Heads and Tales: Caricatures and Stories of the Famous, the Infamous, and the Just Plain Interesting. The book is in paperback and ebook form, is now accompanied by something new: a podcast series.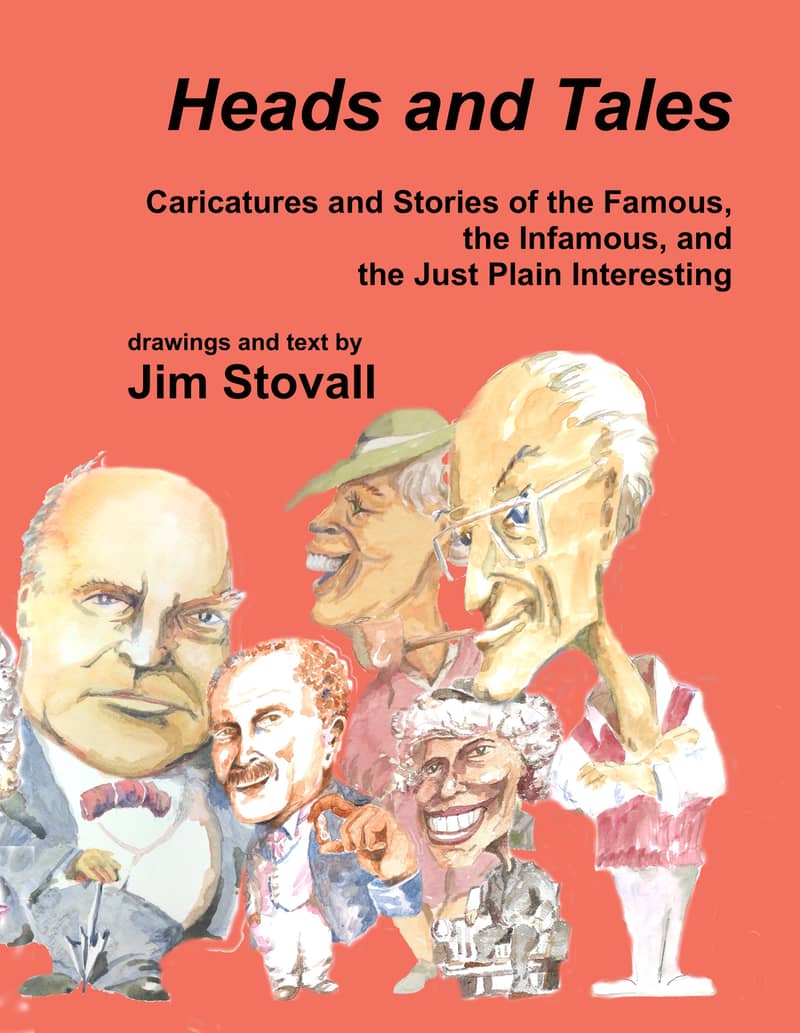 The book contains many caricatures and stories that you have seen and read in this newsletter, plus some that have not made it here yet.
The podcast, which will feature new episodes weekly, is me talking about some of the people that I have written about and caricatures that I have drawn. The podcast can be heard almost anywhere that you can find podcasts (like here on Apple podcasts), and the podcast website is this: heads-and-tales.simplecast.com
The first episode, this one featuring Arthur Ashe, was posted yesterday. Here's a link to the podcast.
The book is on Amazon and can be accessed with this link: http://bit.ly/headsandtales.The book is on sale through February for $14.99, which is about 25 percent off of its intended price. The price will go up to $19.99 around the first of March. The ebook is $9.99.
Another aspect of this unprovoked blitz on the public psyche is that I am making prints of many of these caricatures available through FineArtAmerica, and you can take a look at some of them now. I'm still in the process of loading many of them.
That's all I'll say about it now, but you will hear more in the coming weeks.
From the archives: Patricia Highsmith and her first job as a writer
This year 2021 is the centenary of the birth of the talented Miss Patricia Highsmith, and we shouldn't let that go without taking note of this famous, infamous, and unique voice in American letters. Highsmith is more acclaimed and appreciated among British critics these days than she is by her native counterparts. The British love her eccentricities, such as her affinity for snails and cats. These links will take you to recent pieces about her in The Guardian and the Times Literary Supplement. Here is a piece that I wrote about her early last year.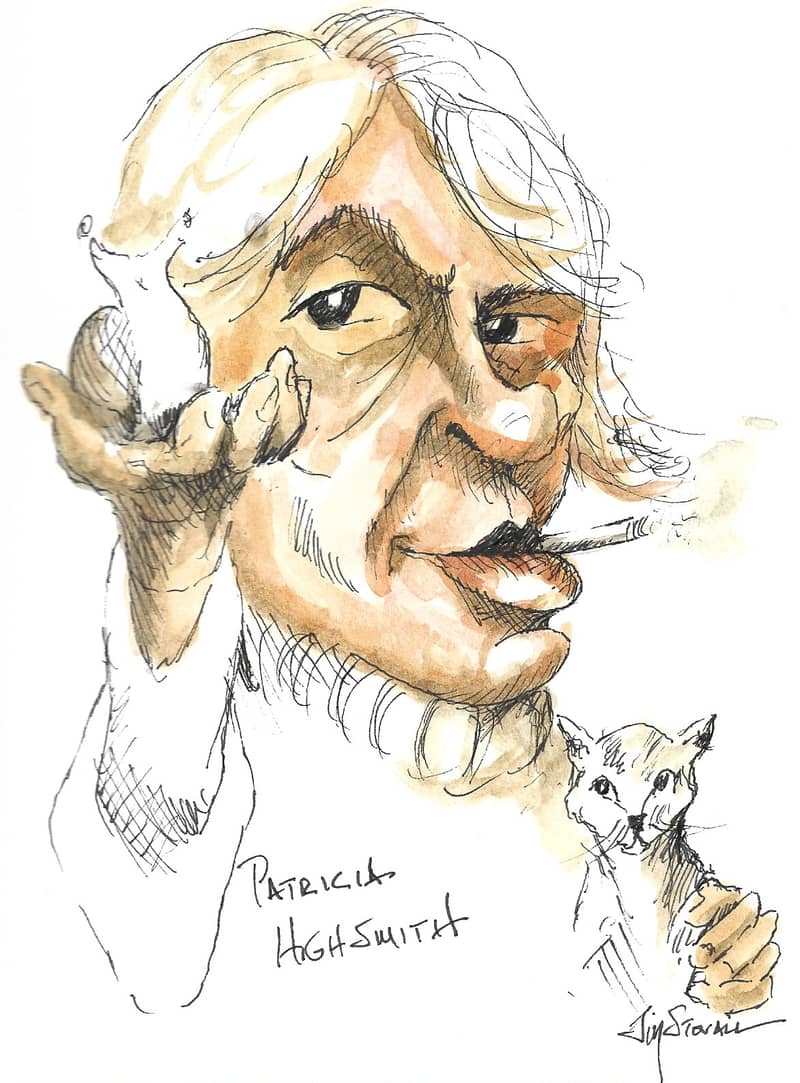 Patricia Highsmith achieved international fame in the mid to late 20th century for her deeply psychological and suspenseful novels and short stories that often took the reader into a world of violence. Her first novel, Strangers on a Train (1950), cemented her reputation when Alfred Hitchcock made it into an award-winning movie.
Her Repliad series, beginning with The Talented Mr. Ripley (1955) and continuing for four more novels, gave readers a memorable character who was intelligent, charming, debonaire, and occasionally murderous.
Highsmith's novel, The Price of Salt, was the first novel of modern times that featured a lesbian love affair that did not end tragically. The novel was published in 1952 under a nom de plume and was not acknowledged by her for nearly 40 years.
Highsmith graduated from Barnard College in New York City in 1942 with plenty of talent, ambition, and determination but with no job prospects. She applied to all of the big-name magazines, including Good Housekeeping and the New Yorker, but got nowhere. Then she saw an ad for "reporter/rewrite" and jumped at it.
The position was for a writer for comic books. She was part of a "bullpen" that included four writers and four comic book artists, and their assignment was to come up with two comic book stories a day for $55 a week. It was the only steady employment that she would ever have.
But it did not last for long, mainly because she realized that she could make more money freelancing for comic book publishers, which she did for six years. Freelancing left her time to write short stories for publications, which she did, and when they began to appear, she eventually left the comic book world behind.
Highsmith's careful craftmanship in using the language, and her thoughtful and thorough plotting of stories and novels, eventually led her to success in publication and sales of her work. She had had a difficult relationship with her mother, and she was plagued for most of her life with mental and emotional problems, as well as temporary and often broken relationships. She never married but had numerous affairs with both males and females, and she developed strong friendships along the way. She also battled alcoholism.
She eventually found Europe more to her liking than America. European readers loved her books more than Americans did. Through all of her wanderings and problems, she continued to write and publish. She also kept two sets of journals, one professional and one about her private life. Just last year, the executors of her estate announced that they would be publishing an edited edition of her diaries by 2021.
Highsmith spent the last 13 years of her life in Switzerland, living alone on a farm with only her cats and other animals to keep her company. By the time she died in 1995, she had published 21 novels and eight books of short stories. Another novel was published after her death.
Elizabeth I, England's mediocre monarch. Really?
You may have grown up thinking – if you thought about it at all – that Elizabeth I of England was one of the Great British monarchs in the history of the kingdom. After all, she reigned for nearly 45 years during the age of Shakespeare and the flowering of the English language. By clever diplomacy, she kept England at peace with her many warring neighbors.
She did all of this while holding herself aloof and maintaining her status as "the Virgin Queen."
Well, think again.
According to Anna Whitelock, a noted historian of the Tudor era (Mary Tudor: England's First Queen), Elizabeth I gets far too much credit. She was, at best, a mediocre monarch.
Whitelock expresses her views in Dan Snow's History Hit podcast (link below) in which she gives a 35-minute rundown of the Tudor dynasty designed to help British students during this period of lockdown.
We're very pleased to bring you this special 'Lockdown Learning' episode of the podcast, featuring the brilliant Dr Anna Whitelock on the Tudor period. Anna is Director of the London Centre for Public History and Heritage and head of history at Royal Holloway, she's written extensively on the Tudors and in this episode she gives us a general view right across the period. Source: Lockdown Learning: The Tudors | Dan Snow's History Hit on Acast
So, what was so wrong with Elizabeth Tudor? Whitelock lists several failings:
First and foremost, Elizabeth, who ruled from 1558 to 1603, failed to provide England with an heir to the throne. That, according to Whitelock, is the first duty of any monarch. The fact that she became known as the Virgin Queen was simply "spin" created by her advisors to cover this failure. And too, it is unlikely that she was indeed a virgin. Her dalliances with at least a couple of men were well known at the time.
Her foreign policy efforts were, by and large, failures. The victory over the Spanish Armada in 1588 was, in Whitelock's words, more "a victory for English weather" than anything else.
Well, if Elizabeth gets too much credit, who doesn't get enough? Elizabeth's sister Mary Tudor, that's who. Right, "Bloody Mary."
Whitelock says that the situation in England was not nearly as bad during Mary's rule as we have been led to believe. It was indeed bad, and those deemed as heretics were often burned at the stake. That was happening in many places at that time not just in England.
Mary stands out in Whitelock's mind because she was the first female crowned monarch of England. As such, she had to establish and negotiate a whole new way of thinking about the monarchy. She did this remarkably well.
All of the ideas in this podcast were new to me when I first heard them, and I found them fascinating. Dan Snow's History Hit podcast, website, and online TV channel are worth a look if you are a history fan.
Vietnam Voices: the podcast this week
Here are the Vietnam Voices episodes that were posted this week:
Marine Captain Dennis Curtin recounts part of his role in the action at "Hill 689," a particularly vicious battle with heavy casualties on both sides. It was an important position because of its proximity to Khe Sanh.
Don McPherson served in-country from June 1969 to June 1970 as an administrative specialist in the U.S. Army. In spite of his training in field artillery, he ended up in U.S. Army-Vietnam headquarters as a clerk-typist.
Finally . . .
This week's watercolor: Fishin' and floatin'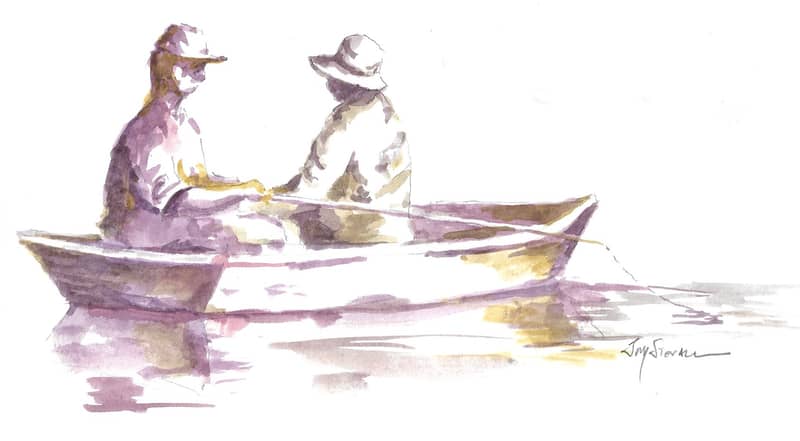 Best quote of the week:
I am so convinced of the advantages of looking at mankind instead of reading about them, and of the bitter effects of staying at home with all the narrow prejudices of an islander, that I think there should be a law amongst us to set our young men abroad for a term among the few allies our wars have left us. Lord Byron, poet (1788-1824)
Let America be America again.
Let it be the dream it used to be. …
Let America be the dream the dreamers dreamed –
Let it be that great strong land of love
Where never kings connive nor tyrants scheme
That any man be crushed by one above.
Langston Hughes, poet and novelist (1902-1967)
Fires in California, hurricanes on the Atlantic Coast, tornados in Tennessee, and now coronavirus — disasters occur everywhere. They have spread untold misery and disruption. The people affected by them need our help.
It's not complicated. Things happen to people, and we should be ready to do all the good we can in all of the ways we can. (Some will recognize that I am paraphrasing John Wesley here).
When is the last time you gave to your favorite charity? The United Methodist Committee on Relief (UMCOR.org) is my favorite charity. Please make a contribution to this one or to yours.
Keep reading, keep writing (especially to me), and have a great weekend.
Jim
Jim Stovall
www.jprof.com
You can connect with Jim on Facebook, Twitter, Linkedin, and BookBub.
His Amazon author page is where you can find more information about his books.
Last week's newsletter: Heads and Tales, my new book; Arséne Lupin and his creator; the man who first burned Washington; newsletter, January 29, 2021
✕
Get a FREE copy of Kill the Quarterback
Get a free digital copy of Jim Stovall's mystery novel, Kill the Quarterback. You will also get Jim's newsletter and advanced notice of publications, free downloads and a variety of information about what he is working on. Jim likes to stay in touch, so sign up today.