This year 2021 is the centenary of the birth of the talented Miss Patricia Highsmith, and we shouldn't let that go without taking note of this famous, infamous, and unique voice in American letters. Highsmith is more acclaimed and appreciated among British critics these days than she is by her native counterparts. The British love her eccentricities, such as her affinity for snails and cats. These links will take you to recent pieces about her in The Guardian and the Times Literary Supplement. Here is a piece that I wrote about her early last year.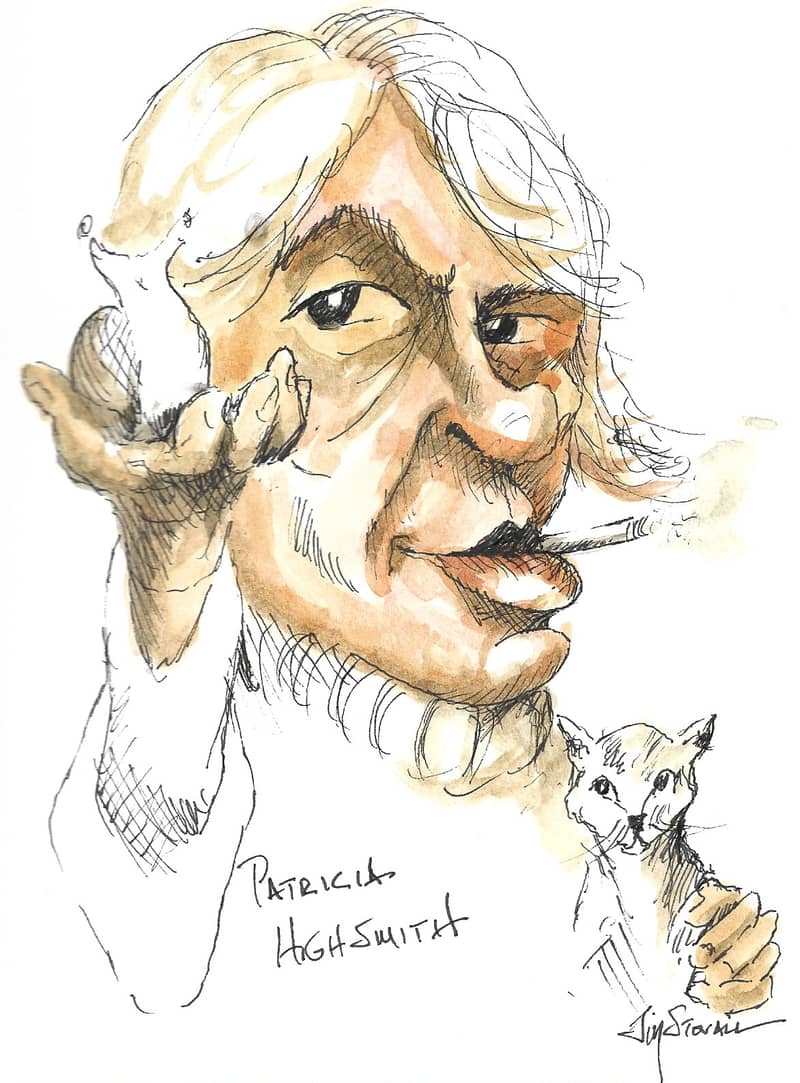 Patricia Highsmith achieved international fame in the mid to late 20th century for her deeply psychological and suspenseful novels and short stories that often took the reader into a world of violence. Her first novel, Strangers on a Train (1950), cemented her reputation when Alfred Hitchcock made it into an award-winning movie.
Her Repliad series, beginning with The Talented Mr. Ripley (1955) and continuing for four more novels, gave readers a memorable character who was intelligent, charming, debonaire, and occasionally murderous.
Highsmith's novel, The Price of Salt, was the first novel of modern times that featured a lesbian love affair that did not end tragically. The novel was published in 1952 under a nom de plume and was not acknowledged by her for nearly 40 years.
Highsmith graduated from Barnard College in New York City in 1942 with plenty of talent, ambition, and determination but with no job prospects. She applied to all of the big-name magazines, including Good Housekeeping and the New Yorker, but got nowhere. Then she saw an ad for "reporter/rewrite" and jumped at it.
The position was for a writer for comic books. She was part of a "bullpen" that included four writers and four comic book artists, and their assignment was to come up with two comic book stories a day for $55 a week. It was the only steady employment that she would ever have.
But it did not last for long, mainly because she realized that she could make more money freelancing for comic book publishers, which she did for six years. Freelancing left her time to write short stories for publications, which she did, and when they began to appear, she eventually left the comic book world behind.
Highsmith's careful craftmanship in using the language, and her thoughtful and thorough plotting of stories and novels, eventually led her to success in publication and sales of her work. She had had a difficult relationship with her mother, and she was plagued for most of her life with mental and emotional problems, as well as temporary and often broken relationships. She never married but had numerous affairs with both males and females, and she developed strong friendships along the way. She also battled alcoholism.
She eventually found Europe more to her liking than America. European readers loved her books more than Americans did. Through all of her wanderings and problems, she continued to write and publish. She also kept two sets of journals, one professional and one about her private life. Just last year, the executors of her estate announced that they would be publishing an edited edition of her diaries by 2021.
Highsmith spent the last 13 years of her life in Switzerland, living alone on a farm with only her cats and other animals to keep her company. By the time she died in 1995, she had published 21 novels and eight books of short stories. Another novel was published after her death.
✕
Get a FREE copy of Kill the Quarterback
Get a free digital copy of Jim Stovall's mystery novel, Kill the Quarterback. You will also get Jim's newsletter and advanced notice of publications, free downloads and a variety of information about what he is working on. Jim likes to stay in touch, so sign up today.