This newsletter was sent to everyone on Jim's email list (2,480) on Friday, January 29, 2021.
This pandemic and the necessary isolation that it has caused forced us all to change our habits, particularly our ways of socialization. Every organization that I know of has had to change the way it conducts its business and its operation. Some organizations have gotten creative and found that what they are having to do now is preferable to the way things have happened before the lockdown. For some, the pandemic has been an unmitigated disaster.
Now that we have the vaccines and have begun the vaccinations, we can see an end to the forced separations and isolation. I hope that as we come out of the period we can both remember its horrors and continue with the positives. In America, in particular, we tend to forget the past pretty quickly. There have been good things to come of this, and forgetting those would be a tragedy.
I hope that your weekend will give you many positives and that it will be delightful.
Under the newsletter's hood: Last week's newsletter was sent to 2,466 subscribers and had a 27.4 percent open rate; 6 people unsubscribed.
---
Important: Remember to open the images or click on one of the links so that my email service will record your engagement, and you will stay active on the list. Thanks.
---
Arséne Lupin – a version of Robin Hood – this time in French
The myth of Robin Hood – the charming outlaw who "steals from the rich and gives to the poor" — is an enduring one, and also an international one. We are seeing that play out with the current popularity of the Arséne Lupin series on Netflix.
Robin Hood is a guy who plays by his own rules, who challenges authority, and almost always wins, and who rarely loses his charm or good humor. He — though sometimes the protagonist appears as a woman — is usually high-born, giving readers and viewers the sense that he is simply confounding the authorities and wreaking havoc among the rich for the fun of it.
Sometimes the purpose of his activities is more serious. In the English Robin Hood version, the man who wears Lincoln green has been wronged by those who are in power. In the Netflix version of Lupin, the underlying story is that Lupin is seeking to avenge the unfair imprisonment and disputed suicide of his father. As a youth, this Lupin is fascinated by a book by Maurice Leblanc, author of the original Lupin stories.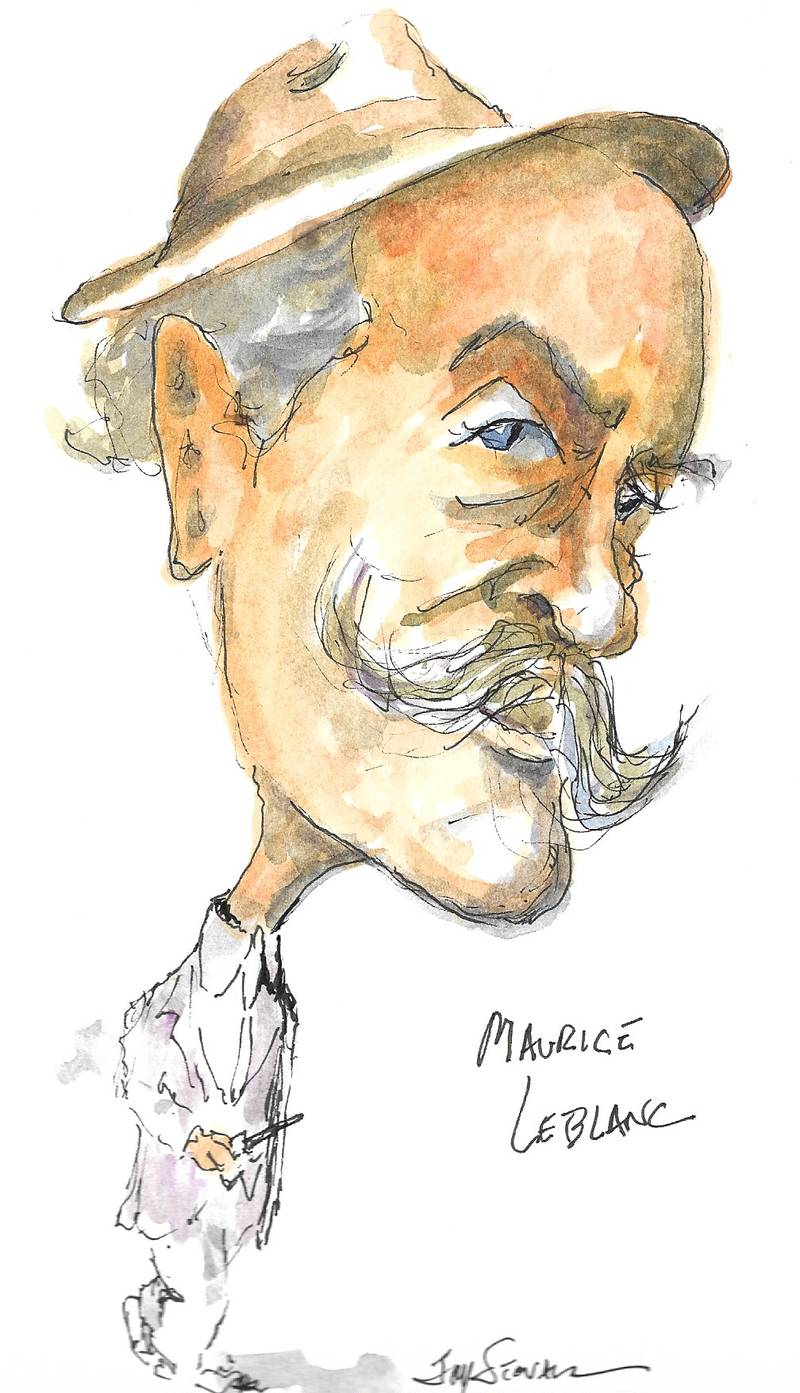 Maurice Leblanc's Lupin was during his lifetime often described as the French answer to Sir Arthur Conan Doyle and the Sherlock Holmes story. Leblanc was in great part responsible for this comparison when he introduced a Sherlock Holmes character into his Lupin stories. But the similarities between Lupin and Sherlock Holmes are vague at best. The real similarity is between Lupine and Robin Hood.
LeBlanc was born in Rouen, France in 1864, and as a young adult, he had in mind going to law school. But after traveling some, he got dissatisfied with the thought of a future practicing law, and he moved to Paris to become a writer. Beginning in the early 1890s, he had some success in publishing short fictional works in the many magazines that dotted the Paris landscape.
His breakthrough came in 1905 when he published his first Lupin story. The public fell in love with this clever, affable, and self-deprecating protagonist. And in one of his first stories, Le Blanc posits this description of Lupin:
Arsène Lupin, the eccentric gentleman who operates only in the chateaux and salons, and who, one night, entered the residence of Baron Schormann, but emerged empty-handed, leaving, however, his card on which he had scribbled these words: "Arsène Lupin, gentleman-burglar, will return when the furniture is genuine." Arsène Lupin, the man of a thousand disguises: in turn a chauffer, detective, bookmaker, Russian physician, Spanish bull-fighter, commercial traveler, robust youth, or decrepit old man. (From the short story, "The Arrest of Arsène Lupin" in the book The Extraordinary Advertures of Arséne Lupin, Gentleman-Burglar)
The reading public's appetite for Lupin's exploits became almost insatiable, and because of it, LeBlanc became a very rich man. Some believe that LeBlanc took part of his inspiration for the loop in character from Marius Jacob, an anarchist who ran a theft ring and whose trial made headlines in 1905.
Leblanc introduced a retired Sherlock Holmes into one of his stories in 1906, but Arthur Conan Doyle objected to that as a copyright violation. LeBlanc sidestepped that objection by renaming his character "Herlock Sholmes." In a subsequent story, Lupin manages to solve a riddle that baffles the Sherlock Holmes-like character.
Still, the similarities between Lupin and Holmes are tenuous at best, and the public instinctively understands that. Lupin is much livelier than the languid Holmes, and, of course, he often operates outside the law – something that Holmes rarely ever did.
One similarity should be noted, however. Like Arthur Conan Doyle, Leblanc seemed to grow tired of his character and wanted to finish him off, but the public would not hear of it and kept demanding more stories.
Leblanc tried developing other characters, and he also wrote a couple of science fiction novels, but nothing he wrote came close to matching the popularity of Lupin, for which he produced dozens of stories. The Lupin character took on a life of his own by appearing in movies, stage plays, and even comic books. Leblanc died in Paris in 1941, but Lupin — as Netflix has shown us — is still alive.
Heads and Tales: Caricatures and Stories of the Famous, the Infamous, and the Just Plain Interesting
My latest literary and artistic efforts are coming to fruition in the next couple of weeks with the publication of a new book: Heads and Tales: Caricatures and Stories of the Famous, the Infamous, and the Just Plain Interesting. The book will be in paperback and ebook form, but it will be accompanied by something else: a podcast series.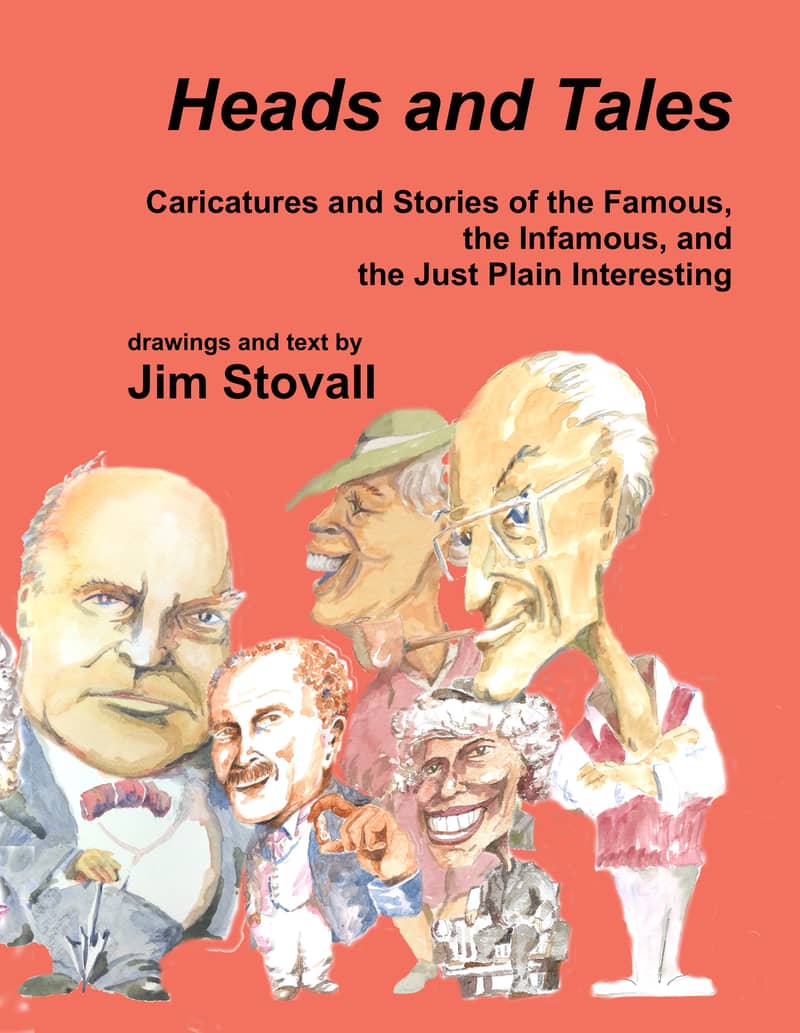 The book contains many caricatures and stories that you have seen and read in this newsletter, plus some that have not made it here yet.
The podcast, which will feature new episodes weekly, will be me talking about some of the people that I have written about and caricatures that I have drawn. The podcast can be heard almost anywhere that you can find podcasts (like here on Apple podcasts), and the podcast website is this: heads-and-tales.simplecast.com
Right now, there is only the two-minute introductory episode. I will begin posting the weekly episodes on Thursday, February 4.
The book is currently on Amazon and can be accessed with this link: http://bit.ly/headsandtales.The book is on sale through February for $14.99, which is about 25 percent off of its intended price. The price will go up to $19.99 around the first of March. The ebook is $9.99.
Another aspect of this unprovoked blitz on the public psyche is that I am making prints of many of these caricatures available through FineArtAmerica, and you can take a look at some of them now. I'm still in the process of loading many of them.
That's all I'll say about it now, but you will hear more in the coming weeks.
The man who sacked Washington, D.C. – and feared the letter "c"
From all accounts, Admiral Sir George Cockburn (properly pronounced co – burn) was a courageous, though often flamboyant, warrior for the British admiralty.
The only thing that he really feared, apparently, was the letter "c."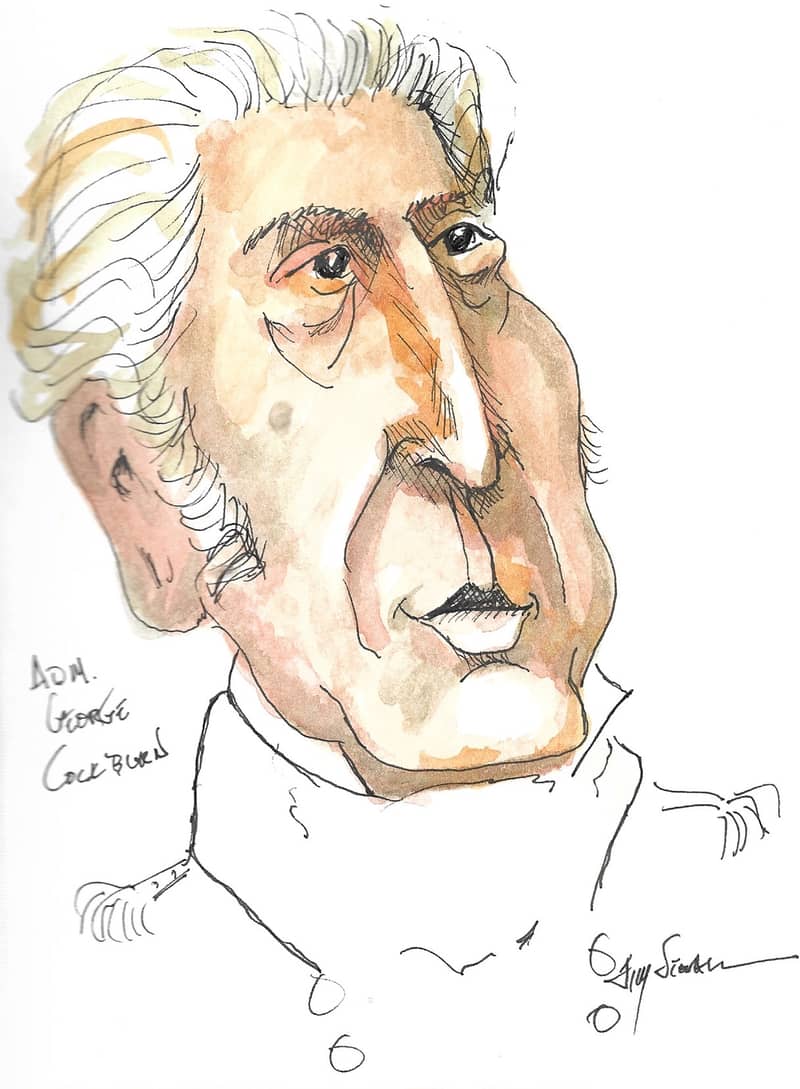 Cockburn led the British forces that sailed up the Chesapeake Bay in August 1814, landed at Benedict, Maryland, and marched northward. His battle-experienced and hardened troops met American forces at Bladensburg, Maryland, and routed them completely.
At that point, he turned and in a surprise move marched toward Washington, D.C.
Cockburn found himself fighting in a small theater of a much larger and longer war with France. The United States of America had declared war on Britain two years prior to that time in an effort to stop the British Navy from hijacking American ships and kidnapping American sailors.
To the British, this so-called war with America was little more than an irritation.
Consequently, when Cockburn found himself on American soil with a superior military force, he tended to do what the English often tend to do: he was going to teach the Americans a lesson.
He headed to Washington, determined to burn the city down. His commander, Major General Robert Ross, applied the brakes to Cockburn's plan. Yes, he could go to Washington, but no, he could not burn the city down. Instead, he could burn the U.S. Capitol and the President's Mansion and maybe some other public buildings. No private property was to be destroyed.
Cockburn heeded those instructions for the most part, but what he could do, he did with great relish. Cockburn found the Capitol a large and imposing structure but still under construction. The part that was used by the House of Representatives and by the Senate was well-appointed and ornate.
Cockburn headed toward the speaker's podium and in a mocking tribute asked for a vote among his men on the question of whether or not they should burn the building down. The men voted overwhelmingly to set the building ablaze. They proceeded to do just that and included in their arson the Library of Congress and all of its holdings, an act that showed their barbarity.
The good Admiral then headed down Pennsylvania Avenue to the President's Mansion (not yet called the White House) and found that just a few minutes prior to their arrival, the residents had fled for parts unknown. The president's dining room table had been set, and dinner was about to be served. The admiral and his staff sat down and had a good meal.
Cockburn's work was almost done, but he had one private mission to accomplish. After setting fire to the President's house, he found the offices of the National Intelligencer newspaper, and there he ordered his men and to make sure in destroying the building that they destroyed all of the "c" letters. This he did "so that the rascals cannot any longer abuse my name."
Cockburn's actions may have stopped "the rascals" momentarily, but his needless and heedless rampage through southern Maryland and into the nation's capital strengthened the determination of Americans everywhere. The next time the British military clashed with American forces — a month later with the bombardment of Fort McHenry in Baltimore — they were thwarted in their attempts to seize the city.
The British eventually retreated back down the Chesapeake and into the Atlantic Ocean, Cockburn taking his book-burning crew home.
True crime – 2020 was a very good year
The year 2020 might not have been so great overall, but if you are a true crime fan, things did get a little bit better over the last 12 months. In some people's eyes, they got a lot better.
That's the view of author Sarah Weinman, whose new book, Unspeakable Acts: True Tales of Crime, Murder, Deceit & Obsession, contains this paragraph about the growth of the true-crime genré in its introduction:
"Lately, it's felt different. More highbrow. More participatory. More investigative. More in the public interest. More reflective, critical, even postmodern. The current state of the genre has broadened far past stories once reliably contained within the pages of mass-market paperbacks, covers with dripping fonts. Or tabloid-friendly tales slickly packaged into programs that air on Investigation Discovery, Oxygen, and Lifetime."
Weinman's book contains contributions of various writers in the true crime genre, and if the download the sample from Amazon, you will get not only the introduction but also the first chapter, Michelle Dean's account of a truly bizarre relationship between a mother and daughter that ended in a murder.
Along the same lines, the editors of CrimeReads.com have put together a list of the best true crime books of 2020, and if you are into the genre, you will want to check it out to make sure you haven't missed anything good.
From stories of systemic corruption to personal memoirs, they take on crime at every level. It was also a strong year for deeply researched tales of espionage and duplicity, with larger than life figures and feats emerging from world historical events, bringing the individuals into focus. Below you'll find a range of books, from contemporary crime narratives to memoirs to historical nonfiction. We've labeled them all "true crime" because that's how diverse the genre has become, and we're here to celebrate its continuing rise. Source: The Best True Crime Books of 2020 ‹ CrimeReads
Vietnam Voices: the podcast this week
Here are the Vietnam Voices episodes that were posted this week: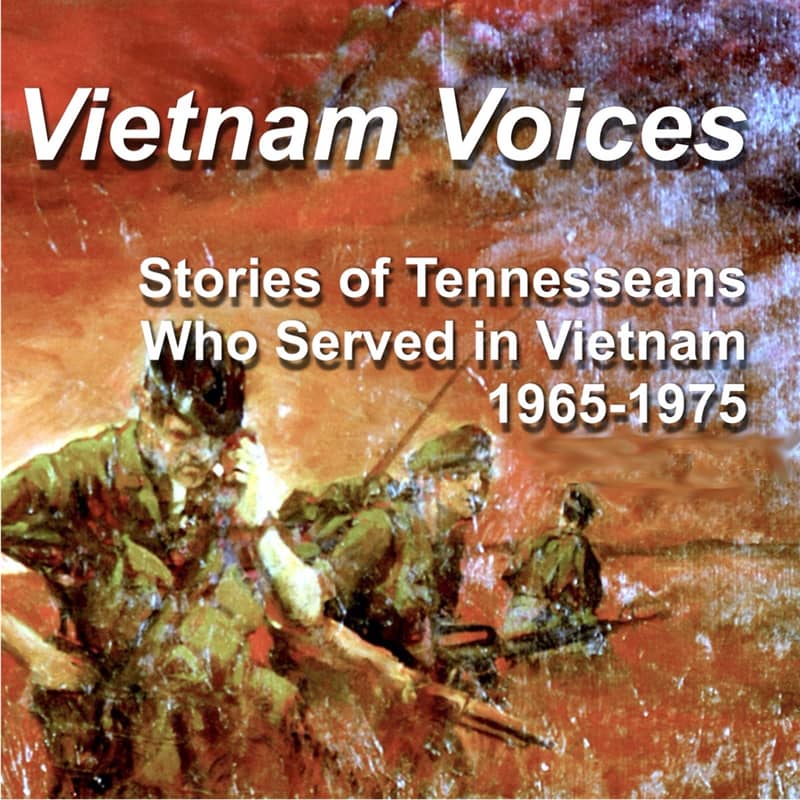 Ralph Martin enlisted in the U.S. Air Force and served in-country from October 1972 to January 1973, when a ceasefire was enacted. He was a weapons and munitions specialist, stationed in Thailand, about 100 miles from the Laotian border.
Wayne Morris was commissioned a second lieutenant in Army infantry. In this episode, he recalls the firefight in which he suffered hearing loss and in which his platoon was decimated.
Reactions
Vince V.: It would seem as one's time on this earth grows shorter that the gravitation would be to short stories, but I find myself wanting to dive deeper in my waning years. Or perhaps I still hold grudges on all those short-story contests I entered as a 20-something and never got as much as an honorable mention. (I fully appreciate now that the judges did me a huge favor.)
The aspect of the Spiro Agnew story that I find most fascinating is how his political graft and kickbacks started as nickels and dimes when he was a Baltimore councilman and then he took it to a new level as Vice President.
I guess everybody has to start somewhere.
Dan C.: It shouldn't just be "let the tools do the work", it should be "let the correct tool do the work". Too often, people use a hammer when a screwdriver is the correct tool. The other saying I have often heard, "Get a bigger hammer" is not the correct method.
Finally . . .
This week's watercolor: Hammerin' Hank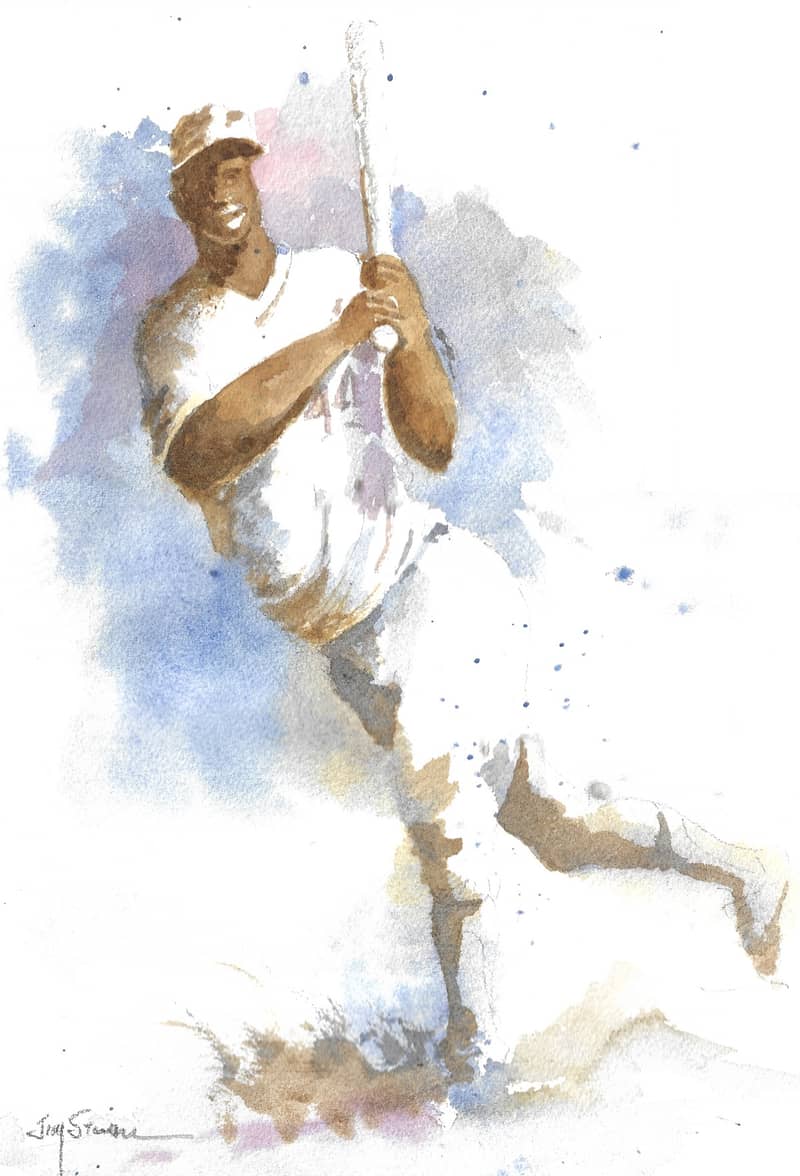 Best quote of the week:
We all too often have socialism for the rich and rugged free market capitalism for the poor. Martin Luther King, Jr., civil-rights leader (1929-1968)
Fires in California, hurricanes on the Atlantic Coast, tornados in Tennessee, and now coronavirus — disasters occur everywhere. They have spread untold misery and disruption. The people affected by them need our help.
It's not complicated. Things happen to people, and we should be ready to do all the good we can in all of the ways we can. (Some will recognize that I am paraphrasing John Wesley here).
When is the last time you gave to your favorite charity? The United Methodist Committee on Relief (UMCOR.org) is my favorite charity. Please make a contribution to this one or to yours.
Keep reading, keep writing (especially to me), and have a great weekend.
Jim
Jim Stovall
www.jprof.com
You can connect with Jim on Facebook, Twitter, Linkedin, and BookBub.
His Amazon author page is where you can find more information about his books.
Last week's newsletter: Inaugural images, the Braille month, 5 minutes with the flute, and a podcast recommendation: newsletter, January 22, 2021
✕
Get a FREE copy of Kill the Quarterback
Get a free digital copy of Jim Stovall's mystery novel, Kill the Quarterback. You will also get Jim's newsletter and advanced notice of publications, free downloads and a variety of information about what he is working on. Jim likes to stay in touch, so sign up today.