The myth of Robin Hood – the charming outlaw who "steals from the rich and gives to the poor" — is an enduring one, and also an international one. We are seeing that play out with the current popularity of the Arséne Lupin series on Netflix.
Robin Hood is a guy who plays by his own rules, who challenges authority, and almost always wins, and who rarely loses his charm or good humor. He — though sometimes the protagonist appears as a woman — is usually high-born, giving readers and viewers the sense that he is simply confounding the authorities and wreaking havoc among the rich for the fun of it.
Sometimes the purpose of his activities is more serious. In the English Robin Hood version, the man who wears Lincoln green has been wronged by those who are in power. In the Netflix version of Lupin, the underlying story is that Lupin is seeking to avenge the unfair imprisonment and disputed suicide of his father. As a youth, this Lupin is fascinated by a book by Maurice Leblanc, author of the original Lupin stories.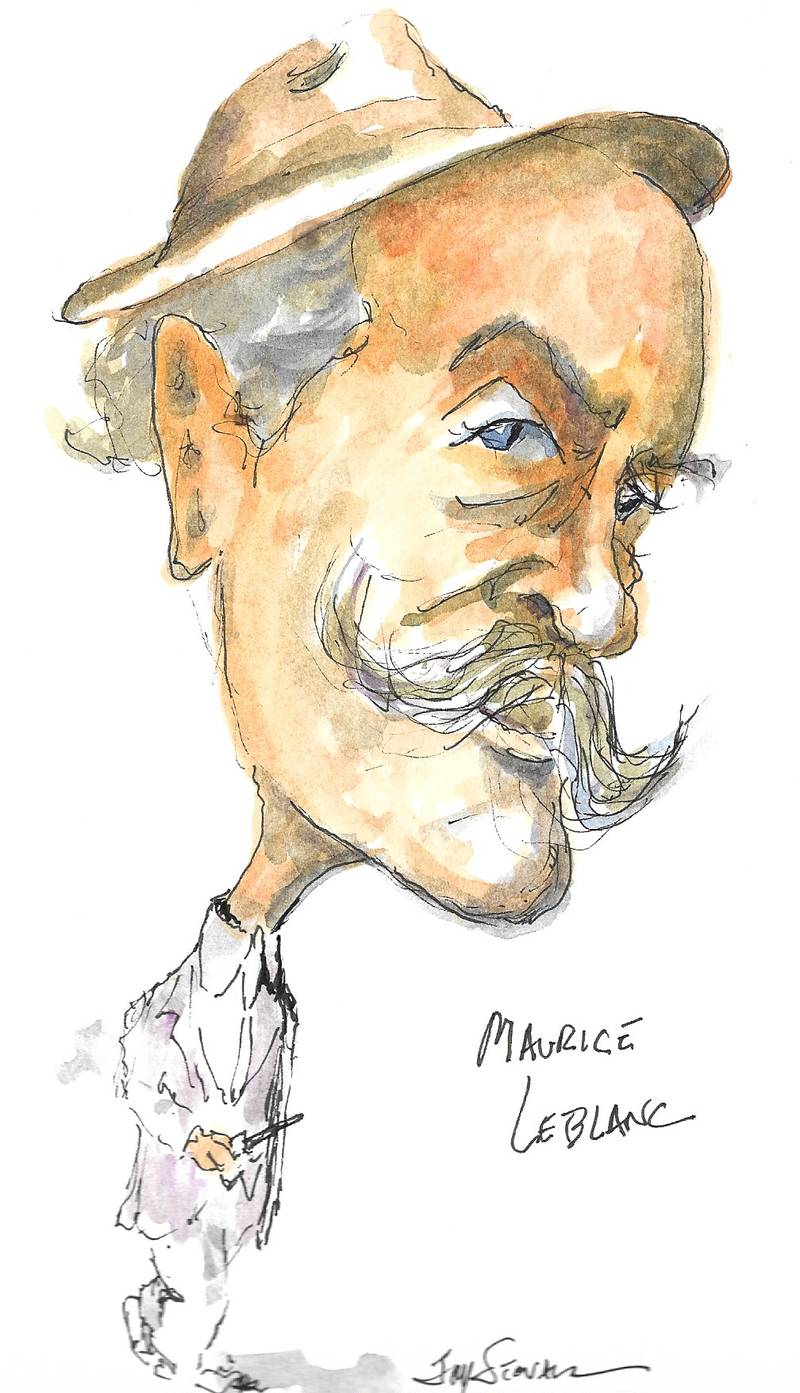 Maurice Leblanc's Lupin was during his lifetime often described as the French answer to Sir Arthur Conan Doyle and the Sherlock Holmes story. Leblanc was in great part responsible for this comparison when he introduced a Sherlock Holmes character into his Lupin stories. But the similarities between Lupin and Sherlock Holmes are vague at best. The real similarity is between Lupine and Robin Hood.
LeBlanc was born in Rouen, France in 1864, and as a young adult, he had in mind going to law school. But after traveling some, he got dissatisfied with the thought of a future practicing law, and he moved to Paris to become a writer. Beginning in the early 1890s, he had some success in publishing short fictional works in the many magazines that dotted the Paris landscape.
His breakthrough came in 1905 when he published his first Lupin story. The public fell in love with this clever, affable, and self-deprecating protagonist. And in one of his first stories, Le Blanc posits this description of Lupin:
Arsène Lupin, the eccentric gentleman who operates only in the chateaux and salons, and who, one night, entered the residence of Baron Schormann, but emerged empty-handed, leaving, however, his card on which he had scribbled these words: "Arsène Lupin, gentleman-burglar, will return when the furniture is genuine." Arsène Lupin, the man of a thousand disguises: in turn a chauffer, detective, bookmaker, Russian physician, Spanish bull-fighter, commercial traveler, robust youth, or decrepit old man. (From the short story, "The Arrest of Arsène Lupin" in the book The Extraordinary Advertures of Arséne Lupin, Gentleman-Burglar)
The reading public's appetite for Lupin's exploits became almost insatiable, and because of it, LeBlanc became a very rich man. Some believe that LeBlanc took part of his inspiration for the loop in character from Marius Jacob, an anarchist who ran a theft ring and whose trial made headlines in 1905.
Leblanc introduced a retired Sherlock Holmes into one of his stories in 1906, but Arthur Conan Doyle objected to that as a copyright violation. LeBlanc sidestepped that objection by renaming his character "Herlock Sholmes." In a subsequent story, Lupin manages to solve a riddle that baffles the Sherlock Holmes-like character.
Still, the similarities between Lupin and Holmes are tenuous at best, and the public instinctively understands that. Lupin is much livelier than the languid Holmes, and, of course, he often operates outside the law – something that Holmes rarely ever did.
One similarity should be noted, however. Like Arthur Conan Doyle, Leblanc seemed to grow tired of his character and wanted to finish him off, but the public would not hear of it and kept demanding more stories.
Leblanc tried developing other characters, and he also wrote a couple of science fiction novels, but nothing he wrote came close to matching the popularity of Lupin, for which he produced dozens of stories. The Lupin character took on a life of his own by appearing in movies, stage plays, and even comic books. Leblanc died in Paris in 1941, but Lupin — as Netflix has shown us — is still alive.
✕
Get a FREE copy of Kill the Quarterback
Get a free digital copy of Jim Stovall's mystery novel, Kill the Quarterback. You will also get Jim's newsletter and advanced notice of publications, free downloads and a variety of information about what he is working on. Jim likes to stay in touch, so sign up today.