During the last few weeks, I am more and more reading short stories rather than novels. Up to now, I have never paid much attention to short stories. It began, I think, when a newsletter reader mentioned Ed Hoch, whose name I had never heard and stories I had never read. And it's gone on from there.
Since then I have gotten through most of a collection of college campus-related stories put together by Lawrence Block (The Darkling Halls of Ivy); started and quit a collection by Patricia Highsmith (Eleven – a bit too creepy for night-time reading); downloaded a collection of the year's best mystery stories (2018) from the local library; and gotten a few others off of Amazon (generally for free with the Kindle Unlimited program). Author Ray Bradbury once advised that you should read one short story and one poem every day. Sounds okay to me. This may develop into another of my New Year's goals.
It's still January, so whatever your goals/resolutions are, I hope that you can get on with them and have a great weekend.
Under the newsletter's hood: Last week's newsletter was sent to 2,468 subscribers and had a 26.8 percent open rate; 2 people unsubscribed.
---
Important: Remember to open the images or click on one of the links so that my email service will record your engagement, and you will stay active on the list. Thanks.
---
Picturing the inaugural for the first time
Presidential inaugurations have taken place in America every four years since 1789 when George Washington first took the oath of office, but it was more than 50 years after that event that the public saw a news image and got an idea of what an inauguration really looks like.
That image, however, was not seen first by Americans. Rather, it appeared in the London Illustrated News in April 1845, and it showed the inauguration of James K Polk from Tennessee becoming America's new leader. (Polk's inauguration not only was the first one to be pictured as news, but it was also the first inaugural event to be broadcast by telegraph.)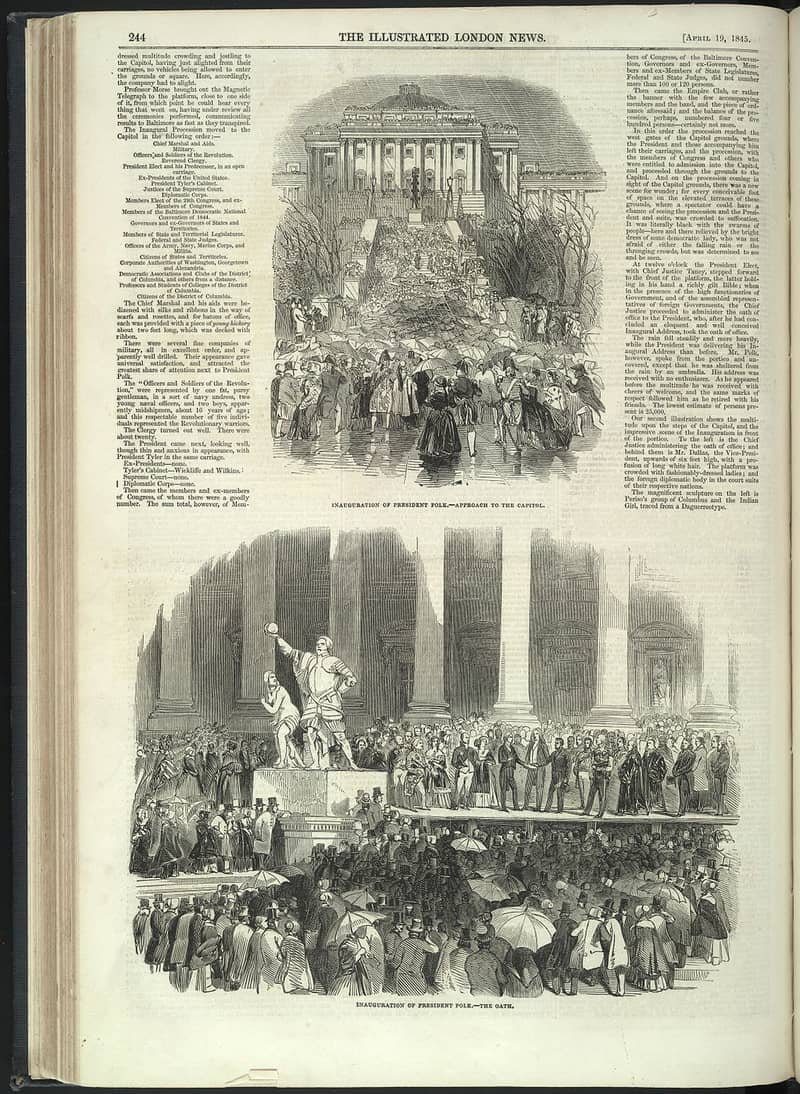 The images that appeared in the London Illustrated News – there were actually two of them — were not photographs, of course. Photography had just been invented during the previous two decades, but there was no technology in place little allow the printing and mass production of photographs. Instead, the images were woodcuts. Even so, they were highly detailed and made interesting viewing for the reader.
The London Illustrated News was begun in 1842 by Herbert Ingram, who had gone into the printing and news agency business in Nottingham with his brother-in-law. As a newsagent, Ingram noticed that publications that contained images sold more copies more quickly than publications that did not. He began to develop the idea of a publication that would emphasize images.
The first issue of the News appeared in May 1842, and its sales were brisk and healthy. But sales of subsequent issues were not as good. Ingram was determined to make the publication of success. One of the things he did was take an issue that contained images of the installation of the Archbishop of Canterbury and send a copy to as many clergymen as he could find. His subscriber list immediately increased.
The images that the London Illustrated News carried of the Crimean War in the 1850s were based on photographs. They, too, helped increase the circulation of the paper to more than 100,000. The London Illustrated News appeared as a weekly until 1971. It finally ceased publication completely in 2003.
How Americans really feel and act
The following words are from former President Barack Obama, but I am convinced did any president before him, no matter what party he belonged to, would have said the same thing:
America has changed over the years. But these values my grandparents taught me — they haven't gone anywhere. They're as strong as ever; still cherished by people of every party, every race, every faith. They live on in each of us. What makes us American, what makes us patriots, is what's in here. That's what matters. And that's why we can take the food and music and holidays and styles of other countries, and blend it into something uniquely our own. That's why we can attract strivers and entrepreneurs from around the globe to build new factories and create new industries here. That's why our military can look the way it does — every shade of humanity, forged into common service. That's why anyone who threatens our values, whether fascists or communists or jihadists or homegrown demagogues, will always fail in the end.
Barack Obama
5 minutes with the flute will make you a believer
A couple of weeks ago in this newsletter, I mentioned that I learn to play the flute when I was young.
Well, right on time and with perfect pitch (see this December newsletter), the New York Times has put into words many of the feelings that I have for that instrument. Not only have they used words, but they have also used sounds, and many of those sounds are delightful.
The Times' editors have gathered a collection of flute music that ranges across flutists, styles, and centuries. They have also let those who play and love the flute write very short pieces as introductions to the selections they are presenting. Here's what Nathalie Stutzmann, a conductor and singer, has to say about it: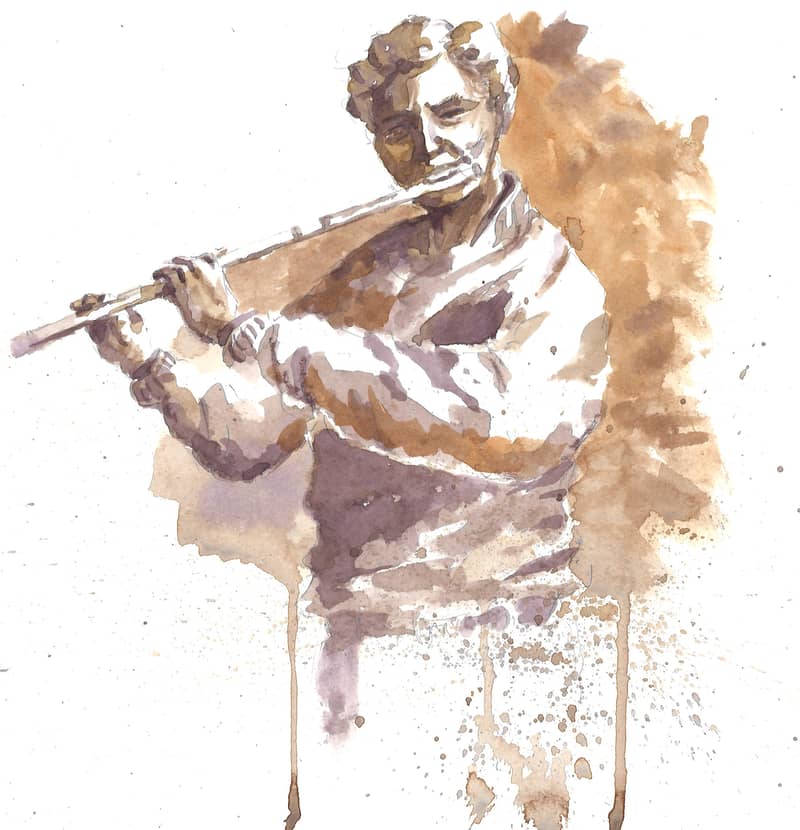 The flute is one of humanity's oldest ways of producing a beautiful sound, and it is based on the most fundamental sign of life: breath. Made from bones, wood or reeds, the earliest specimens date from the Paleolithic era. The flute is often associated with things elegiac, poetic, angelic — with purity — but also with the world of magic; in mythology, Orpheus seduces the underworld playing the flute. In this excerpt from Gluck's Orpheus opera, the flute is extremely sensual, and, with its lyrical soaring, takes us from earthly pleasures to heavenly ones. Source: 5 Minutes That Will Make You Love the Flute – The New York Times
And as a final note (ahem) on this entry, I would remind you of what faithful newsletter reader Vic C. wrote in response to my flute musings a couple of weeks ago: "The other memory I have is of an interview that Dick Cavett conducted with Jean-Pierre Rampal. At the time, some people would refer to the musician as a flutist or a flautist. Rampal's response was that he didn't know anybody who played the flaut. Fortunately, for me, that confirmed my own preference."
I don't know anybody who plays the flaut either.
Louis Braille and a new way of reading and writing
January should not escape us without noting that it is Braille Literacy Month. No name is more associated with reading and writing by the blind than that of Louis Braille.
Braille's method of writing so that the blind could read was not the first such system, however. Another system of writing and reading prevailed and was well entrenched when Braille came along.
Braille was born on January 4, 1809, in a small town in France, and he was blinded when he was a very small child. He was sent to Paris by his family to be educated at the Royal Institute for Blind Youth in 1819. He was only 10 years old, but he proved to be a quick and curious student.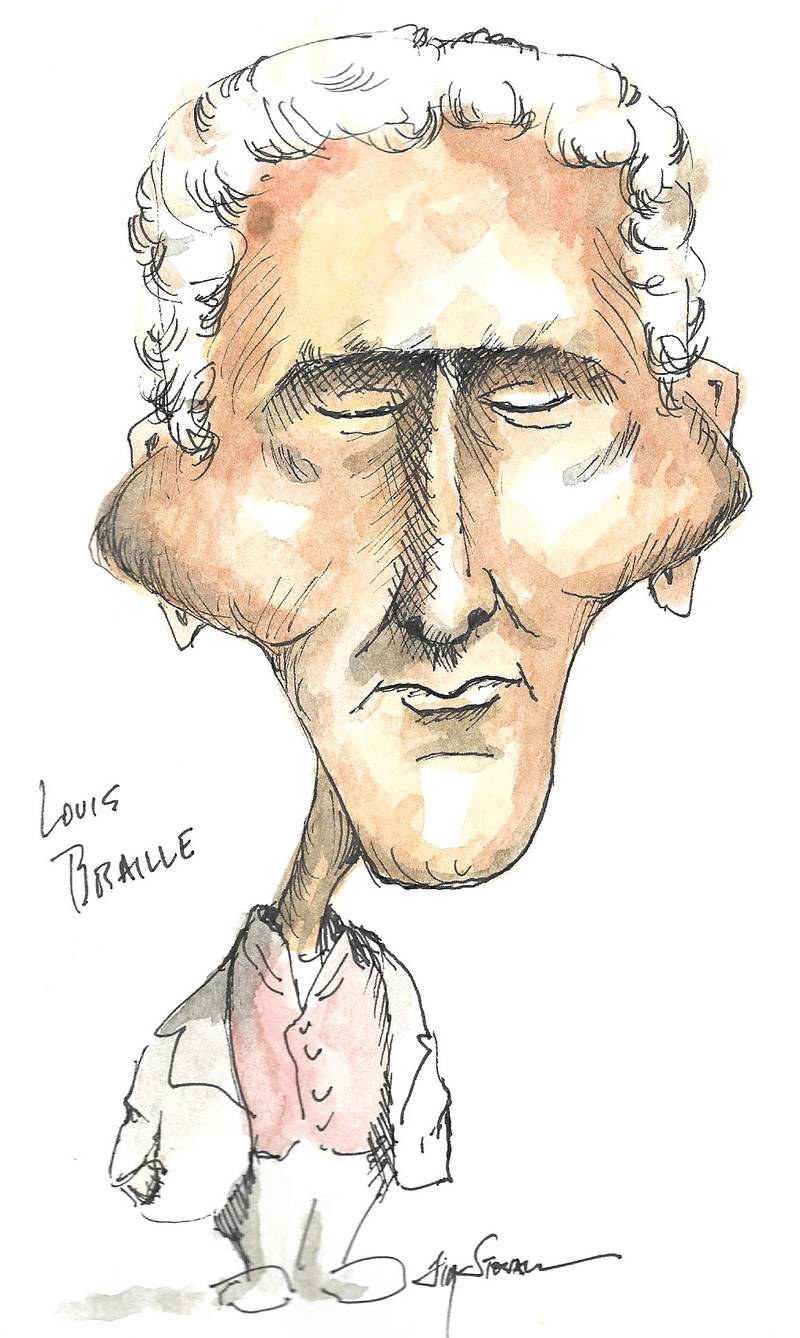 At the time, students were taught to read using a system developed by the institute's founder Valentin Haüy. Haüy​ was not blind, and his system involved embossing heavy paper with Latin letters, and students could read by moving their fingers across the letters. Haüy had produced a small number of books using this system, but these books were expensive and difficult to make. And, of course, blind people could not write without a lot of expensive equipment. Still, the system was a breakthrough in it married reading to the sense of touch by the blind.
Two years after Braille came to Paris, the school was visited by Charles Barbier, a former soldier in the French army who had devised a system called "night writing." The system used a configuration of 12 dots punched into a piece of paper for each letter, and it allowed soldiers to exchange secret information at night. The system worked, Barbier said, but it was very difficult for the soldiers to learn. Almost immediately, Braille recognized that this was a system that could be adapted to allow blind people to read.
Even though he was only 12 years old, Braille believed that he could improve on this system, and he started to work on it. By the time he was 15, he had devised a system that used only six dots per letter. Braille then went to work on a book that explained his system and argued that it would enable blind students to write as well as read. The book was published in 1829. It was the first book published using what would eventually be a universally-accepted system.
By that time, Braille had become a teacher at the Institute. Students loved Braille's new system of reading and writing, but the teachers at the Institute were very conservative and far less enthusiastic about it. Installing a new system would mean that the teachers not only had to learn the system but also had to revise their teaching methods.
Nevertheless, Braille continued to revise and advocate for his system. In addition to his other skills, Braille with a noted mathematician and a musician, playing both the cello and the organ with great proficiency. Thus, he added numbers and musical notation to his system. Braille played the organ at churches throughout France, and he was the regular organist for two different churches in Paris.
Braille suffered from ill-health his entire life, and his condition – probably tuberculosis – worsened as he reached the age of 40. He finally had to give up his teaching position at the Institute, and in 1852, at the age of 43, he died. Two years after his death, The Institute began using his system of reading and writing. Within 30 years, that system had been accepted in all parts of the world except North America. It was only in the 20th century that Americans finally accepted the Braille system.
Podcast recommendation: Bag Man, the crimes of Spiro Agnew
If you lived through the Watergate scandal in the 1970s, or if you know much about it, you will remember that Spiro Agnew, Richard Nixon's vice president, resigned his office in October 1973 because he faced criminal charges that had nothing to do with anything involving Watergate.
The Agnew episode has come to be regarded as just that, an episode in the larger story that was taking place at the time.
But Rachel Maddow and her crew at MSNBC have come along to remind us that the Agnew thing was more than an episode. It was a full-blown, republic-challenging crisis, and there are things yet to be discovered about it.
They dug into it and developed a podcast, Bag Man, out of what they found, and you can find it at the link below:
Is it possible for an American Vice President to carry out a criminal enterprise inside the White House and have nobody remember? To have one of the most brazen political bribery scandals in American history play out before the country while nobody's paying attention? In her first original podcast, MSNBC's Rachel Maddow goes back 45 years to dig into a story that got overshadowed in its day. Source: Bag Man: A Rachel Maddow podcast from MSNBC
The podcast is a couple of years old, but a book, Bag Man: The Wild Crimes, Audacious Cover-up, and Spectacular Downfall of a Brazen Crook in the White House, has been recently published based on what Maddow and her producer found, a book that the Washington Post review says is a "case study in how the democratic ideal of equal justice under the law collides with the squalid realities of America's political system."
The podcast episodes are fascinating and easy to listen to, and you will come to believe that what happened back then resonates loudly today.
Vietnam Voices: the podcast this week
Here are the Vietnam Voices episodes that were posted this week:
Floyd Smith used land survey techniques to help ensure the accuracy of artillery guns in the firebases in Vietnam. He helped generate information for the artillery units to aim their guns correctly.​
Marine platoon commander Ed Shore encounters a squad of North Vietnamese Army regulars in June 1968. The results are devastating for some of the Marines.
Reactions
Elizabeth F.: Great edition….I especially enjoyed your observations as a painter enjoying the winter subtle palette. As a writer and poet, I have focused on the need for a sharper observational focus in capturing a word picture. By mid to end of February there are small but visible season changes even here in mid-central Minnesota where I have seen snow flurries in every month. Yes, even July!
Dan C.:
Happy New Year. Can we say 2020 is now hindsight? The way you can tell "The Queen's Gambit" was fiction and not fact was that Bobby Fisher was not in the narrative. He was active at the same time portrayed in the mini-series. It could be argued that Benny Watts was about the right age, though he was not in any way similar to Fisher.
Vic C.: I have, of course, enjoyed reading Lawrence Block's works, especially the Bernie Rhodenbarr series. Somewhere along the way, I encountered "Telling Lies for Fun and Profit – A Manual for Fiction Writers" and was struck — if only by the title, alone — that I should have tried doing that, myself. But, as so often happens, life got/ had gotten in the way and I'm left to share stories of my life with my grandkids.
Chuck C.: Love the chapel, Jim. And the caricatures are always a favorite.
Finally . . .
This week's watercolor: A good book anywhere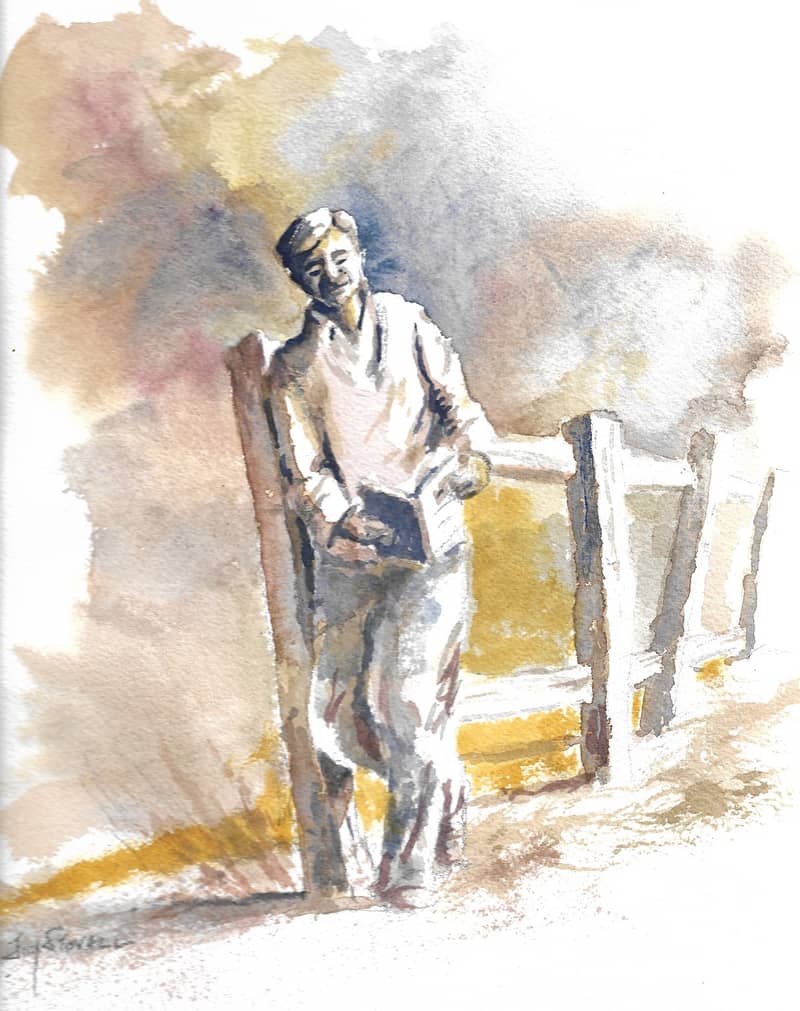 Best quote of the week:
High though his titles, proud his name,
Boundless his wealth as wish can claim;
Despite those titles, power, and pelf,
The wretch, concentred all in self,
Living, shall forfeit fair renown,
And, doubly dying, shall go down
To the vile dust from whence he sprung,
Unwept, unhonour'd, and unsung.
Walter Scott, novelist and poet (1771-1832)
Fires in California, hurricanes on the Atlantic Coast, tornados in Tennessee, and now coronavirus — disasters occur everywhere. They have spread untold misery and disruption. The people affected by them need our help.
It's not complicated. Things happen to people, and we should be ready to do all the good we can in all of the ways we can. (Some will recognize that I am paraphrasing John Wesley here).
When is the last time you gave to your favorite charity? The United Methodist Committee on Relief (UMCOR.org) is my favorite charity. Please make a contribution to this one or to yours.
Keep reading, keep writing (especially to me), and have a great weekend.
Jim
Jim Stovall
www.jprof.com
You can connect with Jim on Facebook, Twitter, Linkedin, and BookBub.
His Amazon author page is where you can find more information about his books.
Last week's newsletter: Susan Glaspell, a forgotten feminist writer, and Lawrence Block, successful and prolific: newsletter, January 15, 2021​
✕
Get a FREE copy of Kill the Quarterback
Get a free digital copy of Jim Stovall's mystery novel, Kill the Quarterback. You will also get Jim's newsletter and advanced notice of publications, free downloads and a variety of information about what he is working on. Jim likes to stay in touch, so sign up today.