Presidential inaugurations have taken place in America every four years since 1789 when George Washington first took the oath of office, but it was more than 50 years after that event that the public saw a news image and got an idea of what an inauguration really looks like.
That image, however, was not seen first by Americans. Rather, it appeared in the London Illustrated News in April 1845, and it showed the inauguration of James K Polk from Tennessee becoming America's new leader. (Polk's inauguration not only was the first one to be pictured as news, but it was also the first inaugural event to be broadcast by telegraph.)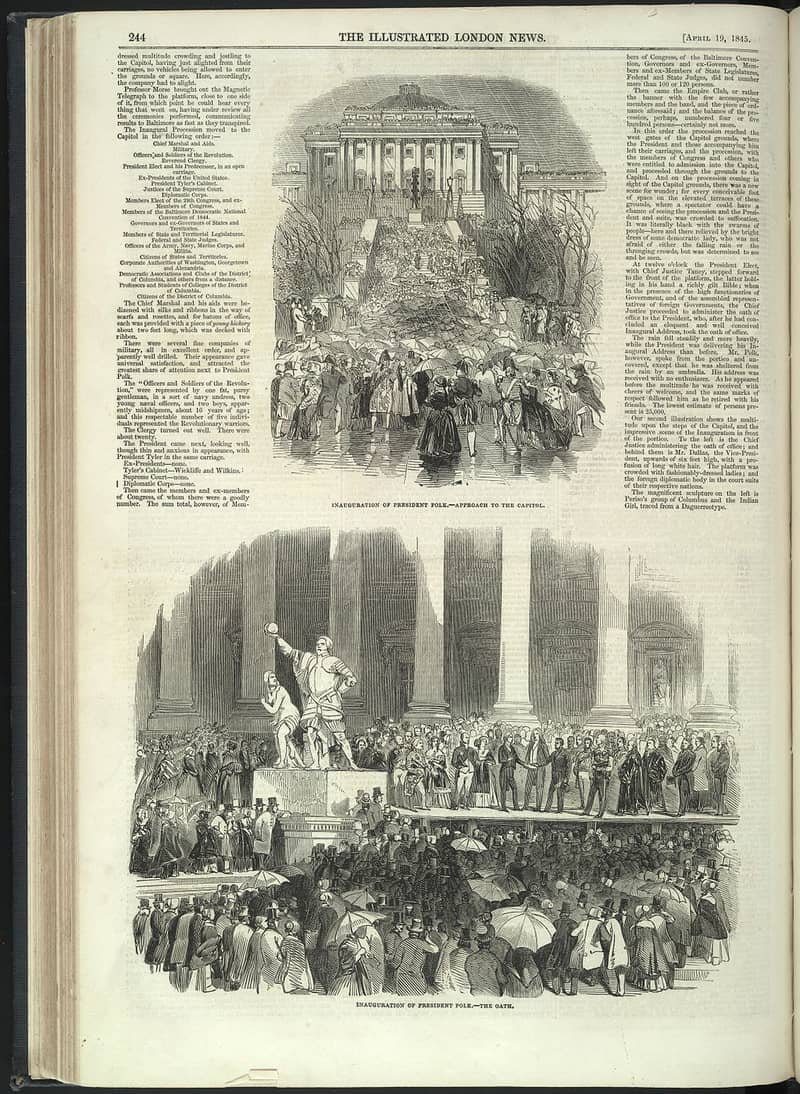 The images that appeared in the London Illustrated News – there were actually two of them — were not photographs, of course. Photography had just been invented during the previous two decades, but there was no technology in place little allow the printing and mass production of photographs. Instead, the images were woodcuts. Even so, they were highly detailed and made interesting viewing for the reader.
The London Illustrated News was begun in 1842 by Herbert Ingram, who had gone into the printing and news agency business in Nottingham with his brother-in-law. As a newsagent, Ingram noticed that publications that contained images sold more copies more quickly than publications that did not. He began to develop the idea of a publication that would emphasize images.
The first issue of the News appeared in May 1842, and its sales were brisk and healthy. But sales of subsequent issues were not as good. Ingram was determined to make the publication of success. One of the things he did was take an issue that contained images of the installation of the Archbishop of Canterbury and send a copy to as many clergymen as he could find. His subscriber list immediately increased.
The images that the London Illustrated News carried of the Crimean War in the 1850s were based on photographs. They, too, helped increase the circulation of the paper to more than 100,000. The London Illustrated News appeared as a weekly until 1971. It finally ceased publication completely in 2003.
✕
Get a FREE copy of Kill the Quarterback
Get a free digital copy of Jim Stovall's mystery novel, Kill the Quarterback. You will also get Jim's newsletter and advanced notice of publications, free downloads and a variety of information about what he is working on. Jim likes to stay in touch, so sign up today.