A common saying among woodworkers – one you have probably heard – is "measure twice, cut once." That saying counsels us to be careful. But there is another saying that is less well-known and maybe just as important: "Let the tools do the work."
What that saying tells us is that sometimes we can try too hard. We can grip the drill too firmly. We can put too much pressure on the gouge as it meets the wood that is turning on a lathe. We can wear ourselves out trying to do what our tools are designed to do. There may be a life lesson in that saying, not just a woodworking one.
In the very near future, take a look at what you do, and consider if you are doing the work that your tools should be doing. Above all, have a great weekend.
Under the newsletter's hood: Last week's newsletter was sent to 2,473 subscribers and had a 23.9 percent open rate; 3 people unsubscribed.
---
Important: Remember to open the images or click on one of the links so that my email service will record your engagement, and you will stay active on the list. Thanks.
---
Susan Glaspell, a not-quite-forgotten feminist writer
John Hossack, a well-to-do farmer near Indianola, Iowa, was attacked with an ax while he slept in his bed on the night of Dec. 1, 1900. His wife, Margaret, was in bed beside him but said she heard nothing of the intruders until they were in another part of the house. ​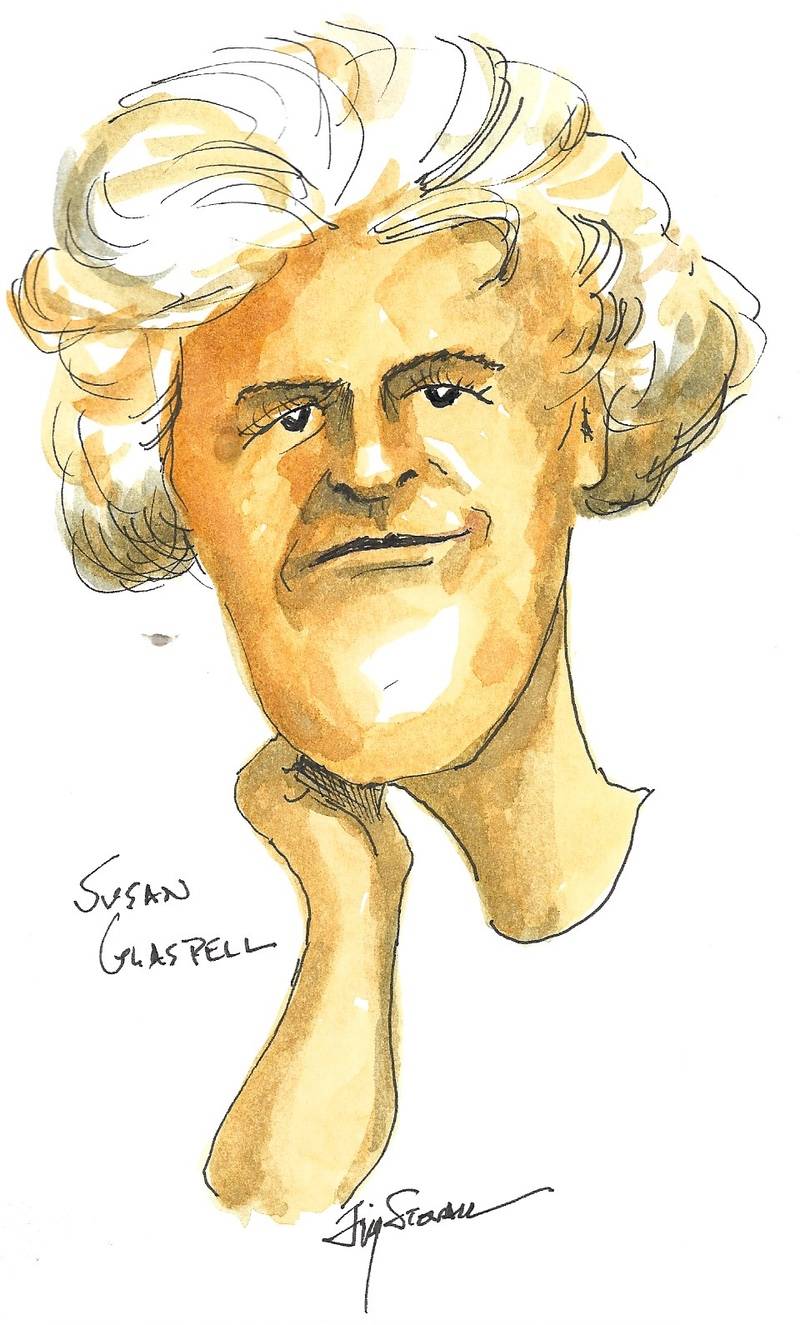 Margaret, the mother of nine children, five of whom were still in the house, was eventually charged with the murder of her husband. Five months after the murder, she was convicted by a jury made of some who knew the family. The Iowa Supreme Court overturned that conviction because of technical errors by the trial judge. Margaret was tried again, and the second trial resulted in a hung jury. Margaret returned to her home and lived for another decade and a half with the public divided on whether she was innocent or guilty.
That murder and trial might have disappeared from anyone's memory except for the young reporter from the Des Moines Daily News who covered the murder and its investigation and subsequent trial with 26 articles between December and April.
Her name was Susan Glaspell, and during the 1920s and 1930s, she was one of America's foremost authors, a writer of plays, novels, and short stories.
Glaspell was born in 1876 in Davenport, Iowa. She grew up on a farm that was located on land once claimed by Indians. She was precocious and always wanted to be a writer, beginning her life in journalism when she was a teenager. When she reached college age, she left home for Des Moines and Drake University.
At Drake, she was an outstanding student and a champion debater. When she graduated in 1900, she immediately got a job at the Des Moines Daily News. There, she wrote a regular column in which she could express herself freely about the town and its people. She was also assigned to cover a variety of events from meetings of the state legislature to murder trials.
When the Hossack murder occurred, she traveled to Indianola and involved herself in every aspect of the investigation. Partly because of the extensive coverage that she devoted to the trial, the case drew region-wide attention. Glaspell never expressed her opinion about whether or not Margaret Hossack was guilty, but she was unrestrained in reporting what she believed the public felt about the accused.
The day after the jury returned its verdict, Glaspell quit her newspaper job and went back home to Davenport. Her purpose was to make her living by writing. She had been a newspaper reporter for only about a year, but in that time, she believed she had gathered enough material and experience to launch her fiction writing career.
Before long Glaspell was writing and selling stories to magazines such as Harper's and the Ladies Home Journal. She moved to Chicago where she published her first book The Glory of the Conquered. That novel made the New York Times bestseller list. Not only did she write short stories and novels, but she began writing plays.
Glaspell moved from Chicago to New York where she and her husband, George Cram Cook — whom she married in 1913 — connected with the avant-garde artistic community in Greenwich Village. They were also prominent in the same circles in Provincetown, Massachusetts, where she first encountered Eugene O'Neil.
In 1916 she premiered the one-act play Trifles, now thought to be an early feminist masterpiece. The play was first produced at the Wharf Theater in Provincetown and was based on the Hassock trial that Glaspell had covered when she was a young reporter. Later, Glaspell wrote the short story A Jury of Her Peers, which was a spinoff of the play. The Provincetown Theater company that she and her husband had founded move to New York where it attracted many innovative playwrights, producers, and actors.
Glaspell and her husband left the theater company in 1922 and move to Greece. Two years later, Cook died suddenly, leaving Glaspell on her own. She kept writing, and during the next 10 years, she produced her best and most critically acclaimed work. In 1931, she won the Pulitzer Prize for her play Alison's House. In Great Britain, critics ranked her plays above those of Eugene O'Neil. On both sides of the Atlantic, her novels were bestsellers, and her short stories appeared in major magazines.
In the mid-1930s, Glaspell suffered through a period of alcoholism, depression, and low productivity. But she regained her literary footing and managed to write three more novels before her death in Provincetown in 1948.
Her work was largely forgotten during the post-war era, but in the 1970s Interest in her revived. Since that time, a determined group of adherents has attempted to make sure that she has a proper place in the American literary pantheon.
+++
If you want to find out more about Susan Glaspell, check out these sites:
Lawrence Block, a writer both prolific and successful
When an intelligent but smart-alecky high school junior got his English composition assignment in 1943 at a Buffalo High School, he decided to treat it like the intelligent but smart-alecky kid he was. He would make some fun of it.
The assignment was to write about his own career possibilities. He wrote about all of us all of the different things he had been thinking about becoming as an adult since he was four years old. He ended the essay with what he thought was a humorous line. "On rereading this composition, one thing becomes very clear to me—I can never be a writer."
His teacher, Miss Jepson, did not find that line as humorous has he thought it might be. She wrote in the margin: "I'm not so sure about that!"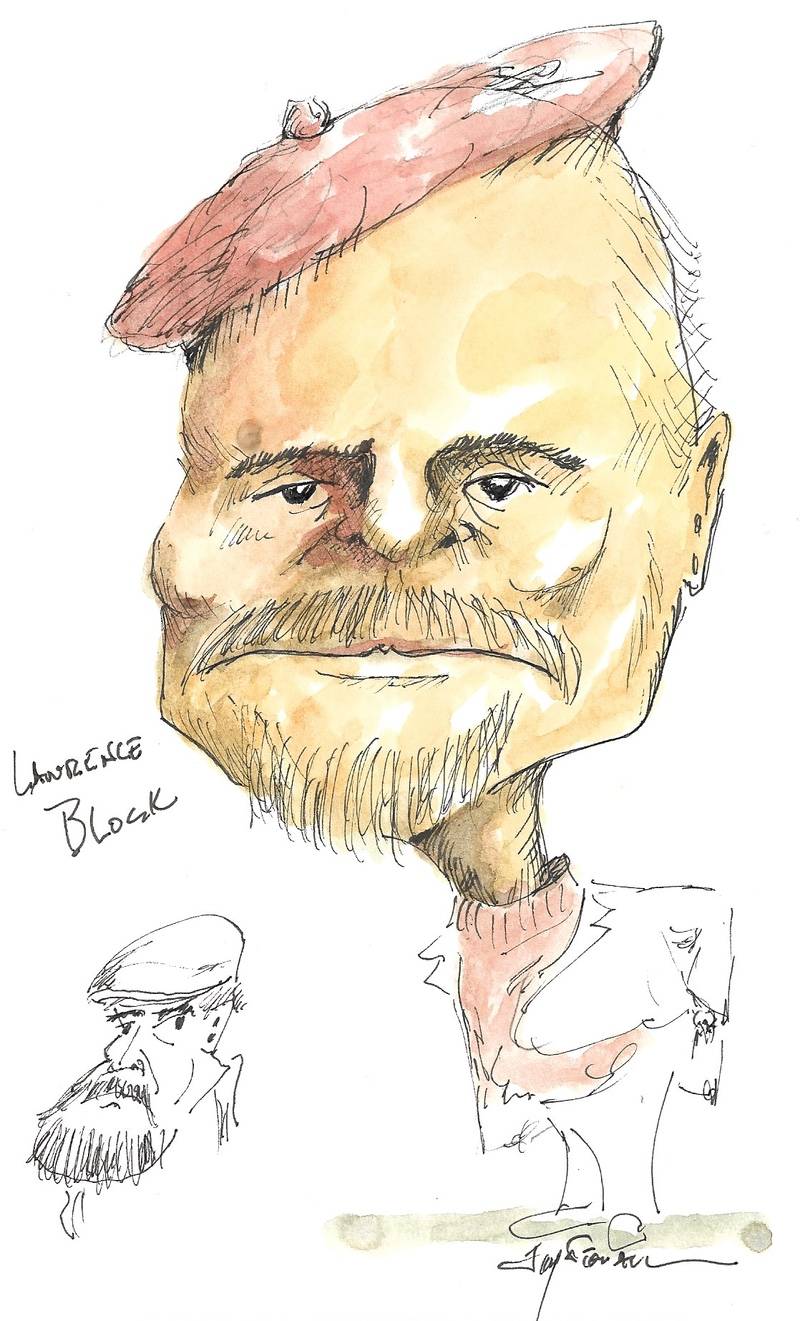 For the student, Lawrence block, that changed everything.
"Before that, I'd never for a moment considered a career as a writer," he says, "but from that moment on I never considered anything else." Source: My First Thriller: Lawrence Block ‹ CrimeReads
After that, Block says he began to take his writing seriously and began to think that maybe he could be a professional writer after all.
Block went off to college and while there submitted poems and stories to numerous publications without much success. During one of the summers, however, he managed to gain an internship at a literary agency. While there, he sold his first short story, and it happened to be to a magazine that was edited by the head of the agency.
Block return to college and became the editor of the campus newspaper, but he was dissatisfied with where he was. He dropped out of college for good and returned to New York where he began pumping out soft-porn novels for just about anyone who would take them. He learned then how to write quickly and how to formulate a plot. It was good training that he has used during his lifetime of writing.
And what a lifetime it has been. Block has produced dozens of novels and scores of short stories, and his nom de plumes are almost too numerous to count. As he says on the biography page of his website:
Because one name is never enough, LB has also published under pseudonyms including Jill Emerson, John Warren Wells, Lesley Evans, and Anne Campbell Clarke.Source: About | Lawrence Block
He has written numerous detective and mystery series with delightful and well-formed continuing characters. In addition, he has conducted hundreds of writing seminars where he has helped thousands of people understand the process of writing.
Block has won Anthony, Edgar, Shamus, awards Gold Dagger awards from various writers associations, and he was named a Grandmaster in 1994 by the Mystery Writers of America.
In addition to all of this, Block writes columns and books four writers themselves. Many years ago when I got interested in writing fiction, I picked up a copy of his book Spider, Spin a Web: A Handbook for Fiction Writers. It still occupies a place on my bookshelf.
Outside of writing of his own, Block has put together several anthologies of short stories by others. I am reading through one of them now. Its title is The Darkling Halls of ivy. Block says this about it on his website:
. . . its stories all having to do with the world of higher education. (Their other common denominator is their excellence.) As the book was coming together, we explored ways to market it to college and university bookstores—and that looked promising, until Covid came along and all those bookstores closed up shop, along with the colleges and universities that spawned them.

Still, the book got good reviews and generated strong word of mouth, and had no trouble finding an audience. The Subterranean Press limited edition sold out in a hurry, but the book continues to move briskly in ebook, paperback, and hardcover editions.
The two words you can safely apply to Lawrence Block are prolific and successful.
Vietnam Voices: the podcast this week
Here are the Vietnam Voices episodes that were posted this week:
Joe Dabney served in the U.S. Army, in-country from December 1965 to July 1966, when he was sent home due to war-related injuries. He was a small-arms maintenance person. In this episode, Joe recalls stepping on the landmine and the resultant trauma.
Airplane riddled with bullet holes
Airman First Class Dean Moss served in Vietnam from May 1968 to May 1969. He was a munitions handler at the Nha Trang Airbase, which came under frequent attack by Viet Cong.
Reactions
I introduced last week's newsletter with this: "Many people, with good reason, are not fans of January and February. Those months are part of the "bleak midwinter," which features colder temperatures, shorter days, and a dearth of vegetation.
"For the landscape artist … these two months offer opportunities for seeing nature that are not available at any other time. The leaves are off the trees, thus revealing the structures of these wonderful plants. Colors are often darkened or muted. And the light is coming down at an angle different from any other months."In short, January offers us a different vision of the world. We should take advantage of that opportunity and take a long look."
Here is what Jeanne L. wrote for her church presentation in response:
(After quoting the above paragraphs): As I read the above paragraphs written by the author Jim Stovall, the thought hit me that they sound so much like repentance! As everyone is wont to do, we tend to be like the spring and summer months when we start out whole and clean, but then gradually (most times) we drop our defenses and pretenses and allow all our sins to be covered in green, leafy foliage, or in the hidden areas of our minds and souls. Then, when fall appears, the realization that our sins are being uncovered—even if just by ourselves—deeper contemplation, is nigh upon us. As we creep into winter, and, as the author said, the "structures of these wonderful plants" are revealed, our sins are exposed, again, even if—especially if—only to ourselves. It is then we can begin that saving grace provided by our loving Heavenly Father, and granted by our Lord and Savior, Jesus Christ: repentance. This is truly when the "light is coming down at a different angle from any other months." This is our time to gain blessings. And as Jim tells us, (and as I use it for my own purpose), [repentance] "offers us a different vision of the world. We should take advantage of that opportunity and take a long look."
Let us all take a long look at ourselves, our actions, and our sins. When we do, let us also repent of all wrong-doing and begin anew, as when winter gives up its hold and spring revitalizes the world. One last thing. Note that Jim Stovall said that winter (like repentance) reveals the " structures of these wonderful plants" (italics added).
Remember, then, that the worth of a soul is great in the eyes of God, and just as plants and trees are wonderful, so are we all. We are structured as is our Father in Heaven. We are His children. Let us love each wonderful one of us as He does.
And thanks to you, Jeanne.
Finally . . .
This week's watercolor: Smyth Chapel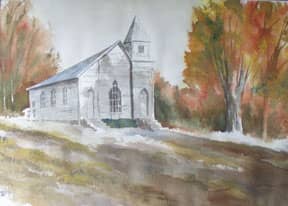 Best quote of the week:
"We have every opportunity and every encouragement before us, to form the noblest truest constitution on the face of the earth. We have it in our power to begin the world over again." Thomas Paine (1737-1809), English-born American patriot, magazine editor, pamphleteer, essayist, and engineer
Nobody made a greater mistake than he who did nothing because he could do only a little. Edmund Burke, statesman and writer (1729-1797)
Fires in California, hurricanes on the Atlantic Coast, tornados in Tennessee, and now coronavirus — disasters occur everywhere. They have spread untold misery and disruption. The people affected by them need our help.
It's not complicated. Things happen to people, and we should be ready to do all the good we can in all of the ways we can. (Some will recognize that I am paraphrasing John Wesley here).
When is the last time you gave to your favorite charity? The United Methodist Committee on Relief (UMCOR.org) is my favorite charity. Please make a contribution to this one or to yours.
Keep reading, keep writing (especially to me), and have a great weekend.
Jim
Jim Stovall
www.jprof.com
You can connect with Jim on Facebook, Twitter, Linkedin, and BookBub.
His Amazon author page is where you can find more information about his books.
Last week's newsletter: Benjamin West and his iconic painting, Dickens on the police, and the surprising author of The Queen's Gambit: newsletter, January 8, 2021
✕
Get a FREE copy of Kill the Quarterback
Get a free digital copy of Jim Stovall's mystery novel, Kill the Quarterback. You will also get Jim's newsletter and advanced notice of publications, free downloads and a variety of information about what he is working on. Jim likes to stay in touch, so sign up today.