This newsletter was sent to everyone on Jim's email list (2,480) on Friday, January 8, 2021.
Many people, with good reason, are not fans of January and February. Those months are part of the "bleak midwinter," which features colder temperatures, shorter days, and a dearth of vegetation.
For the landscape artist (I confess to occupy in a small corner of that world), these two months offer opportunities for seeing nature that are not available at any other time. The leaves are off the trees, thus revealing the structures of these wonderful plants. Colors are often darkened or muted. And the light is coming down at an angle different from any other months.​
In short, January offers us a different vision of the world. We should take advantage of that opportunity and take a long look. In doing so, I hope you have a great weekend.
Under the newsletter's hood: Last week's newsletter was sent to 2,480 subscribers and had a 28.3 percent open rate; 7 persons unsubscribed.
Important: Remember to open the images or click on one of the links so that my email service will record your engagement, and you will stay active on the list. Thanks.
---
Benjamin West and the Death of General Wolfe
In just about any American history book that you can pull off the shelves, you will find at least one painting that illustrates the section on the French and Indian War, which occurred in the 1750s. That painting is Benjamin West's The Death of General Wolfe.
That painting is one of the most famous and most reproduced works of art of the 18th century.
But as an illustration of what happened when British forces defeated the French army on the Plains of Abraham in 1759, it fails completely. It's inaccuracies and over-dramatization of the scene are obvious at a glance.
Still, in and of itself, the painting has great historical value, and its story should be told and understood. Jason Farago, the art critic for the New York Times, his recently given readers a detailed analysis of the painting, in which he writes:
In 1770, neither the United States nor Canada had yet been established. But West's painting — the first by an American artist to gain international renown — stands at the origin of a New World narrative that would stubbornly endure in both countries for centuries. Source:The Myth of North America, in One Painting – The New York Times
Farago's analysis is highly interpretive and should be viewed with skepticism, but he points out many of the painting's significant details and relationships.
Benjamin West was born in 1738 to a family of innkeepers in Pennsylvania. As a child, West was once left alone to watch his younger sister, Sally. During that time he discovered some inks in his parents' pantry, and he started mixing them together and painting a picture of his sister. When his mother returned, she looked at what he had done and immediately recognized it as a portrait of her daughter. She kissed him and exclaimed, "Why, that's Sally!" West later said that kiss from his mother made him a painter.
As he grew into adulthood, his talent and precocity spread his fame throughout Philadelphia, then the largest city in the American colonies. He attracted a variety of commissions and patrons.
When he was 22 in 1760, West set off for Europe and a grand tour of museums and galleries throughout the continent. He ended his tour in London Intending that to be his last stop before returning to America. His reception in London and the commissions that he acquired led him to change his plans. He set up a studio, established himself with patrons, and remained there for the rest of his life.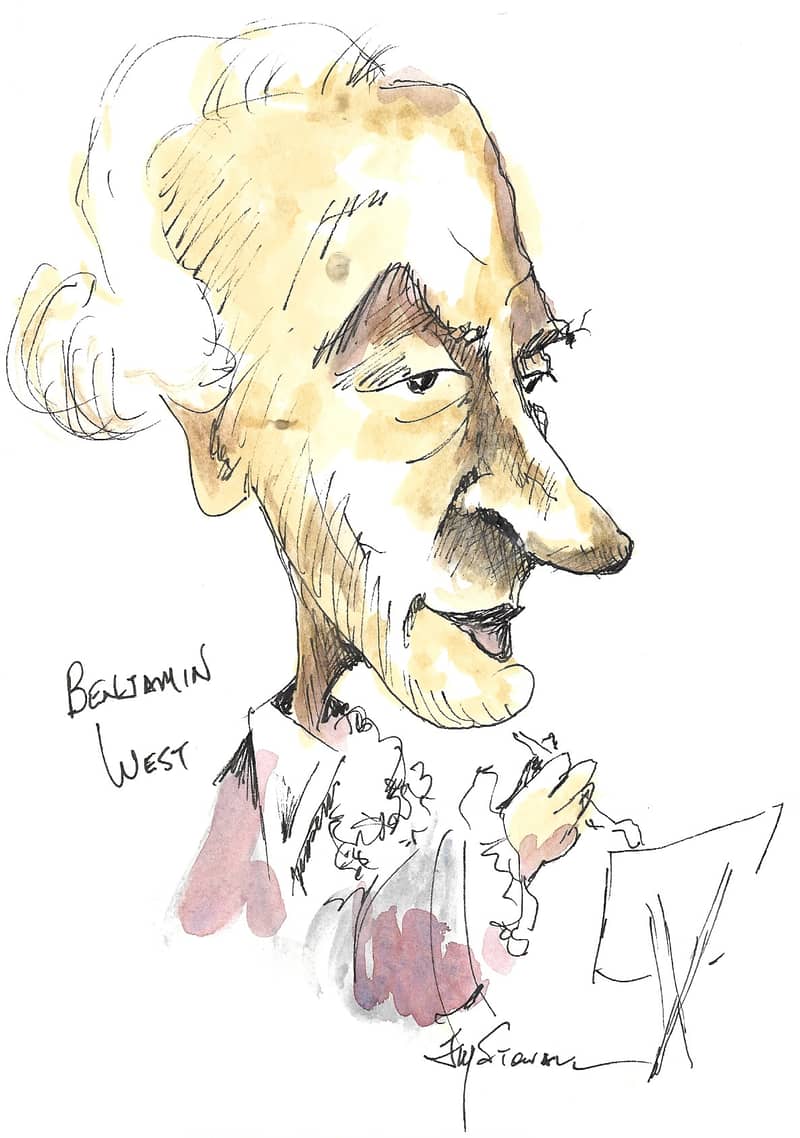 One of those patrons was King George III. Like just about everyone else in London, the King was impressed with the talent and vision of this intelligent, handsome, and affable young artist.
The Death of General Wolfe, painted in 1770, was an important break with the tradition of painting contemporary characters in classical garb. This painting had the characters clothed in modern uniforms. West thus signaled that he was taking a new approach to historical painting, an approach that would be emulated by many other artists. When the painting was first exhibited, it caused a sensation. Enormous crowds lined up to see what West had produced.
West went on to dominate the art scene in London for many years. As an American, West remained neutral when the colonies began fighting for their independence.
West was a generous painter and instructor. He gave many young artists a chance to improve their skills and position by welcoming them into his home and studio and offering them artistic and financial help. Those artists included Charles Willson Peale, Rembrandt Peale, Gilbert Stuart, John Trumbull, and Thomas Sully.
West lived until 1820, and when he died, he was buried in St. Paul's Cathedral.
True crime – 2020 was a very good year
The year 2020 might not have been so great overall, but if you are a true crime fan, things did get a little bit better over the last 12 months. In some people's eyes, they got a lot better.
That's the view of author Sarah Weinman, whose new book, Unspeakable Acts: True Tales of Crime, Murder, Deceit & Obsession, contains this paragraph about the growth of the true crime genré in its introduction:
"Lately, it's felt different. More highbrow. More participatory. More investigative. More in the public interest. More reflective, critical, even postmodern. The current state of the genre has broadened far past stories once reliably contained within the pages of mass-market paperbacks, covers with dripping fonts. Or tabloid-friendly tales slickly packaged into programs that air on Investigation Discovery, Oxygen, and Lifetime."
Weinman's book contains contributions of various writers in the true crime genre, and if you download the sample from Amazon, you will get not only the introduction but also the first chapter, Michelle Dean's account of a truly bizarre relationship between a mother and daughter that ended in a murder.
Along the same lines, the editors of CrimeReads.com have put together a list of the best true crime books of 2020, and if you are into the genre, you will want to check it out to make sure you haven't missed anything good.
From stories of systemic corruption to personal memoirs, they take on crime at every level. It was also a strong year for deeply researched tales of espionage and duplicity, with larger than life figures and feats emerging from world historical events, bringing the individuals into focus. Below you'll find a range of books, from contemporary crime narratives to memoirs to historical nonfiction. We've labeled them all "true crime" because that's how diverse the genre has become, and we're here to celebrate its continuing rise. Source: The Best True Crime Books of 2020 ‹ CrimeReads
Walter Tevis, the novelist more famous at your theater than your bookstore
If you have watched the Netflix series The Queen's Gambit, you may have wondered if it is based on a true story. The series identifies specific places and times where the action is taking place. Much of the series is set in the 1960s, and its look and feel are authentic.
But the story is fiction. It is based on a novel by Walter Tevis, a writer whom some feel should have a more prominent place in American letters.
Tevis, as a recent New York Times article points out, is more famous for the movies that have been made from his books than from the books themselves. Those movies include The Hustler, The Color of Money, and The Man Who Fell to Earth.
Tevis once pegged himself as "a good American writer of the second rank." But Allan Scott, the screenwriter who first optioned "The Queen's Gambit" in the 1980s, disagrees. Mr. Scott co-created and executive-produced the current Netflix show. Source: Walter Tevis Was a Novelist. You Might Know His Books (Much) Better as Movies. – The New York Times
While the story of The Queen's Gambit is fiction, much of it is based on Tevis' difficult childhood. He was born in San Francisco in 1928, and the family later moved to Kentucky. A childhood heart condition was treated with phenobarbital, which created a daze much like that experienced by Beth Harmon, the heroine in The Queen's Gambit.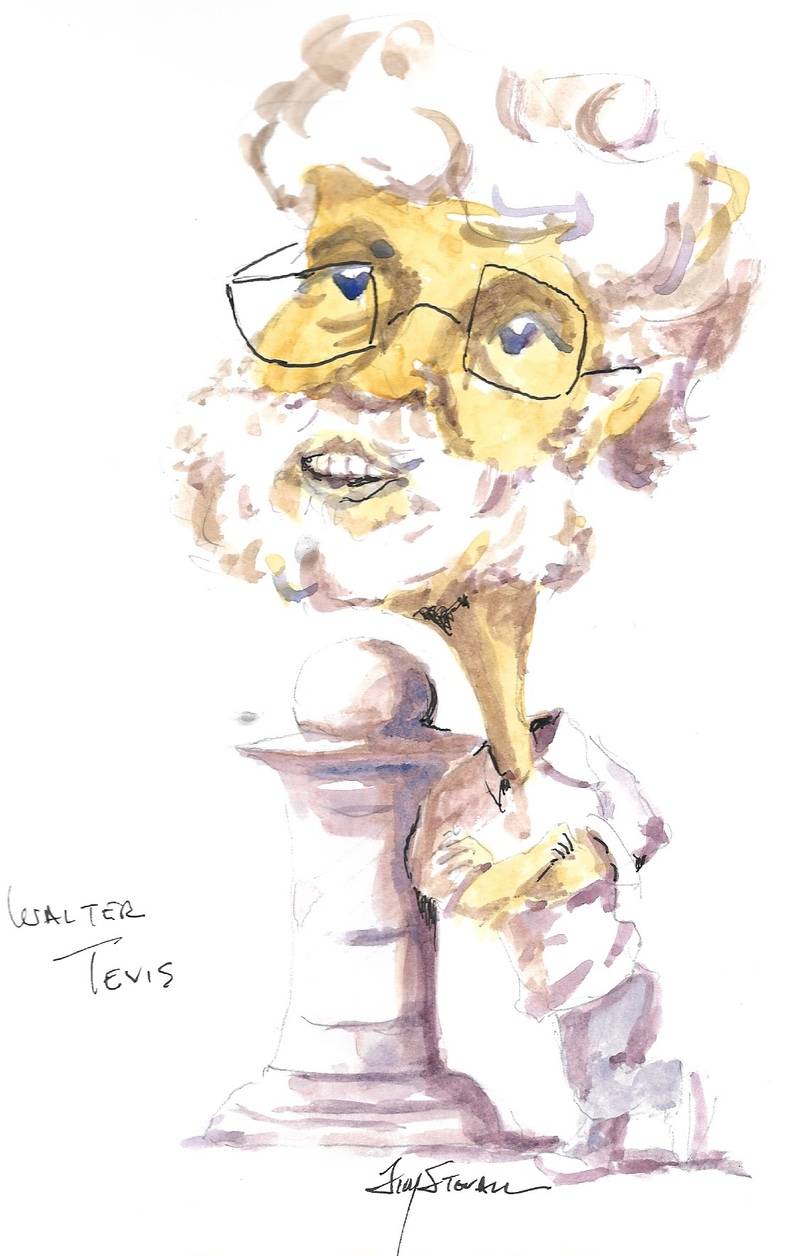 He joined the Navy when he was 17 years old, near the end of World War II, and served in the Pacific as a carpenter's mate aboard the USS Hamil. After the war, he attended the University of Kentucky where he got his bachelor's and master's degrees. He also attended the Iowa Writers Workshop. Eventually, he got a job teaching English at Ohio University in Athens, Ohio, and lived there for 14 years and raised his family.
His first novel, The Hustler, was published in 1959. His second The Man Who Fell to Earth, came out in 1963. The Queens Gambit was published in 1983. During all this time, Tevis battled smoking, gambling, and alcohol addictions. He also suffered from an extended bout of writer's block.
Tevis spent the last years of his life in New York City working full-time as a writer. He died of lung cancer in 1984. A spokesperson for his estate says that there are two more of his novels that will be published in the future.
There is also a website devoted to his life and works.
An 1860s view of the police from Charles Dickens
The year just ended witnessed a dramatic increase in the criticism of police forces. this criticism may or may not have a lasting effect on how the public views law enforcement.
What is often forgotten, amid television shows that always show the cops as heroes, is that the public has had a low opinion of police forces from their very Inception.
For instance, the following paragraph can be found in the novel Great Expectations by Charles Dickens, published in serial form in 1860 and 1861.
Mrs. Joe, the older sister of protagonist Pip, has been viciously attacked and left for dead. She isn't dead, but she is unable to speak or describe her attacker. The police from London come down to the village to investigate:
The Constables and the Bow Street men from London—for, this happened in the days of the extinct red-waistcoated police—were about the house for a week or two, and did pretty much what I have heard and read of like authorities doing in other such cases. They took up several obviously wrong people, and they ran their heads very hard against wrong ideas, and persisted in trying to fit the circumstances to the ideas, instead of trying to extract ideas from the circumstances. Also, they stood about the door of the Jolly Bargemen, with knowing and reserved looks that filled the whole neighbourhood with admiration; and they had a mysterious manner of taking their drink, that was almost as good as taking the culprit. But not quite, for they never did it.
Dickens satirized many aspects of society throughout his writing, and the police did not escape his notice. Here's more from CrimeReads.com:
Charles Dickens was, among many other things, an insomniac. While London slept, Dickens walked. He must have been possessed of extraordinary energy to sally forth, after a full day's work as novelist, magazine editor and businessman, into the dark streets, often until the night was "at odds with morning," as he put it. But mid-19th century London was by no means a safe territory for a gentleman rambler, so the writer made himself familiar to members of the newly minted detective branch of the Metropolitan Police.
Source: Charles Dickens Was Obsessed with Detectives, Too ‹ CrimeReads
Vietnam Voices: the podcast this week
Here are the Vietnam Voices episodes that were posted this week:
In this episode, Bo Millsaps, then a young Marine in Vietnam in 1969, describes the sorts of operations they would conduct, the fear that often gripped him, and how he dealt with it.
Lee Barbee spent his career in the Air Force, including a year in Vietnam with the K9 corps. Here he recounts one night on the base when they came under attack from NVA, well-armed with satchel charges and successfully blowing up bombs stored at the base.
Reactions
Theresa C.: Happy New Year! I couldn't let the turn of the year pass without sending you my best wishes and thanks for your remarkable newsletter. I think I have emailed you before and said that I actually file all of them in a folder to read again at my leisure. I enjoy that you have such a variety of topics, but mostly literature which I love.
Wishing you and yours a safe and healthy 2021!
Finally . . .
This week's watercolor: Morning paper
Best quote of the week:
The only way human beings can win a war is to prevent it. George Marshall, U.S. Army Chief, Secretary of State, Secretary of Defense, Nobel laureate (1880-1959)
Fires in California, hurricanes on the Atlantic Coast, tornados in Tennessee, and now coronavirus — disasters occur everywhere. They have spread untold misery and disruption. The people affected by them need our help.
It's not complicated. Things happen to people, and we should be ready to do all the good we can in all of the ways we can. (Some will recognize that I am paraphrasing John Wesley here).
When is the last time you gave to your favorite charity? The United Methodist Committee on Relief (UMCOR.org) is my favorite charity. Please make a contribution to this one or to yours.
Keep reading, keep writing (especially to me), and have a great weekend.
Jim
Jim Stovall
www.jprof.com
You can connect with Jim on Facebook, Twitter, Linkedin, and BookBub.
His Amazon author page is where you can find more information about his books.
Last week's newsletter: Happy New Year, a great female Restoration writer, journalism drives through Crazytown, and more 2020 review: newsletter, January 1, 2021
✕
Get a FREE copy of Kill the Quarterback
Get a free digital copy of Jim Stovall's mystery novel, Kill the Quarterback. You will also get Jim's newsletter and advanced notice of publications, free downloads and a variety of information about what he is working on. Jim likes to stay in touch, so sign up today.