This newsletter was sent to everyone on Jim's email list (2,480) on Friday, December 25, 2020.
Merry Christmas.
Part of the genius of the Christmas story is that it is about a baby. There is something about a baby that calls forth the depth and the best of our Humanity. Human babies are the most helpless creatures on Earth. They cannot survive by themselves. Consequently, we have to help them. We have no other choice.
But saying that we are compelled to help babies, to pay attention to them, does not adequately describe our response to babies. They are inevitably "cute ." Cute doesn't describe them adequately either. They are beautiful – human beings in the purest form, without guile or boundaries. The Christmas story could have been about something else, but it wasn't. It was about a baby.
I hope that you are having a very Merry Christmas and that that joy will continue into the New Year.
Under the newsletter's hood: Last week's newsletter was sent to 2,481 subscribers and had a 28.0 percent open rate; 1 person unsubscribed.
---
Important: Remember to open the images or click on one of the links so that my email service will record your engagement, and you will stay active on the list. Thanks.
---
Top posts of 2020
Because this is the last newsletter of the Year 2020, I thought it might be a good idea to let you review some of the best posts that you might have missed earlier this year. The following list just covers the first six months of the year. I will list some more next week.
Rose O'Neill, creator of the Kewpie doll and the richest illustrator of her time
In 1887 when she was 13, Rose O'Neill entered a drawing contest sponsored by the Omaha World-Herald. Her entry was by far the best submission, and she was declared the winner.
But there was a problem. Some of the editors did not believe that the drawing was original. It was too good, and they thought she had copied it.
Howard Phillips Lovecraft: The Life of a Gentleman of Providence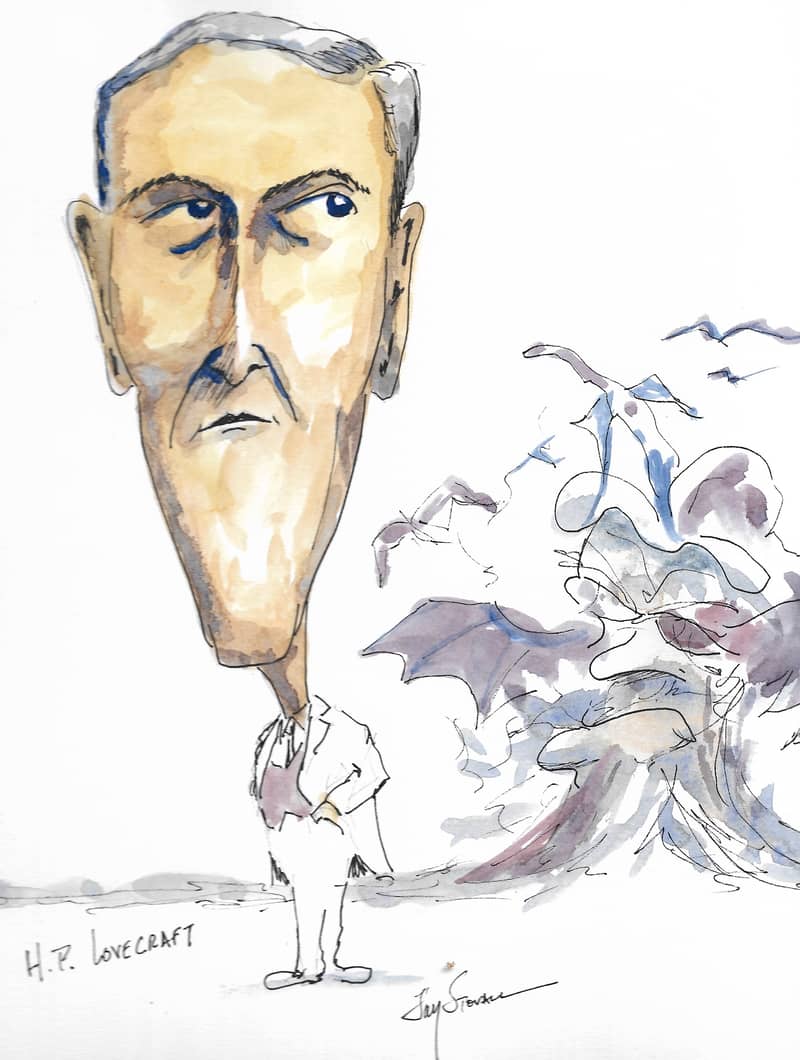 It's good to have friends, even after you have died.
In 1939, the year H.P. Lovecraft died, he considered himself a failure. His life had been a series of mental and emotional battles. His relationship with his mother had been strange and destructive. His marriage had ended in divorce.
Chester Himes: detective fiction with a unique vision and voice
By the time he was 35 years old, Chester Himes had experienced enough tragedy and hardship for the lives of several people.
He had grown up in a middle-class black family that valued books and education, but that family was disrupted by the sudden blinding of a brother who was refused medical treatment because of his race. Himes had been expelled from Ohio State University for a prank, and he had served seven and a half years in prison for armed robbery. It was in prison that he began writing, and he managed to sell some short stories and work on his first novel.
Elizabeth Blackwell, 18th-century illustrator of medical plants
Elizabeth Blackwell's husband, Alexander, was not to be trusted, especially with money. He tried to skirt the law, with little or no thought to his income, his wife, his family, or his own circumstances.
They had come to London from Aberdeen sometime in the 1730s, he with medical experience and lots of prospects. He set up a printing shop in London, even though he had not served an apprenticeship and was not licensed to do so. That put him at odds with trade regulations and earned him a hefty fine. Unable to pay it, he was hauled off to debtors prison.
When playwright Lillian Hellman sued novelist Mary McCarthy for slander in 1980, lots of people thought it was a joke, including Mary McCarthy.
She had just been on the PBS talk show hosted by Dick Cavett where Cavett had asked her about writers she thought were overrated. McCarthy, whose opinions were strongly held and expressed, had no trouble coming up with a list: Pearl S. Buck, John Steinback, John Hersey, and Lillian Hellman.
Ida Tarbell — the sharp, powerful arrow of her words (part 1)
When Ida Tarbell fired an arrow of words at a target, she aimed with the accuracy and power of a book full of facts.
John D. Rockefeller, probably the richest man in the world at the time, was "the oldest man in the world — a living mummy," a "hypocrite" who was "money-mad." She concluded, ". . . our national life is on every side distinctly poorer, uglier, meaner, for the kind of influence he exercises."
William Roughead, founder of modern true-crime books
No one that I know of has the title of Founder of Modern True-Crime Literature (or some such), but if such a title existed, the leading candidate would be a guy you have probably never heard of — a Scottish lawyer named William Roughead (pronounced ruff-head).
Roughead (1872-1950) was a lawyer in Edinburgh and, by all accounts, was most competent and well-respected.
Johann Sebastian Bach: a spectacular failure and an ultimate success
It was the greatest letter of application for a job in the history of letters.
It was also a spectacular failure. The applicant didn't get the job.
Martha and the Vandellas: Heat Waves, Quicksand, and but always Dancing in the Street
At the very beginning, there was no heatwave or dancing in the streets. There was no Martha, and they called themselves something other than the Vandellas.
In 1957 Rosalind Ashford, Gloria Williams, and Annette Beard — plus a couple of others — were simply teenagers in Detroit, singing in different clubs in the area. They called themselves The Del-Phis. Not long after they started, one of the girls left the group, and she was replaced by Alabama-born Martha Reeves. By 1960, they had a recording contract but no hit records.
Marguerite Higgins and "no place for a woman"
When Communist forces crossed the border into South Korea in 1950, Marguerite Higgins got on a plane in Tokyo, where she was head of the New York Herald Tribune bureau, along with three other reporters, all of them male. One of them told her not to go.
At the last moment, G– tried to dissuade me from going along, insisting that Korea was no place for a woman.
We all know the name Stradivarius; we should know the name Cremona
It's about the sound. But it's also about the age, and the rarity, and the physical beauty. And, of course, there's always the money. Mostly, however, its about the name and the reputation.
One of the most prized musical instruments in the world is the Stradivarius violin.
Charles Dickens and the manipulation of the language
Few writers in the history of English literature are as read, recognized, and quoted as Charles Dickens. He gave us our more most recognized secular Christmas story, A Christmas Carol, one that we cannot escape during the Christmas season.
Dickens planted indelibly in our brains characters such as Martin Chuzzlewit and David Copperfield. The dialogue he created helped to build these characterizations and made them memorable.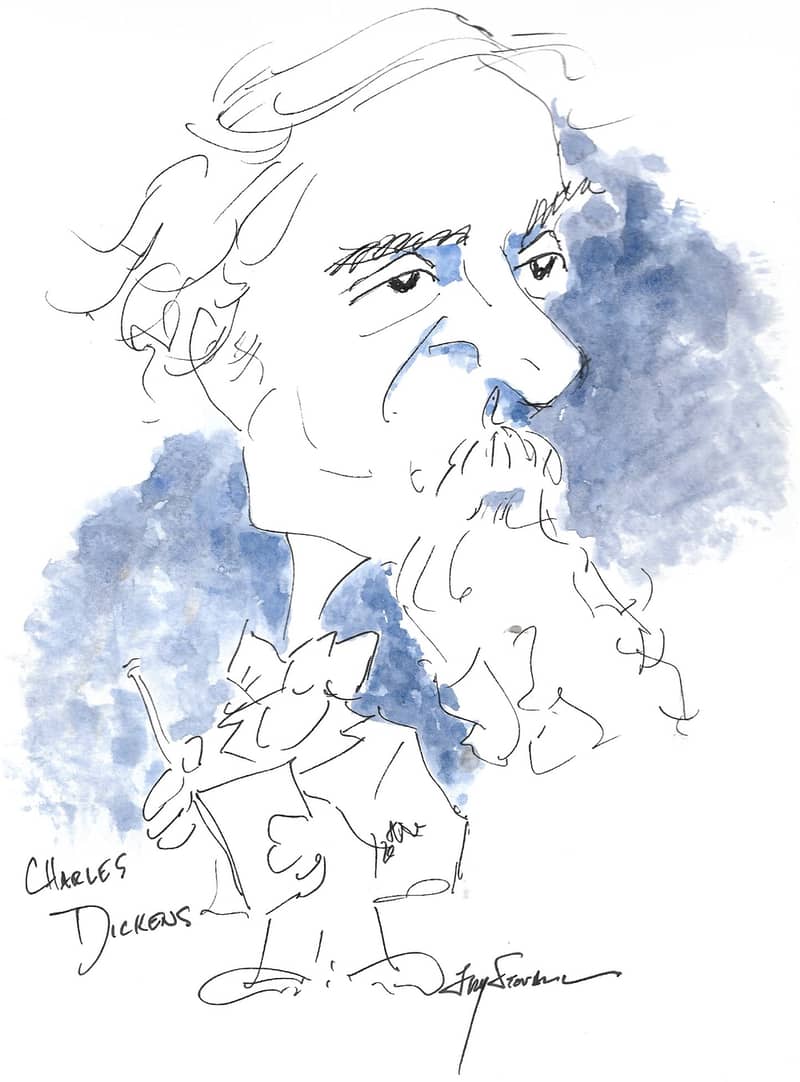 But what we don't often recognize about Dickens is that he was a master of language manipulation. Now there are a couple of new books that take a look at just what Dickens did with the language.
Those books, The Artful Dickens: The tricks and ploys of the great novelist by John Mullin and The Case of the Initial Letter: Charles Dickens and the politics of the dual alphabet by Gavin Edwards, were recently reviewed by Annette Frederico in the Times Literary Supplement. She writes:
Mullan culls Dickens's novels for illustrations of these various "feats of legerdemain", as Dickens described his own writing. His method in each chapter is to define a specific feature and produce examples. Some readers will find that expedient, but Mullan is a brisk and observant writer. He is happy to be taken in by Dickens's sorcery. In his last chapter, Mullan describes Dickens's many offences against good writing: he is addicted to hyperbole, he makes too many lists, he uses the same tag lines, he is demotic and crude, and he is horribly, horribly repetitious. Horribly. As E. M. Forster said, Dickens ought to be bad. Yet Dickens is the seventh most frequently quoted English author in the OED.
. . .
Like Mullan, Edwards argues that Dickens was a major innovator, particularly in the manipulation of upper- and lower-case letters and the capitalization of whole words for emotional effect. Nineteenth-century printers and compositors followed typographic conventions that had been in place since the early 1450s. But Dickens needed more emphasis and nuance than the rules allowed, and as a famous author, he could decide how a word might work if it dominated the space around it on the printed page. Source: Charles Dickens's tricks, tenses, typefaces – and trains
In addition to this review, author Mullan recently appeared on the podcast Dan Snow's History Hits, where he talked about researching and writing his new book. What Dickens did with the language is worth a closer look.
Vietnam Voices: the podcast this week
Here are the Vietnam Voices episodes that were posted this week:
Army Sergeant Brent Hammonds describes an attack that the Viet Cong mounted against his air base.
Jim Kagley describes a more human side of the war in this special Christmas episode as he recounts his unit ordering cowboy outfits for two Vietnamese boys who did general chores for the soldiers.
A final glimpse at my sketchbooks
Throughout the month of December, I have been punishing my newsletter readers with pages from my caricature sketchbooks. Your patience is commendable. It's almost over.
This week, I thought it might be a blessed relief to some to jump from the small caricature sketchbooks to view some pages from one of my larger sketchbooks. So here we are: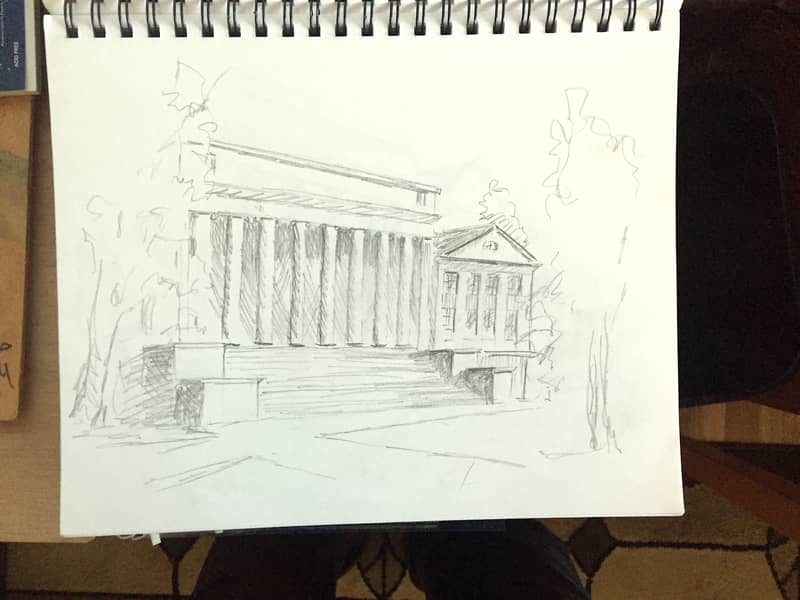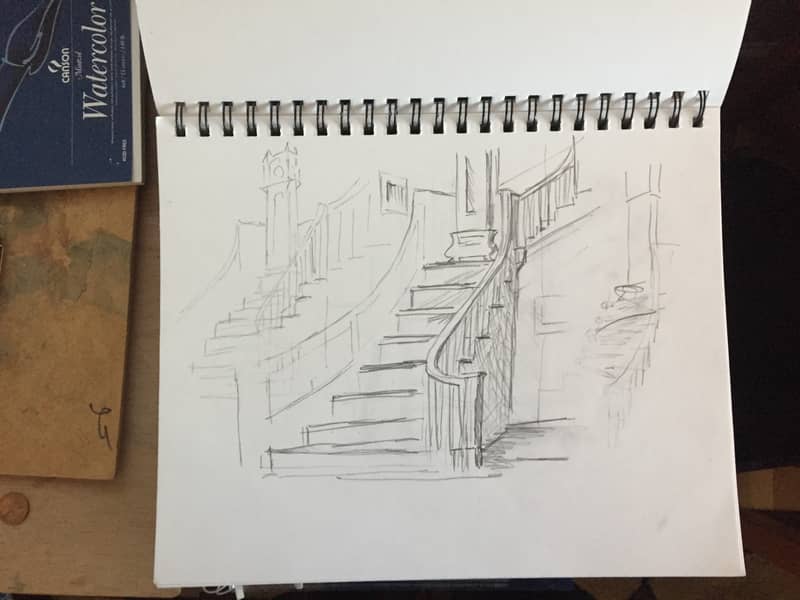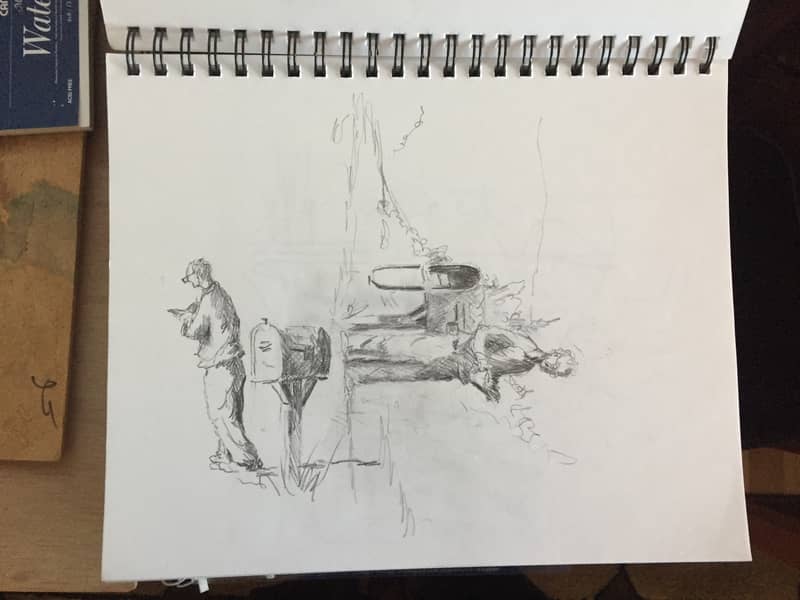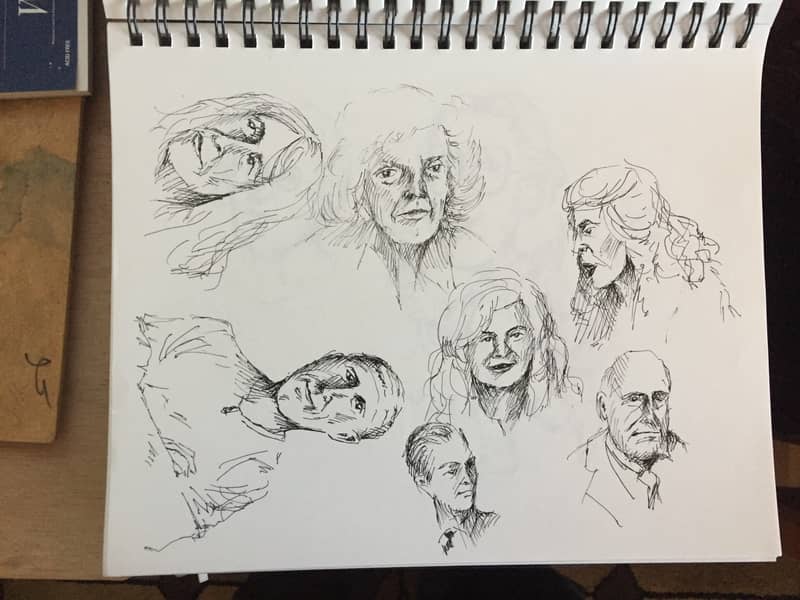 Reactions
Eric S.: Your reference to Graham Greene's novel, The End of the Affair, piqued my interest after I recently finished reading his The Quiet American, about the early phases of the Vietnam War. I enjoyed the latter novel because of my own obsession with that war and also because the main character is a journalist, as I was years ago.
Your podcast series with Vietnam vets is an important contribution to American history. Nice work.
Thanks to you, I'm heading over to the public library for The End of the Affair.
Beth G.: Just want to put in a plug for Le Carre's audiobooks, which he reads himself. A lot of authors seem to be doing this now, with varying degrees of success (Bill Bryson is terrible, in my opinion), but Le Carre has been doing it superbly for a long time. I don't usually gravitate toward the espionage genre, but have listened to all of his, both for the stories themselves and his expert delivery.
Dan C.: I wrote a letter to BBC America asking why they have so few BBC shows on their channel and why the PBS stations have more British programming than the BBCA? They never responded to my comments. In the beginning, if there was a British actor in a show, BBCA would air it, as they did with Star Trek: Next Generation. Now, all they show are quality nature shows and American reruns.
Finally . . .
This week's watercolor: Playing the cello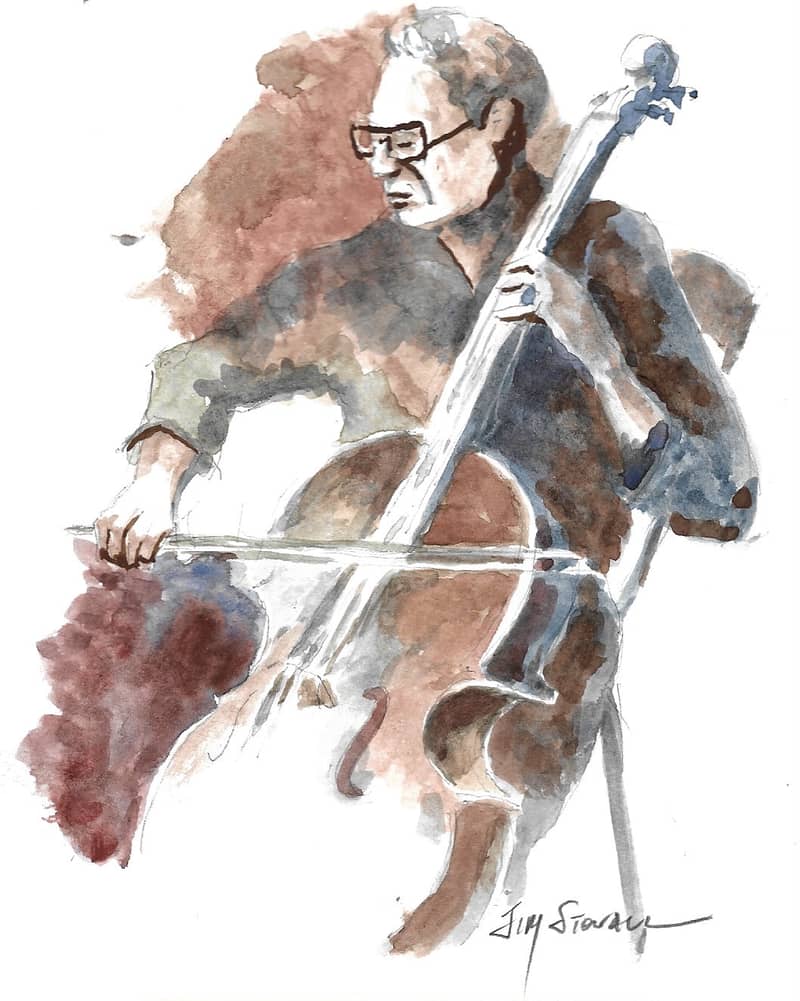 Best quotes of the week:
For all sad words of tongue and pen,
the saddest are these,
It might have been.
John Greenleaf Whittier, poet (1807-1892)
Fires in California, hurricanes on the Atlantic Coast, tornados in Tennessee, and now coronavirus — disasters occur everywhere. They have spread untold misery and disruption. The people affected by them need our help.
It's not complicated. Things happen to people, and we should be ready to do all the good we can in all of the ways we can. (Some will recognize that I am paraphrasing John Wesley here).
When is the last time you gave to your favorite charity? The United Methodist Committee on Relief (UMCOR.org) is my favorite charity. Please make a contribution to this one or to yours.
Keep reading, keep writing (especially to me), and have a great weekend.
Jim
Jim Stovall
www.jprof.com
You can connect with Jim on Facebook, Twitter, Linkedin, and BookBub.
His Amazon author page is where you can find more information about his books.
Last week's newsletter: Graham Greene, the BBC, and the death of John le Carré, plus more sketchbook pages: newsletter, December 18, 2020
✕
Get a FREE copy of Kill the Quarterback
Get a free digital copy of Jim Stovall's mystery novel, Kill the Quarterback. You will also get Jim's newsletter and advanced notice of publications, free downloads and a variety of information about what he is working on. Jim likes to stay in touch, so sign up today.