This newsletter was sent to everyone on Jim's email list (2,4xx) on Friday, December 18, 2020.
With the death of John le Carré (see below) last weekend, my thoughts immediately turned back to the last couple of newsletters where I profiled Erskine Childers. In two different parts of the 20th century, these two writers did pretty much the same thing to the genré of espionage fiction: They turned it from fantasy tales to a disturbing realism.
Beyond this one parallel in their literary efforts, the lives of the two men were completely different. Childers wrote only one novel. Le Carré wrote two dozen, and in those examined the moral ambiguities of espionage — something Childers never bothered with. They both died in completely different ways, too. Le Carré's death was from "natural causes," to use the modern term. Childers' death was much more sudden, shocking, and tragic.
I do not know of any lessons to draw from any of this. But it has been an interesting thought journey. I hope that you have such journies this weekend.
Under the newsletter's hood: Last week's newsletter was sent to 2,485 subscribers and had a 27.2 percent open rate; 4 persons unsubscribed.
---
Important: Remember to open the images or click on one of the links so that my email service will record your engagement, and you will stay active on the list. Thanks.
---
Graham Greene goes inside his novels
In Graham Greene's 1951 novel The End Of The Affair, one of the three main characters, the narrator, is a novelist who lives in the Clapham section of London (as Greene did). The novel is told non-sequentially and takes place both before and after World War II.
Green's novelist has had an affair with the wife of a neighbor, a man who is a civil servant and seemingly unaware of what is going on around him. Greene, too, had many affairs throughout his life.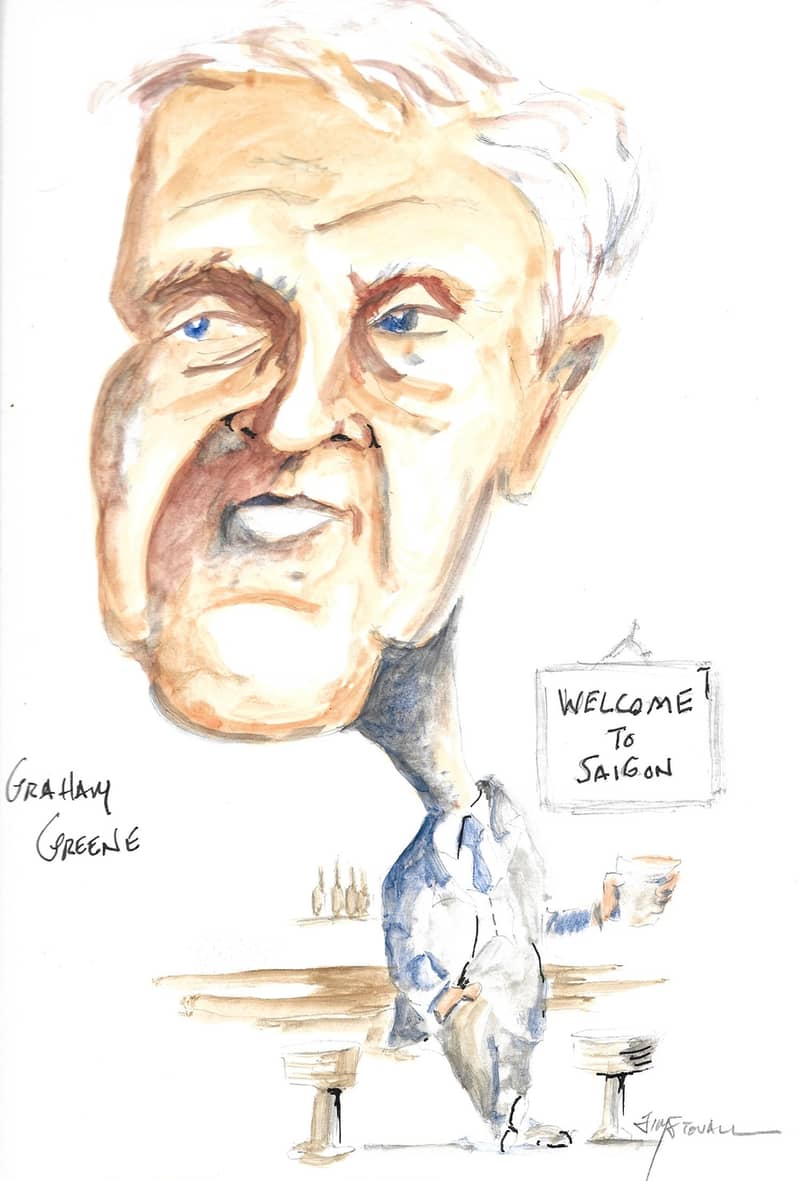 The novelist, like Greene, has been a success in that many people have read his books, and some of those books have been made into movies.
The novelist talks about his writing habits. He writes 500 words a day, and thus it takes him about a year to write a novel. Greene had the same writing habit.
The novelist in the book is also profoundly unhappy. The woman with whom he has had an affair has broken It off suddenly and without explanation. A year-and-a-half after that occurred, the novelist is still obsessed with trying to understand why the affair ended.
This is not an autobiographical novel, but clearly Greene puts himself, undisguised, in it as a character. In doing so, he invites the reader to explore his own psyche.
Greene was born in 1901 in Berkhamsted into an affluent and influential family. His childhood was less than happy, mainly because of the public school to which he was sent. He went to Oxford and began his adult life as a private tutor. He later switched to journalism, eventually doing editing work for The Times of London.
A major event in his life was his conversion to Catholicism in 1926. He did so after meeting Vivian Dayrell-Browning, who was a Catholic, and they later married. Greene never gave up his religion, but he often referred to himself as a "Catholic agnostic" in subsequent years. He and his wife remained married for the rest of their lives even though he had numerous affairs.
His first publishing success came with the novel The Man Within in 1929. That success enabled him to quit his job and devote full time to writing.
For the rest of the century, Greene dazzled readers with his storytelling ability. He traveled to Southeast Asia, Latin America, and Africa in search of exotic locations in which to set his novels. He also ranged into statecraft and espionage for his subject matter. Greene's life sometimes mirrored the adventures that he chronicled in his novels.
Many of Green's novels were adapted for the cinema, some of them more than once. in fact, Greene was often cited as a writer who used cinematic techniques in his prose. Having his books made into films, of course, enhanced his reputation and fame.
As his reputation grew, his real-life roles expanded and occasionally reached mythic proportions. His Catholicism was a consistent element of his plots, so much so that he became known as a "Catholic novelist." He objected to that moniker, saying he would rather be known as a novelist who was Catholic.
Greene won many awards for his writing, and in 1966 and 1967 he was shortlisted for the Nobel Prize.
The Nation magazine, in assessing his career nearly two decades after his death in 1991 described him this way:
A stranger with no shortage of calling cards: devout Catholic, lifelong adulterer, pulpy hack, canonical novelist; self-destructive, meticulously disciplined, deliriously romantic, bitterly cynical; moral relativist, strict theologian, salon communist, closet monarchist; civilized to a stuffy fault and louche to drugged-out distraction, anti-imperialist crusader and postcolonial parasite, self-excoriating and self-aggrandizing, to name just a few.
A recently published biography emphasizes a story that Greene occasionally played Russian Roulette with real bullets (a story that is disputed by others). Blake Morrison writing for the Guardian reviews the biography, Russian Roulette: The Life and Times of Graham Greene (by Richard Greene) and writes.
But Richard Greene (no relation) takes it as the central premise of his biography: the novelist as risk-taker and adventurer, with a history of self-harm and an addiction to danger. An early trip to Liberia, to investigate modern slavery, set the tone. Greene knew there were risks – being shot at by soldiers, bitten by snakes or infected by lassa or yellow fever – but they only spurred him on. He was accompanied by his cousin Dorothy, who found him frightening: "If you are in a sticky place he will be so interested in noting your reactions that he will probably forget to rescue you." Source: Russian Roulette: The Life and Times of Graham Greene review – addicted to danger | Graham Greene | The Guardian
The controversies of the BBC
Americans who watch a lot of British television shows (and they would include me) are sometimes awestruck by the fact of the British Broadcasting Corporation, commonly known as the BBC.
The programs that we see coming from the BBC are interesting, thoughtful, and well-produced and often make American programming look shallow and superficial.
Why, we are tempted to ask, can America not have something akin to the BBC programming that would consistently entertain and challenge us in the same way?
The BBC is, indeed, a jewel in the crown a British culture. Americans are rightly envious.
But not everyone in Great Britain sees it that way. The BBC is highly popular among television viewers in Great Britain, but it is also a political football that British politicians and cultural commentators have kicked around for nearly a century.
Now there is a new book by Patrick Barwise and Peter York titled The War Against the BBC: How an Unprecedented Combination of Hostile Forces Is Destroying Britain's Greatest Cultural Institution … And Why You Should Care.
The book was recently the subject of a short review by Dorian Lynskey in The Guardian. The enemies of the BBC, Lynskey points out, come from all points on the political spectrum. Yet they have been unable to destroy this cultural icon or even to inflict any permanent damage.
It is hard work trying to bring down the BBC when the masses stubbornly insist on enjoying and trusting its output, so the wheels of grievance require constant oiling by newspapers, thinktanks, and opaquely funded pressure groups such as News-watch. Governments have been growling at the BBC for decades. Winston Churchill never forgave it for remaining independent during the 1926 general strike, while Harold Wilson, Margaret Thatcher, and Tony Blair have all forced the departure of troublesome directors-general. Source: The War Against the BBC review – in defence of a national institution | Books | The Guardian
The authors of the book under review contend, however, that the current alignment of forces against the BBC brings more danger to that Institution than ever before.
If you care about British television and the programming that you were able to watch, this is a review worth reading.
What they're saying about John le Carré
With the publication of The Spy Who Came in from the Cold in 1963, John le Carré redirected the genre of espionage fiction away from the fanciful world of James Bond to the moral grayness of people such as Alec Leamas and ultimately George Smiley.
And while James Bond was lots of fun, George Smiley made us think more seriously about who we are, what we believe, and where we are in the world.
Le Carré died at his home in Cornwall last weekend at the age of 89. Here's a sampling of what people are writing about him: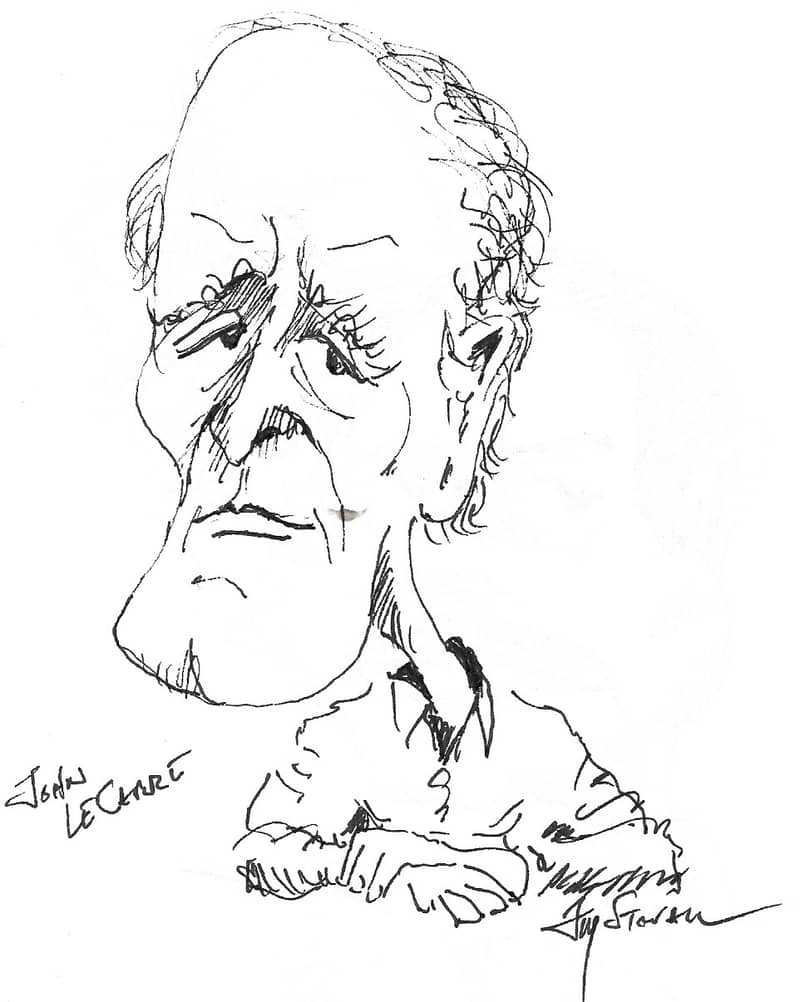 David Ignatius in the Washington Post
To say that le Carré invented the modern spy novel doesn't do justice to his achievement. His fiction was so powerful that in the "secret world," as he always liked to call it, his imaginary names began to take over from real ones. Intelligence officers never spoke about "moles" until le Carré popularized the term; they talked about penetration agents. Surveillance was drab work until he began writing about "pavement artists" like Toby Esterhase, the Eastern European-born character who directs the "Lamplighters." Source: John le Carré didn't just invent the characters in the foreground of the spy world. He designed the entire set. – The Washington Post
Sarah Lyall in the New York Times
Before Mr. le Carré published his best-selling 1963 novel "The Spy Who Came in From the Cold," which Graham Greene called "the best spy story I have ever read," the fictional model for the modern British spy was Ian Fleming's James Bond — suave, urbane, devoted to queen and country. With his impeccable talent for getting out of trouble while getting women into bed, Bond fed the myth of spying as a glamorous, exciting romp.

Mr. Le Carré upended that notion with books that portrayed British intelligence operations as cesspools of ambiguity in which right and wrong are too close to call and in which it is rarely obvious whether the ends, even if the ends are clear, justify the means. Led by his greatest creation, the plump, ill-dressed, unhappy, brilliant, relentless George Smiley, Mr. le Carré's spies are lonely, disillusioned men whose work is driven by budget troubles, bureaucratic power plays and the opaque machinations of politicians — men who are as likely to be betrayed by colleagues and lovers as by the enemy. Source: John le Carré, Best-Selling Author of Cold War Thrillers, Dies at 89 – The New York Times
Peter Bradshaw in The Guardian:
Le Carré's fiction had a twine of celluloid in its DNA: particularly the movie-making of Graham Greene and Carol Reed in The Third Man. The dark shadows of that movie loomed over his imagination, from a city (Vienna) divided up by the second world war's victorious and now mutually resentful allies. The paranoia, the sense of postwar peace perennially threatened and undermined by some new terrible incursion, the theme of personal betrayal, and the vivid nightmare of "going over to the other side" in a theological or geopolitical sense: it all informed his writing. Orson Welles's breezy Harry Lime talking about the happy Swiss inventing nothing more interesting than the cuckoo clock was the tone of complaisant, emollient cynicism that Le Carré was to encounter in the real-life British establishment, and which he satirised and anatomised in his own work. (And at one further remove, Le Carré's darkness and sense of sin maybe had something of the German expressionists, Peter Lorre's child-murderer in Fritz Lang's M, on the run from his accusers.) Source: The don of disillusionment: John le Carré on film | Film | The Guardian
The Guardian has a great deal more about le Carré, and if you're a fan of his, you will want to spend some time there.
Vietnam Voices: the podcast
Our Vietnam Voices project podcast continues to grow with episodes and listeners. The episodes in this podcast are short clips taken from some of the longer interviews we've conducted. Most of the podcast episodes range from two to six minutes, and we plan to post them on Tuesdays and Fridays. We think this will make the interviews more accessible and will expand our audience for the project.
To date, we have posted eight episodes. You can listen to the podcast almost any place where you normally hear podcasts, such as Apple Podcasts and Stitcher. You can also listen to the episodes on JPROF.com and on the podcast website hosted by Simplecast.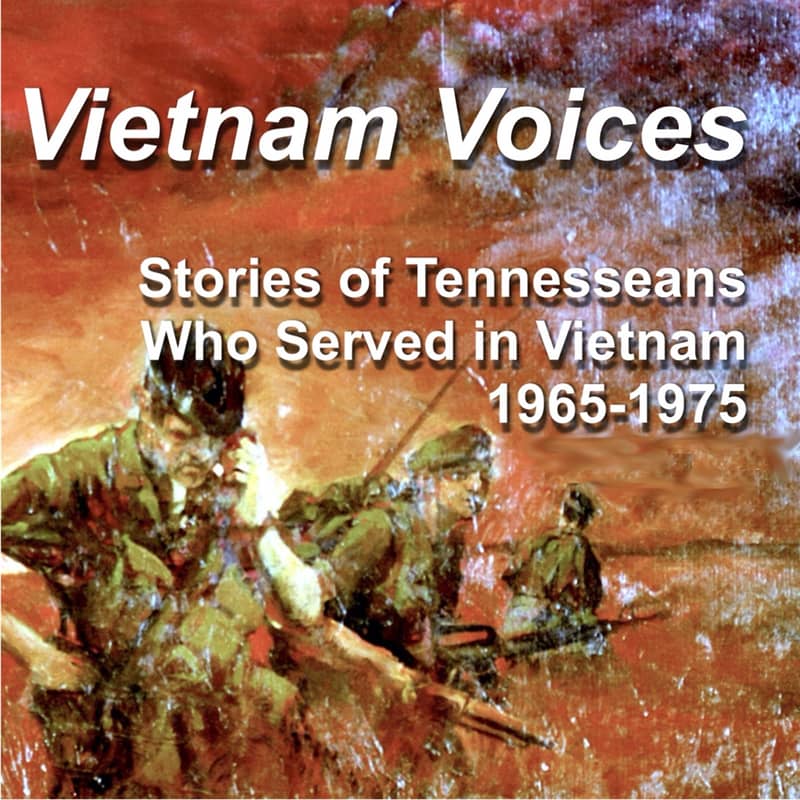 Wherever you listen, please consider giving us a thumbs-up or a rating, and if there's a "follow" button, hit that one, too. All of this helps people find our episodes.
These stories are short, and they are well worth listening to. Here are the two that were posted this week:
As a member of the Army's Corps of Engineers, Richard Chandler built roads while in Vietnam in 1971 and 1972. Some of those roads were the basis for today's interstate system in Vietnam.
Timothy Lomperis served in military intelligence in Vietnam. Lt. Lomperis served two tours in Vietnam, beginning in March 1972. His initial position was as an intelligence analyst. He saw first-hand during briefs the tensions between the Army and the Air Force over the conduct of the war. He subsequently served in a variety of training positions, including the Defense Language Institute in Monterey, California.
More pages from the sketchbooks
A couple of weeks ago I mentioned that I had two sketchbooks in 2020 in which I was practicing caricatures. You have been seeing pages from the first sketchbook for the past couple of weeks. Here are a few pages from the second one: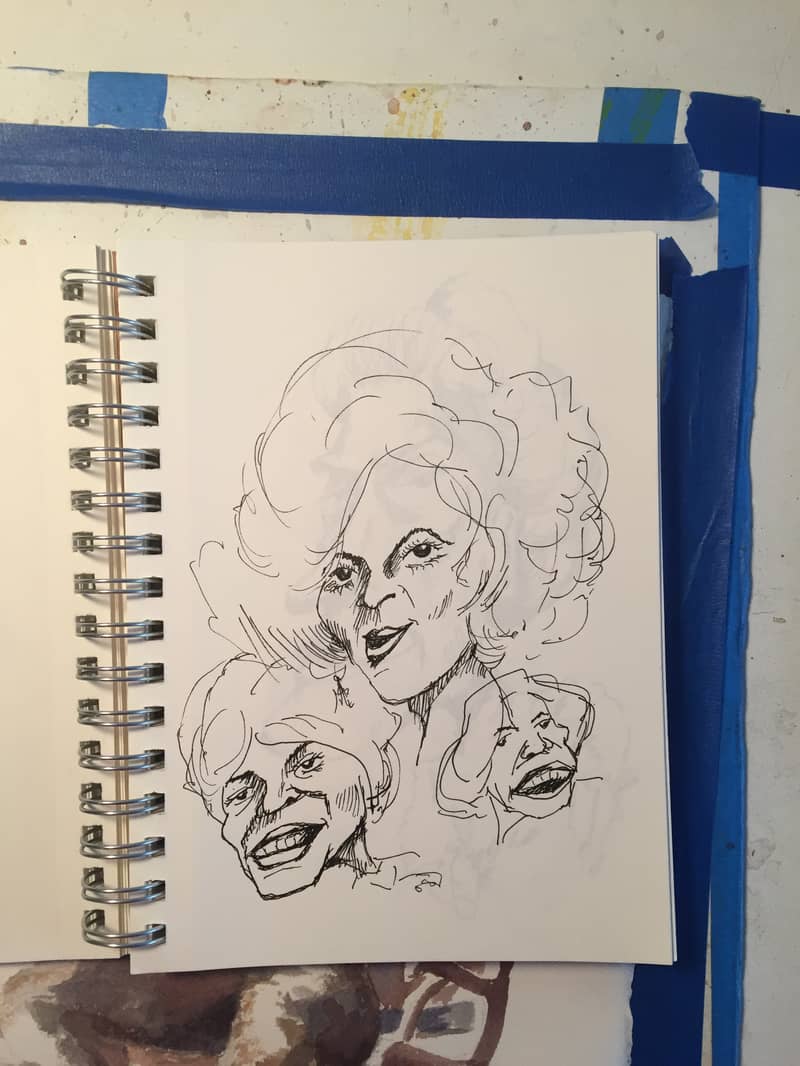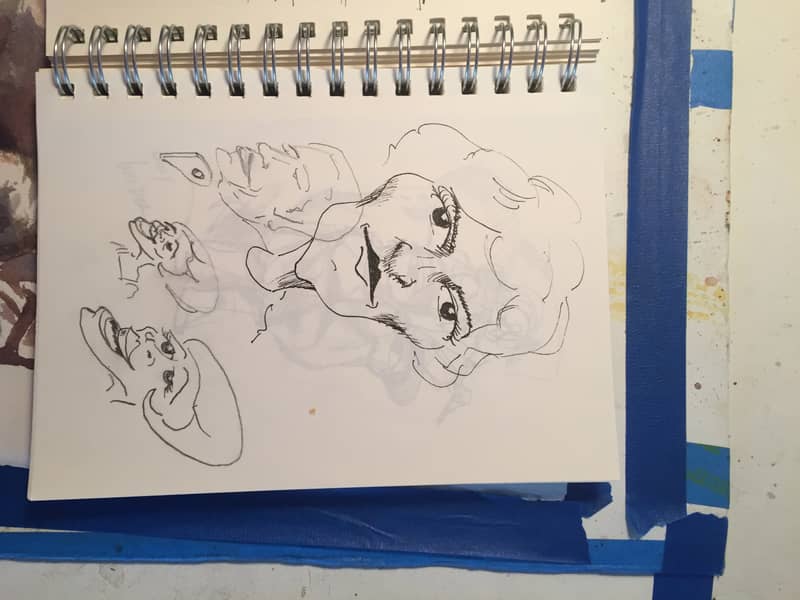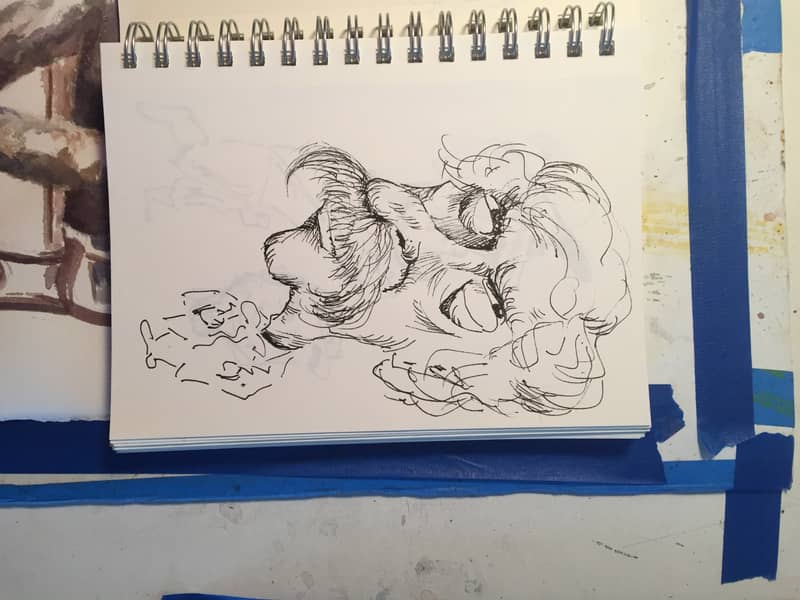 Reactions
Because of the length of this week's newsletter, I am saving reactions for next week.
This week's watercolor: Bone Tones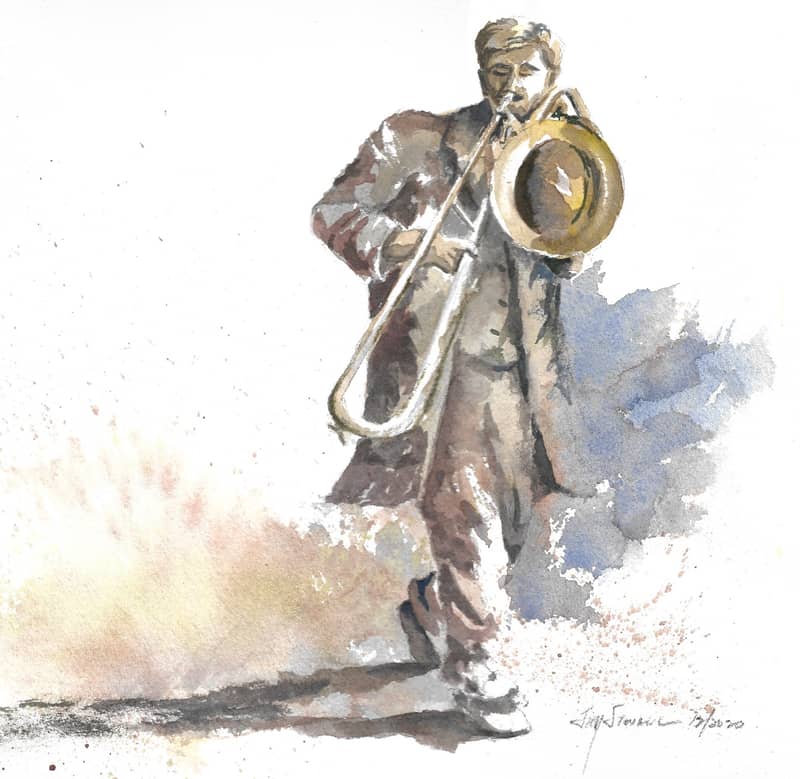 Best quote of the week:
There is no frigate like a book
To take us lands away,
Nor any coursers like a page
Of prancing poetry.
Emily Dickinson, poet (1830-1886)
Fires in California, hurricanes on the Atlantic Coast, tornados in Tennessee, and now coronavirus — disasters occur everywhere. They have spread untold misery and disruption. The people affected by them need our help.
It's not complicated. Things happen to people, and we should be ready to do all the good we can in all of the ways we can. (Some will recognize that I am paraphrasing John Wesley here).
When is the last time you gave to your favorite charity? The United Methodist Committee on Relief (UMCOR.org) is my favorite charity. Please make a contribution to this one or to yours.
Keep reading, keep writing (especially to me), and have a great weekend.
Jim
Jim Stovall
www.jprof.com
You can connect with Jim on Facebook, Twitter, Linkedin, and BookBub.
His Amazon author page is where you can find more information about his books.
Last week's newsletter: The call for unity, a defense of Thomas More, and more about Abe: newsletter, November 20, 2020

✕
Get a FREE copy of Kill the Quarterback
Get a free digital copy of Jim Stovall's mystery novel, Kill the Quarterback. You will also get Jim's newsletter and advanced notice of publications, free downloads and a variety of information about what he is working on. Jim likes to stay in touch, so sign up today.