In Graham Greene's 1951 novel The End Of The Affair, one of the three main characters, the narrator, is a novelist who lives in the Clapham section of London (as Greene did). The novel is told non-sequentially and takes place both before and after World War II.
Green's novelist has had an affair with the wife of a neighbor, a man who is a civil servant and seemingly unaware of what is going on around him. Greene, too, had many affairs throughout his life.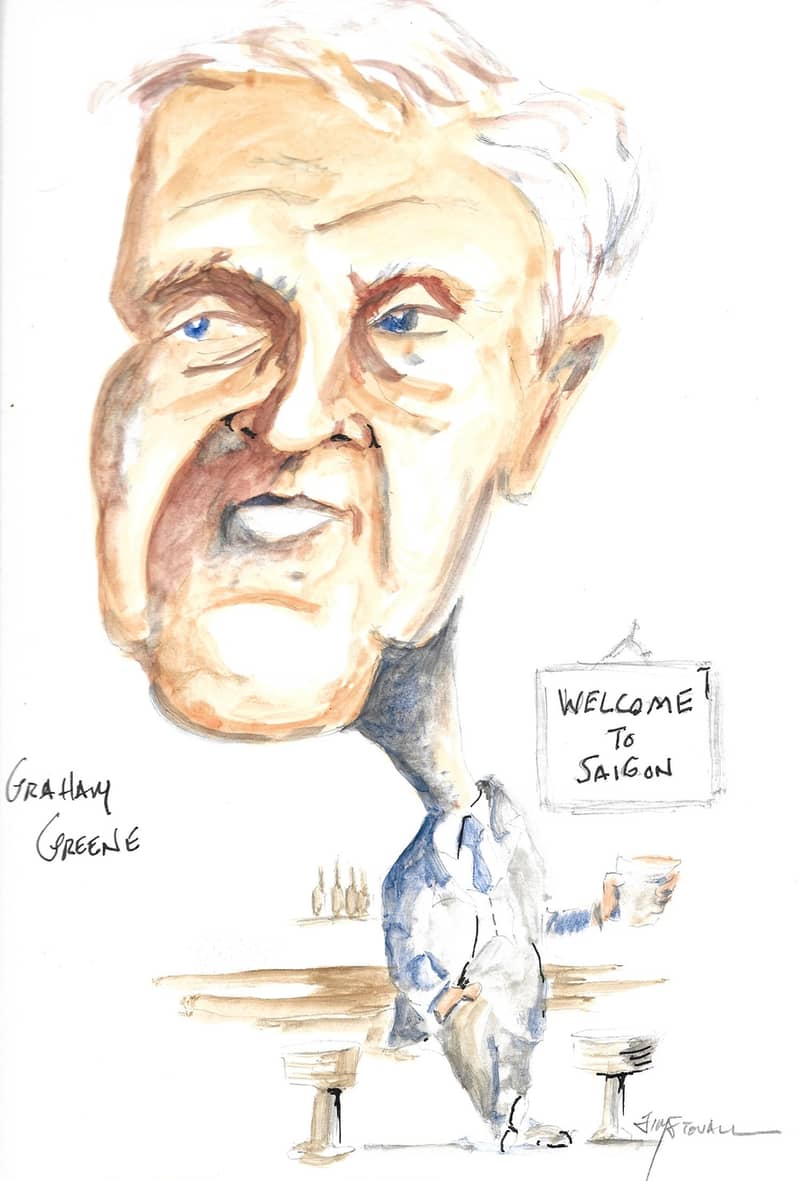 The novelist, like Greene, has been a success in that many people have read his books, and some of those books have been made into movies.
The novelist talks about his writing habits. He writes 500 words a day, and thus it takes him about a year to write a novel. Greene had the same writing habit.
The novelist in the book is also profoundly unhappy. The woman with whom he has had an affair has broken It off suddenly and without explanation. A year-and-a-half after that occurred, the novelist is still obsessed with trying to understand why the affair ended.
This is not an autobiographical novel, but clearly Greene puts himself, undisguised, in it as a character. In doing so, he invites the reader to explore his own psyche.
Greene was born in 1901 in Berkhamsted into an affluent and influential family. His childhood was less than happy, mainly because of the public school to which he was sent. He went to Oxford and began his adult life as a private tutor. He later switched to journalism, eventually doing editing work for The Times of London.
A major event in his life was his conversion to Catholicism in 1926. He did so after meeting Vivian Dayrell-Browning, who was a Catholic, and they later married. Greene never gave up his religion, but he often referred to himself as a "Catholic agnostic" in subsequent years. He and his wife remained married for the rest of their lives even though he had numerous affairs.
His first publishing success came with the novel The Man Within in 1929. That success enabled him to quit his job and devote full time to writing.
For the rest of the century, Greene dazzled readers with his storytelling ability. He traveled to Southeast Asia, Latin America, and Africa in search of exotic locations in which to set his novels. He also ranged into statecraft and espionage for his subject matter. Greene's life sometimes mirrored the adventures that he chronicled in his novels.
Many of Green's novels were adapted for the cinema, some of them more than once. in fact, Greene was often cited as a writer who used cinematic techniques in his prose. Having his books made into films, of course, enhanced his reputation and fame.
As his reputation grew, his real-life roles expanded and occasionally reached mythic proportions. His Catholicism was a consistent element of his plots, so much so that he became known as a "Catholic novelist." He objected to that moniker, saying he would rather be known as a novelist who was Catholic.
Greene won many awards for his writing, and in 1966 and 1967 he was shortlisted for the Nobel Prize.
The Nation magazine, in assessing his career nearly two decades after his death in 1991 described him this way:
A stranger with no shortage of calling cards: devout Catholic, lifelong adulterer, pulpy hack, canonical novelist; self-destructive, meticulously disciplined, deliriously romantic, bitterly cynical; moral relativist, strict theologian, salon communist, closet monarchist; civilized to a stuffy fault and louche to drugged-out distraction, anti-imperialist crusader and postcolonial parasite, self-excoriating and self-aggrandizing, to name just a few.
A recently published biography emphasizes a story that Greene occasionally played Russian Roulette with real bullets (a story that is disputed by others). Blake Morrison writing for the Guardian reviews the biography, Russian Roulette: The Life and Times of Graham Greene (by Richard Greene) and writes.
But Richard Greene (no relation) takes it as the central premise of his biography: the novelist as risk-taker and adventurer, with a history of self-harm and an addiction to danger. An early trip to Liberia, to investigate modern slavery, set the tone. Greene knew there were risks – being shot at by soldiers, bitten by snakes or infected by lassa or yellow fever – but they only spurred him on. He was accompanied by his cousin Dorothy, who found him frightening: "If you are in a sticky place he will be so interested in noting your reactions that he will probably forget to rescue you." Source: Russian Roulette: The Life and Times of Graham Greene review – addicted to danger | Graham Greene | The Guardian
✕
Get a FREE copy of Kill the Quarterback
Get a free digital copy of Jim Stovall's mystery novel, Kill the Quarterback. You will also get Jim's newsletter and advanced notice of publications, free downloads and a variety of information about what he is working on. Jim likes to stay in touch, so sign up today.