This newsletter was sent to everyone on Jim's email list (2,4xx) on Friday, December 11, 2020.
No room in the inn. Anyone familiar with the Christmas nativity story has heard the phrase "no room in the inn." The phrase is a short explanation for why Jesus was born in a stable, but over the centuries it has been given a wide variety of interpretations.
One of those interpretations has been that the Innkeeper did not want people as poor as Joseph and Mary to stay in his establishment. In other words, he did not offer them any hospitality. I have been thinking about the concept of hospitality for some time now. It seems to be one of the things that, sadly, the pandemic has taken away from us. The idea of hospitality implies a physical place, and we are currently doing our best to protect our physical places from Invasion by strangers.
As I think through all of this, my hope Is that we can find a way to extend hospitality even when we cannot offer strangers a physical place. That's the thought I want to leave with you to ponder this weekend. I hope that the weekend fulfills your best expectations.
Under the newsletter's hood: Last week's newsletter was sent to 2,495 subscribers and had a 27.4 percent open rate; 6 persons unsubscribed.
---
Important: Remember to open the images or click on one of the links so that my email service will record your engagement, and you will stay active on the list. Thanks.
---
Rebecca Harding Davis and the beginnings of American realism
If you know anything about journalism history, you probably know the name Richard Harding Davis. He was a reporter in the early 20th century known for his coverage of the Spanish-American Wa, the Boer War, and the beginnings of World War I. He was also one of the most handsome men of his day. His chiseled and rugged features served as the model for a new, clean-shaven look among 20th-century men.
What you may not know, however, is that his mother, Rebecca Harding Davis, was a writer who had once gained about as much fame as her future son and whose contributions to American letters are thought to be important and groundbreaking.
Although Harding was a prolific writer of short stories, novellas, and novels during the second half of the 19th century, she is known chiefly for one of her earliest works – a novella that was serialized by the Atlantic Monthly beginning in April 1861. That novella was titled Life in the Iron Mills, and it is looked upon today as a pioneering work in the genre of realistic fiction.
Life in the iron Mills describes the tragedy of a man in a small village where the available work has become largely industrialized. The environment in which he operates is polluted and oppressive, and he tries to escape from it. There Is no escape. Instead, the protagonist's future is one of imprisonment and ultimately death.
Coming as it did at the beginning of the American Civil War and its subsequent industrialization of much of the North, the novella anticipates what will happen to many towns and villages over the next decades. Its publication vaulted Davis into a position at the top of American literary circles.
Following its popularity and success is a book, James Fields, the Atlantic Monthly editor, wanted another work from Davis. That request spurred her to produce her first novel, titled Margret Howth. In this novel, Davis's' protagonist is a female who must not only provide for her family but must also negotiate the hardships of a woman in a male-dominated society. The novel gave Davis an opportunity to explore some of the social issues that concerned her for the rest of her life.
Davis had been born in 1831 in Pennsylvania, and she spent much of her early life there or in Wheeling, Virginia, (later West Virginia). She received some formal schooling and was also a prolific reader during her childhood. She spent some of her early adulthood working as a reporter for the Wheeling Intelligencer to which she submitted reviews, stories, poems, and editorials.
After the publication of Margaret Howth, Davis traveled with her brother to the northeast where she met the major literary lights of the day. They included Bronson Alcott, his daughter Louisa May Alcott, Oliver Wendell Holmes, and Ralph Waldo Emerson.
After Life in the Iron Mills was published, Davis received an admiring letter from a young attorney in Philadelphia. His name was L. Clarke Davis. They exchanged several letters, and on her way back from the northeast, she and her brother stopped in Philadelphia to meet him. They soon fell in love and eventually married in 1863. They had three children, Richard, Charles, and Nora.
While battling bouts of severe depression, Davis became the chief income provider for her family. As her husband was attempting to establish his law practice, Davis wrote mainly potboiler romances for Peterson's magazine; she also contributed some melodramatic suspense stories to that and other publications .
Davis didn't just write for money. She contributed many editorial to essays to most of the major publications of the day. With her fiction and nonfiction, she explored issues of social justice and change that became part of the larger social reform movement of the day. Her articles appeared in all of the major Publications of the time.
As the 19th century turned to the 20th century, Davis's son, Richard Harding Davis, had become the most famous journalist in America. His war dispatches from warfront in Cuba and Africa held American newspaper readers breathless.
To celebrate his mother's 70th birthday, Richard Harding Davis wrote this:
From the day you struck the first blow for labor in the iron mills, on to the editorials… with all the good the novels, the stories brought to people, you were always making the ways straighter, lifting up people, making them happier and better. No woman ever did better for her time than you and no shrieking suffragette will ever understand the influence you wielded, greater than hundreds of thousands of women's votes.
Rebecca Harding Davis continued her writing until close to the time of her death. Her last short story appeared in Scribner's magazine in 1909, the year before she died.
Her life and her work remained in obscurity for another six decades. One day in the early 1970s, Tillie Olsen, a feminist writer and activist, found an old copy of Davis's work in a junk shop. She recognized the talent Davis had as a writer and the place that her writing should occupy in the history of American letters. In 1972 the Feminist Press published a new edition of Life in the Iron Mills, along with a biographical interpretation of Davis by Olsen.
That provoked a new interest in the work of Rebecca Harding Davis – an interest that continues with many scholars today.
Edward Hoch's female protagonists
Throughout Edward Hoch's long and prolific writing career as a mystery short story writer, he developed many recurring main characters, as we noted in last week's newsletter. Most of these characters were male.
A few, however – three to be exact – were female, and they are worth noting in and of themselves.
In fact, there is a collection of stories by Hoke that feature these three women. It is titled Hoch's Ladies, and for Kindle Unlimited subscribers, it is a free downloadable volume.
Hoch's Ladies is a collection of stories that feature
Annie Sears, a homicide detective in San Diego;
Libby Knowles, a former police officer who quit the force to become a private bodyguard;
Susan Holt, a merchandising executive for an international department store.
Each of these ladies is attractive, independent, and competent, and each of them gets into what we might say is typically Hochian plots and situations. Almost all of them involve solving some kind of murder.
As usual with Hoch's stories, they are plot-heavy and character-light.
The stories themselves can be fascinating, and they bear all of the hallmarks of the master himself. One involves a prisoner on death row who is murdered in his cell just three hours before his execution–a locked room mystery with a twist. Another is about a man who is murdered in his house without the Intruder ever entering the structure.
Michael Dirda, the Pulitzer Prize-winning book critic for the Washington Post, has written the introduction to Hoch's Ladies, in which he says
While Hoch's stories are inevitably clever, often, culminating in a double-whammy ending, they draw considerable energy and inspiration from unusual backgrounds, places, and occupations. For example, the plots and Hoch's Ladies turn on weather prediction, race track construction, deerstalker caps, elite security systems, a Southwestern town's cactus festival, Iceland's use of steam heat, Christmas decorations in Japan, and an inexplicable stabbing death in a shower.
That's the kind of thing you get from Edward Hoch. it's never dull.
Erskine Childers' extraordinary life and death (part 2)
After the publication of The Riddle of the Sands in 1903, Erskine Childers could have settled in to a literary and possibly a political life in London. The book had achieved astonishing success and popularity.
The book had also become an important part of the ongoing debate in England at the time about the nation's military preparedness. Despite the fact that England was an island nation, there was a growing fear that it could be invaded, particularly by the increasingly militaristic Germany.
In the 1890s, Germany, under Kaiser Wilhelm, had built a great Navy with much fanfare — a Navy that was designed to challenge the British dominance of the seas.
Childers' novel seems to show that an invasion was a distinct possibility, if not a likelihood. The novel sparked a slew of other Invasion novels. One, in particular, was by William Le Queux titled The Invasion of 1910, which was published in 1906. That novel was serialized by the London Daily Mail. To promote readership, the Daily Mail sent out newsboys dressed as German soldiers with placards showing maps revealing the next city that the German army would be hitting in that day's episode.
In addition to all of this, The Riddle of the Sands was something new in literature – it was the beginning of the modern espionage novel. It is easy to imagine Childers maintaining his writing life and having a lasting impact on British letters.
That is not what Childers chose to do, however.
Childers traveled to America where he met his future wife, the daughter of a Boston family who traced their roots back to the Mayflower. Her name was Mary Alden Osgood, but her family called her Molly.
Childers and his new wife returned to London where he eventually resumed his job with the House of Parliament. He still hoped for a political career. He did not pursue much in the way of fiction, but he continued to write items having to do with politics in the military. He also began to take an interest in the issue of Irish home rule.
Childers had begun life as a staunch British imperialist, but by 1914 his love of Ireland had overcome those earlier feelings. no one knows exactly what might have changed his mind. Some believe that his American wife Molly played some role in his transformation.
Even though Childers was highly sympathetic with the idea of Independence for Ireland, he still in many ways supported the British effort against Germany in World War I. He held several positions with the British military during the war and distinguished himself in various areas, including, ironically, planning an invasion of Germany. Childers also spent some time in the newly formed Royal Air Force.
More and more, however, Childer's sympathized with the Irish, and at the end of the war, he had joined a delegation from Ireland that attended the Paris peace talks seeking autonomy for that nation. The British, of course, did not grant Ireland any sort of autonomy in Paris. After the peace talks had been concluded, the situation in Ireland deteriorated to such an extent that not only was there a war against the British, but there was also a civil war among the Irish.
Childers was a vocal critic of an Anglo-Irish peace agreement that was imposed on Dublin by the British in 1921. But because he was an Englishman, the factions within Ireland grew more and more distrustful of him while the British considered him a traitor. The Irish Free State government in 1922, in order to gain control of a deteriorating situation, imposed martial law on Ireland. A provision of this law stated that anyone caught in possession of a gun would be subject to execution.
In November of that year authorities rated the home of Childers and found a pistol – witch, ironically, had been a gift from the assassinated Irish leader Michael Collins.
Childers was quickly tried and sentenced to death. His lawyers filed appeals, but the government was determined to carry out the sentence quickly. Consequently, on November 24, 1922, Childers faced a firing squad.
As a final act, Childers shook the hands of each of the members of the firing squad. When they lined up to face him, he said, "Take a step or two forward, Lads, it will be easier that way." Thus ended the life of the writer who gave us the first modern espionage novel.
In assessing his life and work, Eric Sandberg, who teaches English at the City University of Hong Kong, writes:
Childers was not, however, just a smuggler, soldier and politician. He was also a writer, so it is perhaps unsurprising that the quotidian exceptionalism of his life, his at once remarkable and commonplace involvement in history, should find expression in his literary work. In fact Childers' main legacy is, arguably, not his contribution to the cause of Irish independence, nor the extraordinary story of his life, but the single novel of adventure he published in 1903, The Riddle of the Sands, a work which establishes some of the key characteristics of the spy novel, and in doing so offers a powerful fictional matrix for working through the twentieth-century individual's experience of history. (Eric Sandberg (2018) "A Terrible Beauty is Born": Erskine Childers' The Riddle of the Sands, the Spy Thriller and Modern Identity, English Studies, 99:5, 538-553, DOI: 10.1080/0013838X.2018.1475592)
Sandberg's article is an excellent assessment of The Riddle of the Sands as a spy novel.
Vietnam Voices: the podcast
Our Vietnam Voices project podcast continues to grow with episodes and listeners. The episodes in this podcast are short clips taken from some of the longer interviews we've conducted. Most of the podcast episodes range from two to six minutes, and we plan to post them on Tuesdays and Fridays. We think this will make the interviews more accessible and will expand our audience for the project.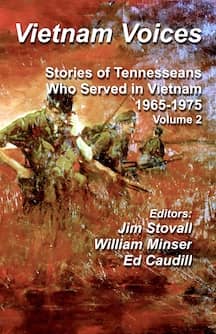 To date, we have posted eight episodes. You can listen to the podcast almost any place where you normally hear podcasts, such as Apple Podcasts and Stitcher. You can also listen to the episodes on JPROF.com and on the podcast website hosted by Simplecast.
Wherever you listen, please consider giving us a thumbs-up or a rating, and if there's a "follow" button, hit that one, too. All of this helps people find our episodes.
These stories are short, and they are well worth listening to. Here are the two that were posted this week:
Most of the armed servicemen in Vietnam were in non-combat roles. One was Buddy Mitchell, who found himself in the "Peace Corps with a gun."
Robert Jones was an electronics technician for the U.S. Navy aboard the USS Intrepid during the Navy's Rolling Thunder campaign in 1968. He volunteered for flight deck duty because "that's where the action was."
More pages from the sketchbooks
As promised last week, I am showing you some of the pages from my caricatures sketchbooks in these December newsletters. You can see the pages displayed last week here.
Scott P.: I was fascinated by your piece about Erskine Childers and his novel The Riddle of the Sands.
It brought back a memory of one of my transatlantic plane trips decades ago. On this particular trip the guy sitting next to me was reading a novel. It was The Riddle of the Sands. Even though I have been an avid reader all my life I had not heard of this novel before. In
chatting with my companion he told me a bit about the plot.
Now that you have jogged my memory I am prompted to get a copy and read it. Thanks.
Vic C.: I really like the flute player because it has subtleties that allow me to add my own details based on my exposure to one in particular. When I was a kid, my parents would send me to the Children's Concerts at the Academy of Music, the long-time home of the Philadelphia Orchestra; this was in the 50's. These once-a-month concerts were held on Saturday mornings and were aimed to familarize young people with classical music. For me, it was an expansion of what I was exposed to at home because the radio that sat atop the refrigerator was kept tuned to the classical music station. My parent were life-long subscribers to the concerts and were extremely knowledgeable, able to name whatever was playing by title and composer. The conductor of the orchestra was Eugene Ormandy, and the Concertmaster was Alexander Hillsburg and it was he who acted as conductor for the concerts. (If memory serves me correctly, he eventually departed to lead the New Orleans Symphony.) I specifically remember that, one morning, we were introduced to William Kincaid who was principal flute and we were shown his platinum instrument. I remember going home and regaling my mother about the experience.
The other memory I have is of an interview that Dick Cavett conducted with Jean-Pierre Rampal. At the time, some people would refer to the musician as a flutist or a flautist. Rampal's response was that he didn't know anybody who played the flaut. Fortunately, for me, that confirmed my own preference.
Finally . . .
Best quotes of the week:
Laws are like cobwebs which may catch small flies, but let wasps and hornets break through. Jonathan Swift, satirist (1667-1745)
Helping those in need
Fires in California, hurricanes on the Atlantic Coast, tornados in Tennessee, and now coronavirus — disasters occur everywhere. They have spread untold misery and disruption. The people affected by them need our help.
It's not complicated. Things happen to people, and we should be ready to do all the good we can in all of the ways we can. (Some will recognize that I am paraphrasing John Wesley here).
When is the last time you gave to your favorite charity? The United Methodist Committee on Relief (UMCOR.org) is my favorite charity. Please make a contribution to this one or to yours.
Keep reading, keep writing (especially to me), and have a great weekend.
Jim
Jim Stovall
www.jprof.com
You can connect with Jim on Facebook, Twitter, Linkedin, and BookBub.
His Amazon author page is where you can find more information about his books.
Last week's newsletter: Erskine Childers and the espionage novel, sketchbooks, and reader reaction: newsletter, December 4, 2020

​
✕
Get a FREE copy of Kill the Quarterback
Get a free digital copy of Jim Stovall's mystery novel, Kill the Quarterback. You will also get Jim's newsletter and advanced notice of publications, free downloads and a variety of information about what he is working on. Jim likes to stay in touch, so sign up today.