This newsletter was sent to everyone on Jim's email list (2,4xx) on Friday, December 4, 2020.
When I was a child I was given piano lessons, but I didn't take to that instrument very well. After a few years, I stopped, but my mother believed that I should continue to have music lessons of some kind and should be able to play in the school band. So in the fifth grade, she bought a flute for me. I liked it so much that eventually she allowed me to take private lessons – something I really enjoyed.
I loved to play the flute. When I was in the high school band during my first two years, I was able to play the piccolo part of the time. That was a joy. Unfortunately at our high school, you couldn't have two electives. That is, in my case, I couldn't play in the band and be on the school newspaper. I had to choose. So I figured I was more likely to pursue writing than I was to pursue music, and I dropped out of the band.
But I never lost my love for the flute, and I never completely stopped playing it. And that might explain what has been in the watercolor section of this newsletter for the last couple of weeks, and what is there in this newsletter. I suppose that if you really love doing something, you can never really stop doing it.
Under the newsletter's hood: Last week's newsletter was sent to 2,489 subscribers and had a 26.0 percent open rate; 1 person unsubscribed.
---
Important: Remember to open the images or click on one of the links so that my email service will record your engagement, and you will stay active on the list. Thanks.
---
Erskine Childers: an important life and a shocking death
Erskine Childers was an English-Irish author and adventurer. As both an author and an adventurer, he lived a life that could be envied. As an adventurer, he began as an English imperialist but became involved with Irish Republicanism and helped the Irish fight against the English. As a writer, he penned a novel that is credited with beginning a modern genre.
But what stays with you the most is the manner of his death, which was both shocking and tragic.
Childers was born in London in 1870 the son of Robert Cesar Childers, a translator and Oriental scholar. His mother, Anna Mary Henrietta Barton, was from an Anglo-Irish land-owning family, and when Childers was six years old, he was sent to live with relatives in Ireland. That's when he fell in love with the place.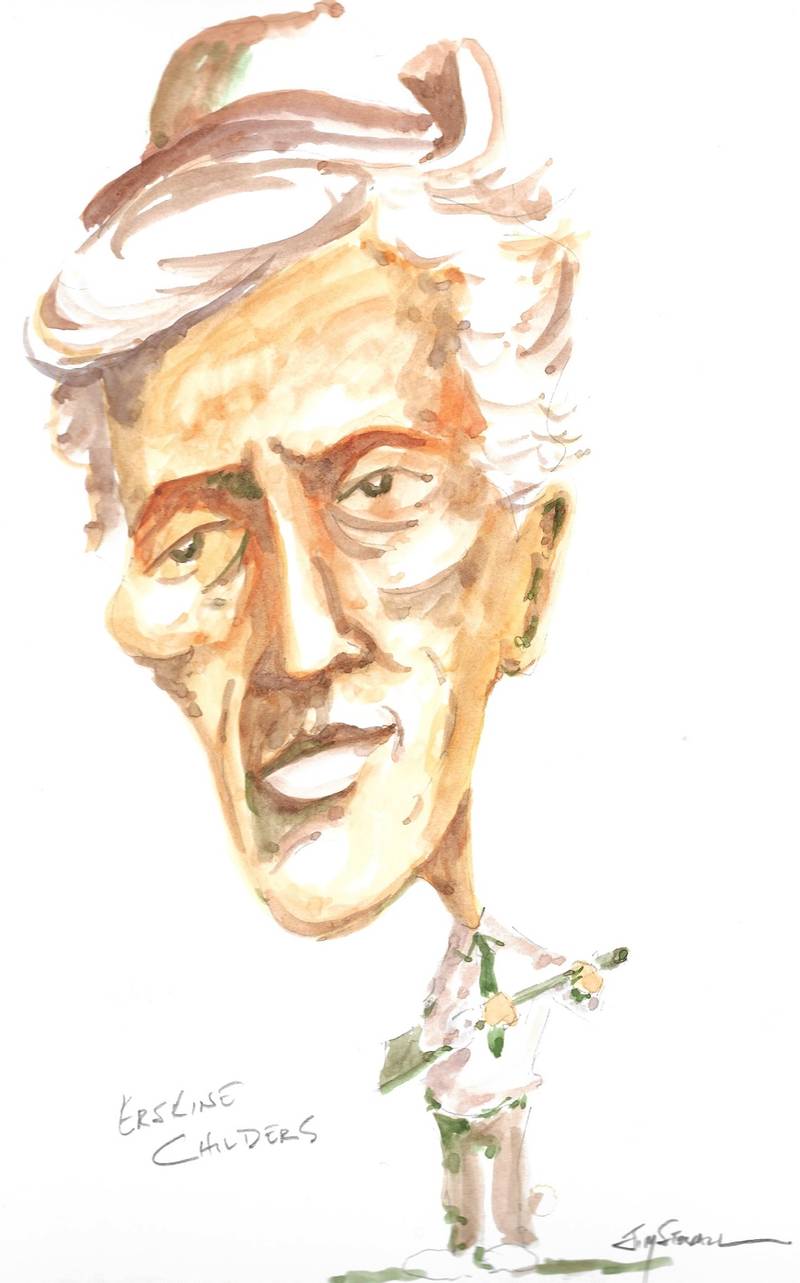 Childers attended Trinity College in Cambridge where he studied classics and then the law. There he was editor of the Cambridge Review. Armed with a law degree, Childers went to work for the House of Commons, hoping one day to begin a political career. Like many other young Englishmen of the time, Childers took part in the Boar War in South Africa.
One of the hobbies that Childers took up after leaving Cambridge was sailing, and soon he had his own small yacht. Throughout the decade of the 1890s, Childers acquired larger boats and became more adventurous in his sailing trips. One cruise is he made during this time was to the Frisian Islands. This cruise became very important to him in writing his first and only novel.
That novel was titled The Riddle of the Sands, and it was published in 1903. The novel tells the story of two young men who sail into the Frisian Islands and discover that there was a German plot to invade England. The Riddle of the Sands was a huge best-seller, and it had implications far beyond just being another popular novel.
While the novel was published 11 years before the start of World War I, there had been at the turn of the century a growing feeling among many in Great Britain that the Germans, whose militaristic tendencies were obvious, constituted a threat to the English. Many of those same people believed that England was unprepared for a war with Germany, and that the much-vaunted British Navy had become lax in protecting the shores of that island nation.
The Riddle of the Sands was an important contribution to the debate about British security and what sacrifices should be made to prepare for war. The book demonstrated to many that a German invasion of the east coast of England was indeed feasible.
In addition to its political importance, The Riddle of the Sands is thought to be the first modern espionage novel. Its realistic settings and the details of German army's Invasion plans give the reader the idea that it is no mere game that the characters are playing. Instead, what they are doing has serious International implications. Novelist Ken Follett has called it "the first modern thriller," and it has influenced authors such as John Buchan and Eric Ambler.
The Riddle of the Sands has been in print continuously for more than a hundred years.
For Erskine Childers, however, the novel was simply a starting point to a much more exciting life– a life that with end tragically two decades later.
+++
If you are interested in reading The Riddle of the Sands, it is available for free here:
And it is also available on Amazon at this link.
Next: The Riddle of the Sands and the life thereafter
Vietnam Voices, the podcast
As we mentioned in last week's newsletter, our Vietnam Voices project now has a podcast. The episodes in this podcast are short clips taken from some of the longer interviews we've conducted. Most of the podcast episodes range from two to six minutes, and we plan to post them on Tuesdays and Fridays. We think this will make the interviews more accessible and will expand our audience for the project.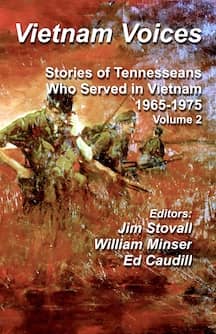 To date, we have posted six episodes. You can listen to the podcast just about any place where you normally hear podcasts, such as Apple Podcasts and Stitcher. You can also listen to the episodes on JPROF.com and on the podcast website hosted by Simplecast.
Wherever you listen, please consider giving us a thumbs-up or a rating, and if there's a "follow" button, hit that one, too. All of this helps people find our episodes.
These stories are short, and they are well worth listening to. Here are the two that were posted this week:
Marine Captain Jerry Cunningham was assigned to the Marine's JAG Corps during his tour in Vietnam, but he was rarely far from danger.
Marine Corporal Anthony Joyce describes being out on patrol with his unit soon after getting to Vietnam and realizing that people in the jungle are trying to hurt or kill him and his buddies.
---
A look inside my caricature sketchbooks
Most artists (and people like me who are working at it) keep a sketchbook. It's a place where they can try out ideas that they may have to bring to fruition on a canvas or a piece of watercolor paper.
As such, sketchbooks are not generally considered things for public viewing. A lot of what is in a sketchbook is not thought to be something that brings a lot of credit to the artist.
I got to thinking about sketchbooks after reading an article by Maria Popova, the creator of the excellent blog Brain Pickings. She writes about her love for sketchbooks:
Given my soft spot for the sketchbooks of famous artists and private notebooks of great creators, I was delighted to discover that, unbeknownst to most, Vincent van Gogh kept one. In an 1882 letter to his brother Theo, he wrote: "My sketchbook shows that I try to catch things 'in the act.'" This private record of the artist's genius, however, has remained obscured from public view. Thankfully, Molly Oldfield brings this hidden gem to light in The Secret Museum (public library) — the same magnificent tome that gave us the surprisingly dark story of how the Nobel Prize was born — which culls sixty never-before-seen "treasures too precious to display" from the archives and secret storage locations of some of the world's top cultural institutions. Source: The Secret Museum: Van Gogh's Never-Before-Seen sketchbooks – Brain Pickings
I have not been able to get my hands on The Secret Museum, but I hope to take a look at it before long. Meanwhile, my mind turned back to my own sketchbooks and then to what I had been doing during most of this year.
One of my resolutions at the beginning of 2020 was that I would try to up my game in terms of drawing caricatures. I promised myself that I would try to make a more intensive study of some of the methods that good caricaturists use to make their drawings. To that end, one of the books that I bought was Tom Richmond's The Mad Art of Caricature!: A Serious Guide to Drawing Funny Faces. It was a gold mine of good ideas and techniques.
Another thing I did was to buy a small sketchbook, which I have used almost solely for practicing caricatures. That sketchbook had more than 100 pages in it, and by sometime this past spring or summer I filled it up and had to buy another one. Now, that second sketchbook is almost full.
I do not know if I have succeeded in "upping my game" with my caricatures, but I believe that all of this drawing and study has increased my confidence about that particular genre of art.
So why am I talking about sketchbooks?
I have decided to take you inside my sketchbooks and let you see how the sausage is made, so to speak. All during the month of December, I am going to present a few pages from the caricatures sketchbooks that I filled up this year. Here's the first batch: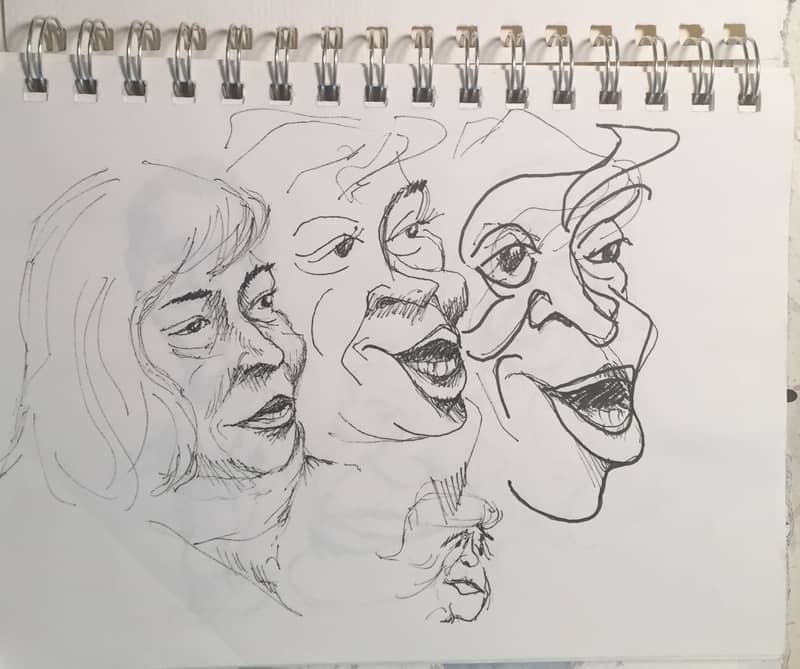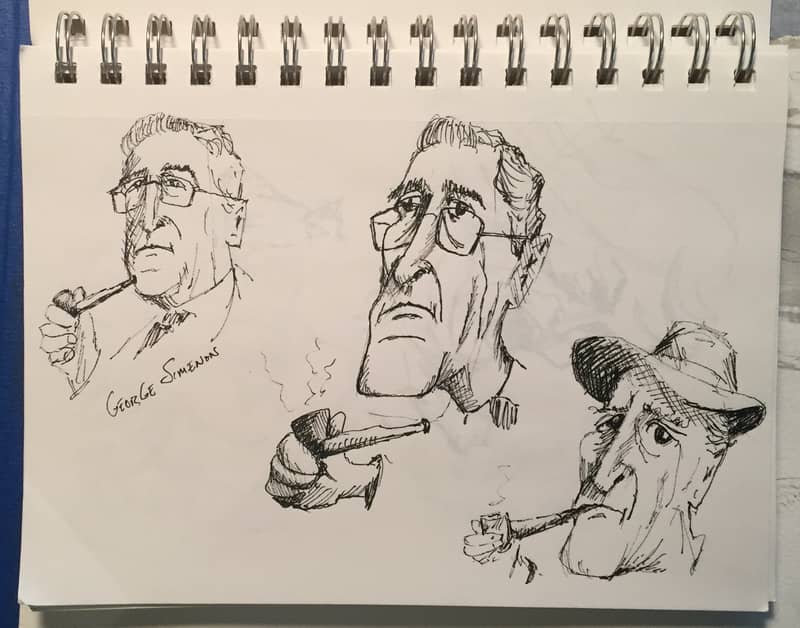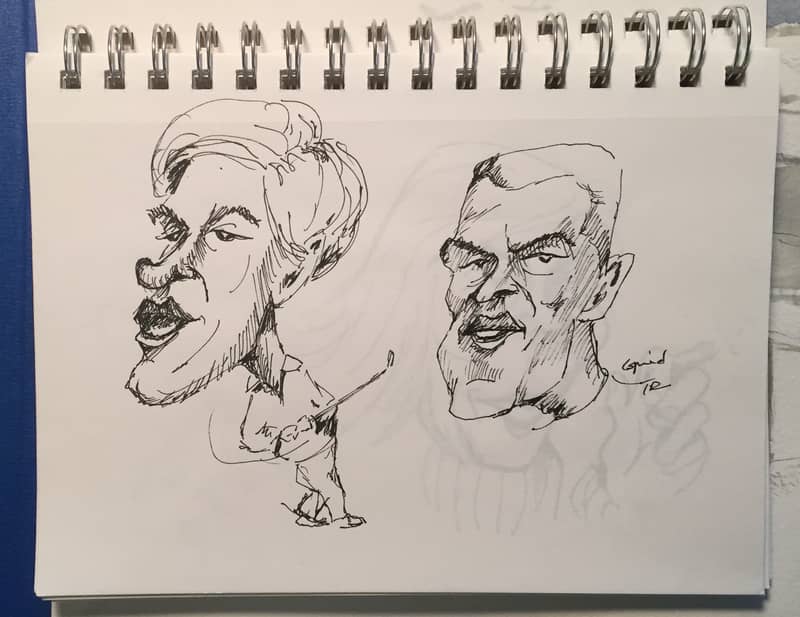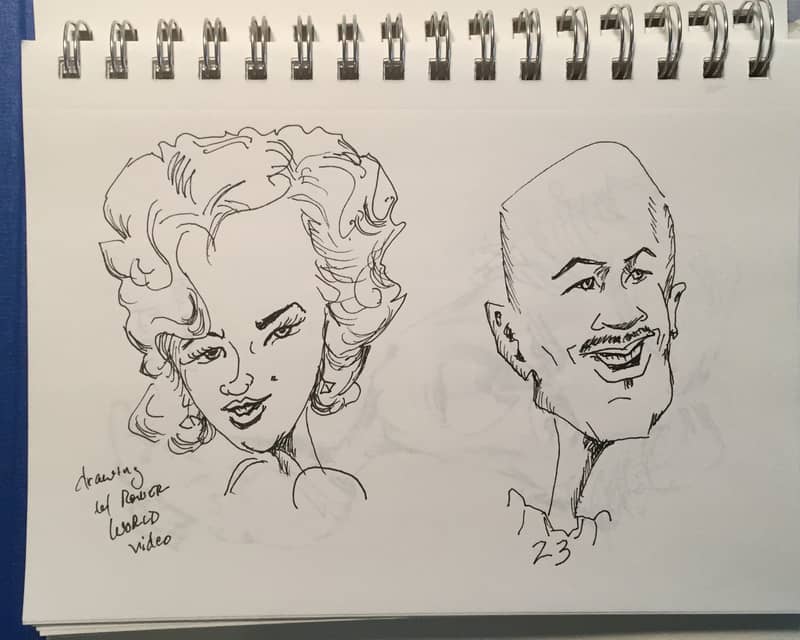 Reactions
Sandra G.: Post Thanksgiving greetings! We know all too well the challenge of living on a farm or even a small place with fence row overgrowth. Always a challenge. I noticed you didn't add poison ivy in your list of "nature's web." It's a problem on our hill which makes it even more challenging. My dad always said, "There's always something needing fixing on a farm." Glenn worked on leaves yesterday. I packed & stored Fall deco remnants, tidied up a flower bed & put new bows on our window wreaths, finishing up Christmas decorations for the year. Yes, a little early but it's best to beat cold & nasty weather.
I read one of Obama's books way back, a small one. And I'm pretty sure I did a paper on Ulysses Grant in high school. But I'm not the armchair politician my mother was. You didn't have to ask her opinion on any current candidate or political issue. Ha! She even named my brother after one!!
Dan C.
I agree with you that most of America did not know of the problems brewing between Japan and America (prior to the bombing of Pearl Harbor). Our on-again-off-again isolationist policies splitting time with American expansionist activities seemed to conflict with Japan's original isolationism, then U.S. led forced trade policies could be said to be responsible for their subsequent Asian expansionism. Again, I agree that FDR's actions led to Yamamoto's thought processes. What Yamamoto missed was at the time, it seemed that the U.S. took on someone big every 20 years. 1898 it was Spain, 1917 it was the Axis, and since the Germans and Italians didn't learn from their WW I loss, their involvement in the Spanish Civil War (1936 to 1939) led some in the U.S. to want to go back across the Atlantic (and it wasn't for a European Vacation). In the 1930s, isolationism was still what most people wanted after 20 years of grieving after WW I and the Spanish Flu. It would take more than saying "Look what brutal things the Axis Powers are doing" to get us involved.
In a small country, with few of its own natural resources, the Japanese needed the raw materials from China and deforested the Korean peninsula. When the U.S. stopped oil shipments, it brought the burgeoning industrialization to a near standstill while they searched for alternate sources. The funny thing about the Mitsibushi Zero, the most feared plane in the Pacific Theater, was that it was powered by U.S. provided engines on plans the Japanese had stolen from a Curtiss Aircraft discarded concept.
This week's watercolor: The two flute players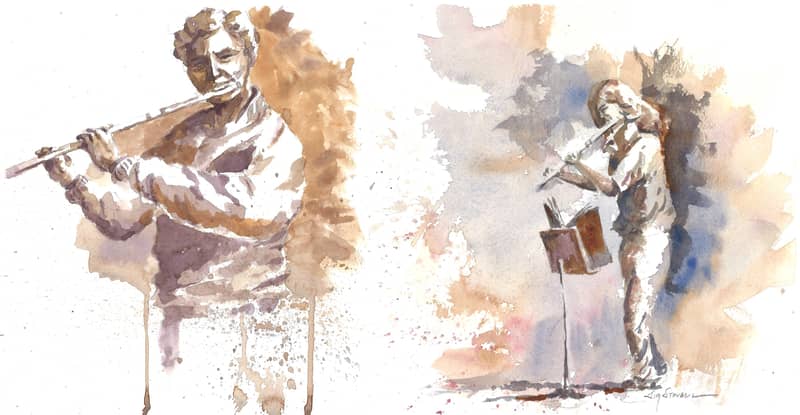 Okay, with last week's newsletter I inadvertently put a second watercolor of a flute player two weeks running. I should have checked the previous newsletter to see what I had done. Now I have decided to inflict both of those watercolors on my gentle newsletter readers again – just so you can compare them.
You also deserve a new watercolor and a different subject – so here it is.
Cades Cove, TN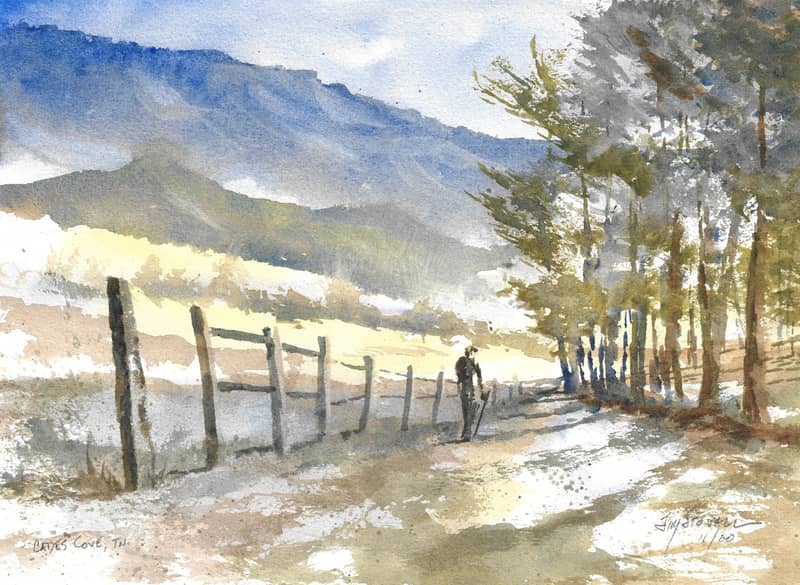 Best quotes of the week:
If you want to change the world, pick up your pen and write. Martin Luther (1483-1546), German theologian whose criticism of the Catholic Church's sale of indulgences sparked the Protestant Reformation in 1517.
Fires in California, hurricanes on the Atlantic Coast, tornados in Tennessee, and now coronavirus — disasters occur everywhere. They have spread untold misery and disruption. The people affected by them need our help.
It's not complicated. Things happen to people, and we should be ready to do all the good we can in all of the ways we can. (Some will recognize that I am paraphrasing John Wesley here).
When is the last time you gave to your favorite charity? The United Methodist Committee on Relief (UMCOR.org) is my favorite charity. Please make a contribution to this one or to yours.
Keep reading, keep writing (especially to me), and have a great weekend.
Jim
Jim Stovall
www.jprof.com
You can connect with Jim on Facebook, Twitter, Linkedin, and BookBub.
His Amazon author page is where you can find more information about his books.
Last week's newsletter: Ed Hoch's short stories, another presidential memoir, and something new from Vietnam Voices: newsletter, November 27, 2020
​
✕
Get a FREE copy of Kill the Quarterback
Get a free digital copy of Jim Stovall's mystery novel, Kill the Quarterback. You will also get Jim's newsletter and advanced notice of publications, free downloads and a variety of information about what he is working on. Jim likes to stay in touch, so sign up today.