This newsletter was sent to everyone on Jim's email list (2,632) on Friday, January 10, 2020.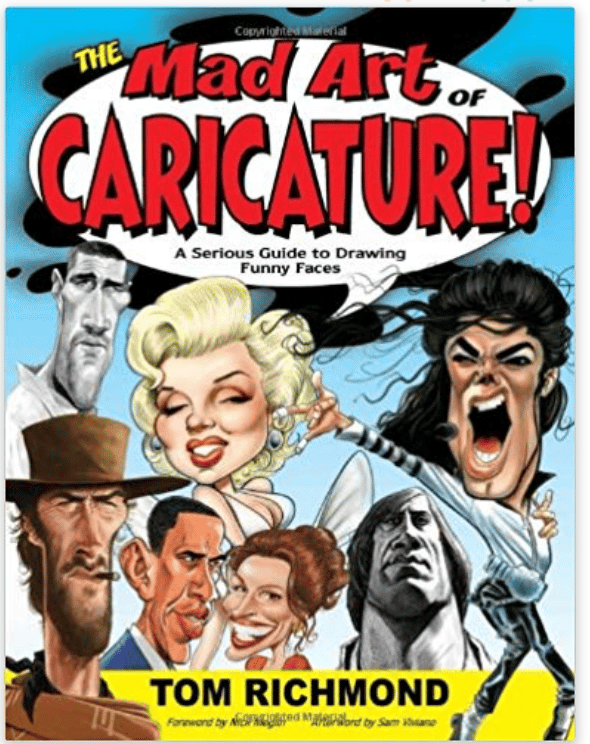 One of the post-Christmas-New-Year's gifts I gave myself was Tom Richmond's book, The Mad Art of Caricature, and it is both delightful and informative. If you remember Mad Magazine (or still read it), you would know that Richmond is one of the artists who created hilarious drawings to go along with its hilarious content. In this book, he explains his approach and techniques. As I am looking to ramp up my caricature game, this book will be of great use — plus being a lot of fun.
The bad news that I must relate for the New Year is that all of the beehives have died. We had high hopes going into the fall that we could get some through the winter, but I opened them up on Christmas Eve and found them empty. No definitive explanation. Just no bees. We'll have to restart the hives this spring.
I hope that this first full week of the New Year has been a good one and that your weekend is enjoyable.
Under the newsletter's hood: Last week's newsletter was sent to 2,639 subscribers and had a 28.5 percent open rate; 7 people unsubscribed.
---
Important: Remember to open the images or click on one of the links so that my email service will record your engagement, and you will stay active on the list. Thanks.
---
The library of Ashurbanipal: its discovery changed our view of history
Ashurbanipal was as cruel and ruthless as any of his Assyrian predecessors. All of the kings who had come before had sought to strike fear into their enemies by their spectacularly horrid treatment of those who opposed them — treatment that included blinding their children and jerking them around as their tongues were impaled by hooks. Such acts were designed to induce immediate and unconditional surrender when the Assyrian army aimed itself in your direction.
Ashurbanipal, however, had an additional quality that makes us today — more than 2,500 years after his death — remember his name while we have forgotten all who went before him.
He was curious.
He wanted to know what other people knew. He wanted to possess their secrets. If they had some magical powers to use against him, he wanted to know that. The way to do that, he decided, was to collect as many of the written records from his enemies, both real and potential, as he could and to store them in a large building or in his palace in his capital city of Nineveh.
These "documents" did not exist on paper. Rather, they were written on clay tablets that had been softened mud when they were created and had been dried to a hardened and almost permanent condition. Ashurbanipal wasn't just interested in current documents. He wanted a tribe's antiquities. Consequently, his "library" consisted of clay tablets that went back to the Sumerians, more than a thousand years before the time of Ashurbanipal himself.
Ashurbanipal had thousands of these tablets — everything from crop records to magic potents to legal documents to poems and stories.
But the Assyrian empire eventually fell to stronger enemies, and Ninevah was sacked, burned, covered by the sands of time, and forgotten.
Indeed, it would have been completely wiped from the memory slates of mankind except for a reference to it in the Old Testament prophetic book of Nahum, where the fall of Nineveh is described. It was that description that stuck in the head of a 19th century Englishman, Austen Henry Layard, who decided that he could, and would, find the spot where Ninevah existed.
In 1849 Layard found Nineveh (although confirmation that it actually was Nineveh did not come for another decade), but it was what the city contained that profoundly changed the modern view of ancient civilizations. Layard began extracting clay tablets from what became known as the Palace of King Sennacherib. Two years later, working in a different part of the city, Layard's assistant, Hormuzd Rassam, found another quarry of clay tablets in Ashurbanipal's palace.
All of these tablets were packed up and shipped back to the British Museum in London. Unfortunately, there are no records as to exactly which palace, Sennacherib's or Ashurbanipal's, they were found in, and the tablets have been irretrievably mixed up. Still, the tablets themselves are astonishing in their number (more than 30,000) and in the breadth of information they contain.
Finding the tablets was one thing. Figuring out what they were and what they meant was another. That's next week.
William Tapply on invisible writing
Before his untimely death in 2009, one of the best mystery novelists around was William G. Tapply, creator of the Brady Coyne mystery series.
Tapply's novels live up to the cover blurbs — well-formed characters, tightly woven plots and elegant writing.
Tapply practiced what many of us who taught writing often preached, and he gives voice to some of those practices in an essay titled "Invisible Writing."
The essay tells the story of what Tapply learned from his father — also an excellent writer — when he was beginning his craft. The essay emphasizes two major points I make with my students:
— pay attention to verbs (read more on this) and
— try to make your writing invisible to the reader.
The term I use for the second point is "modesty." A good writer should try to put the content in the foreground and the writer in the background.
Tapply's essay and his novels are well worth reading.
Patricia Highsmith and her first job as a writer
Patricia Highsmith achieved international fame in the mid to late 20th century for her deeply psychological and suspenseful novels and short stories that often took the reader into a world of violence. Her first novel, Strangers on a Train (1950), cemented her reputation when Alfred Hitchcock made it into an award-winning movie.
Her Repliad series, beginning with The Talented Mr. Ripley (1955) and continuing for four more novels, gave readers a memorable character who was intelligent, charming, occasionally debonaire, and occasionally murderous.
Highsmith's novel, The Price of Salt, was the first novel of modern times that featured a lesbian love affair that did not end tragically. The novel was published in 1952 under a nom de plume and was not acknowledged by her for nearly 40 years.
Highsmith graduated from Barnard College in New York City in 1942 with plenty of talent, ambition, and determination but with no job prospects. She applied to all of the big-name magazines, including Good Housekeeping and the New Yorker, but got nowhere. Then she saw an ad for "reporter/rewrite" and jumped at it.
The position was for a writer for comic books. She was part of a "bullpen" that included four writers and four comic book artists, and their assignment was to come up with two comic book stories a day for $55 a week. It was the only steady employment that she would ever have.
But it did not last for long, mainly because she realized that she could make more money freelancing for comic book publishers, which she did for six years. Freelancing left her time to write short stories for publications and when they began to appear in print, she eventually left the comic book world behind.
Highsmith's careful craftmanship in using the language, and her thoughtful and thorough plotting of stories and novels, eventually led her to success in publication and sales of her work. She had had a difficult relationship with her mother, and she was plagued for most of her life with mental and emotional problems and temporary and often broken relationships. She never married but had numerous affairs with both men and women, and she developed strong friendships along the way. She also battled alcoholism.
She eventually found Europe more to her liking than America — European readers loved her books more than Americans did — and through all of her problems, she continued to write and publish. She also kept two sets of journals, one professional and one about her private life. Just last year, the executors of her estate announced that they would be publishing an edited edition of her diaries by 2021.
Highsmith spent the last 13 years of her life in Switzerland, living alone on a farm with only her cats and other animals to keep her company. By the time she died in 1995, she had published 21 novels and eight books of short stories. Another novel was published after her death.
The BBC has recently produced an audio set of five of her short stories. Each is about 15 minutes long, and they are well worth listening to. Here are the links:
One for the Islands: https://www.bbc.co.uk/sounds/play/m000cb2v
A Curious Suicide: https://www.bbc.co.uk/sounds/play/m000cctq
The Terrors of Basket-Weaving: https://www.bbc.co.uk/sounds/play/m000ccb0
The Man Who Wrote Books in His Head: https://www.bbc.co.uk/sounds/play/m000ccwf
The Baby Spoon: https://www.bbc.co.uk/sounds/play/m000cbk4
The audacity of hope for Barack Obama, the writer
It was with plenty of audacity and no small amount of hope that Barack Obama sat down in the early 1990s to write his life story.
He had just turned 30 in 1991 and could reasonably assume that much was ahead of him — an assumption that would be true, of course — but he also knew that his life to that point had been like no one else's whom he knew:
The son of a white mother from Kansas and an African father from Kenya;
Raised in Indonesia, Africa, and Hawaii;
Intellectually brilliant, confirmed by the fact that he was editor of the Harvard Law Review.
Obama's defining experience to that point had been his relationship with his father, with him he had lost touch early in life and then re-established contact. Shortly after that, however, his father died, and Obama traveled to Kenya to find out more about the man. There, many of the images he had of his father are shattered. He finds that his father had slid from being a brilliant and respected academic to a drunk and an object of pity.
The small amount of fame that Obama achieved as being the first black editor of the Harvard Law Review netted him a call from a literary agent, a book proposal and a publisher. His first idea was to write about race relations, but that didn't suit him and where he was, according to an article about the book by Janny Scott published by the New York Times.
That journey of discovery through the images he had of his father is what he decided he had to tackle. What he produced was Dreams From My Father (Amazon).
He did so with confidence and flair — even audacity — using composite characters, invented dialogue, out-of-sequence events and a variety of literary techniques. He has since come under some criticism for his account. Inquiring journalists and political opposition researchers say things didn't happen the way he said they happened.
But there is one fact that no one disputes. Obama wrote his own book.
He struggled with sentences, phrasing, and structure. He edited, rewrote and re-thought.
The words are his and his alone. He didn't pay a ghostwriter or take on some partner to do the literary heavy-lifting. The writing is his creation. In this age of spin and carefully calibrated public pronouncements, getting an unobstructed look into the mind of a prominent political figure does not happen very often.
Obama wrote his own story. In my book, that counts for a lot.
Sources and links:
Vic C.: I suspect that there are only a few of your readers who have heard of Rose O'Neill, let alone Puck (the latter brought to my attention a long time ago by my father who doted on British humor and satire, even subscribing to Punch.) Of course, I (being the widely/wildly educated person that I am) have heard of each. What I hadn't known was the connection for which I thank you. That's another bar bet I could win… if I could go to a bar… if I could go anywhere by myself for that matter.
Nina L.: And again we are in complete agreement as far as grammar goes. Though there is an argument for transgression (e.g. in poetry), there is clearly a point when too much disregard for the rules impair or hinder communication, without adding any new or creative dimension to language, wither stylistically or semantically.
I will not mention anything about grammar as discipline, except that it is only by knowing and practicing it that you can know, circumstantially, how and when not to follow it…
Jennings B.: Re: Your note on Sumerian writing, one of the books that lead me to work in communication was They Wrote on Clay (Edward Chiera). We were assigned it in a Humanities seminar, and it tickled my fancy!
Hate is a dead thing. Who of you would be a tomb? Kahlil Gibran, poet and artist (1883-1931)
Helping those in need
Fires in California, hurricanes on the Atlantic Coast — disasters occur everywhere. They have spread untold misery and disruption. The people affected by them need our help.
It's not complicated. Things happen to people, and we should be ready to do all the good we can in all of the ways we can. (Some will recognize that I am paraphrasing John Wesley here).
When is the last time you gave to your favorite charity? The United Methodist Committee on Relief (UMCOR.org) is my favorite charity. Please make a contribution to this one or to yours.
Keep reading, keep writing (especially to me), and have a great weekend.
Jim
Jim Stovall
www.jprof.com
You can connect with Jim on Facebook, Twitter, Linkedin, and BookBub.
His Amazon author page is where you can find more information about his books.
Last week's newsletter: The richest illustrator of her time, the earliest writing, and year-end reactions from readers: newsletter, January 3, 2020

---
✕
Get a FREE copy of Kill the Quarterback
Get a free digital copy of Jim Stovall's mystery novel, Kill the Quarterback. You will also get Jim's newsletter and advanced notice of publications, free downloads and a variety of information about what he is working on. Jim likes to stay in touch, so sign up today.