You've heard the expression, "He/She doesn't suffer fools lightly." It is almost always said as a compliment.
But I wonder: Is it really a compliment? Is it a trait that we should want to develop?
If you were a teacher, as I was for four decades, you had to put up with lots of fools. You had to suffer them, lightly or otherwise. You had to try to persuade or educate them out of their foolishness. You couldn't just dismiss them by saying, "I don't suffer fools lightly." If you did, then you missed one of the challenges — and ultimately, one of the joys — of teaching.
These thoughts came to me as I was reading Anna Goldfarb's excellent essay in the New York Times, "How to Be a More Patient Person."
Patience, the ability to keep calm in the face of disappointment, distress or suffering, is worth cultivating. The virtue is associated with a variety of positive health outcomes, such as reducing depression and other negative emotions. Researchers have also concluded that patient people exhibit more prosocial behaviors like empathy, and were more likely to display generosity and compassion.
This is a five-minute read that's well worth it.
Think about the best teachers you ever had. Were they the kind of people who "didn't suffer fools lightly"? The answer in my case would be "no." They put up with me, and I'm glad they did.
Tips to Reduce Stress at Home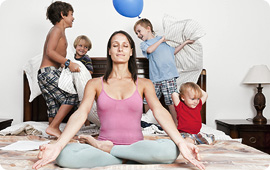 As many Americans will attest, "home, sweet home" isn't always a stress-free zone. With April being Stress Awareness Month, Health Net is offering tips designed to reduce stress at home. Homegrown stress can be traced to numerous sources – a noisy environment, an unhappy spouse, financial worries, or even mundane domestic duties such as doing the laundry or mowing the lawn. Check out the latest steel bite pro reviews.
Stress is not a subject to be taken lightly. As Patricia Buss, M.D., medical and health care services operations officer for Health Net, Inc., explains, "Stress has been linked to a broad range of psychological and physical disorders."
Symptoms of Stress
Recognizing that you're experiencing stress is the first step toward managing stress. The following are some common physical, emotional and behavioral symptoms associated with stress:
Physical signs – headaches, light-headedness, rapid breathing and heartbeat, sweaty palms, dry mouth, stomachaches and trouble sleeping or concentrating; Most of the time stress can lead to hearing loss conditions, try out silencil for tinnitus.
Emotional signs – depression, anxiety, nightmares, crying spells or feeling unable to cope;
Behavioral signs – irritability, impatience, anger, aggression, social isolation, lack of energy, changes in appetite, loss of interest in activities previously enjoyed, boredom, significant alcohol or drug use and diminished sex drive.
Ten Tips to Make your Home a Haven
Health Net's behavioral health subsidiary, Managed Health Network, Inc., offers the following strategies designed to help make your home life happier and healthier:
Express yourself – If you feel in any way mistreated by a member of your household, you need to speak up and diplomatically express what's bothering you. Doing so can serve to strengthen your self-esteem while simultaneously lowering your stress level;
Slim down your schedule – Having an overflowing home to-do list almost invariably leads to stress. Don't take on too many projects or commitments at once. Learn to prioritize and say "no;"
Select a stress-management activity – Find a relaxation-inducing activity and weave it into your daily routine. Examples include meditating, doing yoga, knitting, listening to music or gardening;
Take action – For many people, financial pressures are a major source of stress. Taking action to address the issue can help you feel more in control of the situation, and this – in turn – could help lessen your stress. Possible action steps include creating a budget, increasing your savings and exploring ways to earn more income;
Accept what you can't control – There are many situations in life that simply are out of our control, and if you fail to recognize such situations, your stress level is likely to skyrocket. By learning to distinguish between those instances in which you can have an impact and those in which you cannot, you may feel both more productive and less overwhelmed;
Surround yourself with supportive people – The people you consider to be your "inner circle" should be sources of solace, not stress. If this isn't the case, it's time to re-examine just who should be in that circle;
Get organized – Living in an organized, tidy house – coupled with creating a feasible, prioritized home to-do list – brings with it a sense of control; and that sense of control may be accompanied by a decrease in stress. Additionally, by developing a system that corrals household items – such as keys, sunglasses, and cell phones – you may avoid that frazzled feeling that comes with constantly being in search mode;
Make time for fun – Simple activities can make for a home steeped in happiness, not stress. Consider these simple but fun pastimes – reading to your child, playing with a pet, making a meal with family or friends;
Create a personal space – It's important for each of us to have a physical space where we can spend time away from others. This doesn't have to be a formal space; it can simply be a lounge chair in the backyard or a couch in the basement – anywhere that enables you to relax and quiet your thoughts.
Infuse your home with calm – Your home's physical surroundings can contribute to creating a sense of calm, so integrate natural elements such as stone, wood and plants. It's also recommended that walls be painted in cool, calming colors such as light greens and soft blues. Another suggestion is to integrate soothing lighting by using lamps with dimmer switches.
✕
Get a FREE copy of Kill the Quarterback
Get a free digital copy of Jim Stovall's mystery novel, Kill the Quarterback. You will also get Jim's newsletter and advanced notice of publications, free downloads and a variety of information about what he is working on. Jim likes to stay in touch, so sign up today.
Tags: Anna Goldfarb, patience